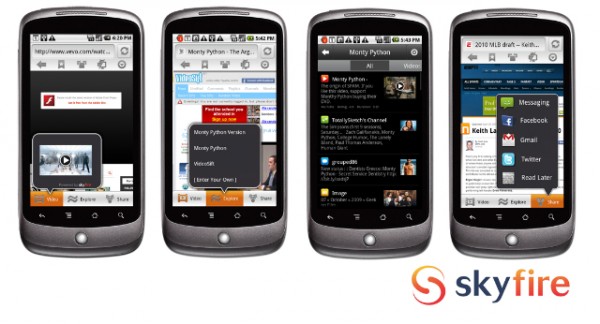 Skyfire came out with a set of numbers today showing that smartphone users can save up to $120 a year by using data efficient apps like their browser. If you recall our post showing Verizon's data calculator, you can see that streaming video is what's going to be really eating up your data on a month to month basis, but with Skyfire's "Instant Optimization" video process, which compresses data by 75%, they can save you a ton on your monthly bill.
When watching video though their toolbar, Skyfire slims down data use exponentially, which is a good thing since Cisco is reporting that 53% of all data use in wireless networks in 2011 will come from video.
Luckily for most of the readers of this site who are existing Verizon customers, data gobbling won't affect you.  We can't say the same for new VZW customers though or anyone stuck on AT&T who will have to worry about spending 200MB of data on a single HD video.  Neat little infographic on data consumption can be found after the break.   
Skyfire Saves Smartphone Users Hundreds of Dollars as Wireless Carriers Impose Data Caps and Price Tiers

Skyfire's cloud-based video optimization compresses videos by an average of 75% — helping users watch more video while minimizing data overage charges.

MOUNTAIN VIEW, Calif. (June 23rd, 2011) – Today Skyfire, maker of the award-winning and popular mobile browser, releases new numbers on how much smartphone users can save through apps like the Skyfire Browser which allow radically more efficient data usage. After 7.5 million downloads across all platforms — Android, iPhone, and iPad — Skyfire has achieved over 75% average data savings when watching web video through the Skyfire toolbar, which performs "Instant Optimization" on videos from over 200,000 web sites. This feature can save Android users hundreds of dollars over the course of their wireless contract.

U.S. wireless carriers such as AT&T and T-Mobile have put in place data caps and tiered data plans. Rumors abound that Verizon will shortly impose data caps. And for years, European and Asian consumers have "paid by the drink," with expensive "metered" charges on their data use.

Data from Cisco indicates that 53% of all data use in wireless networks in 2011 will come from video. Even a single high-quality video can burn through a subscriber's entire 200 MB typical base data plan.

The average wireless user consumes 582 megabytes (MB) on Android and 492 MB on iOS per month, according to a 2011 study from Nielsen. Unfortunately, many carrier data plans charge significantly more once users pass the 200 MB mark: $10 to $20 or more in extra fees per month. Using the Skyfire browser can help users minimize or avoid these extra charges while still watching four times as much video. With Skyfire's ability to significantly reduce data usage, the average mobile user now has the realistic choice of choosing a less costly 200/250 MB data plan rather than having to opt into the more expensive tier of data plans.

A recently released Nielson poll showed that the average smartphone user watched 3.25 hours of mobile video each month in 2010. In a video data consumption test, Skyfire allowed the average user to watch 4.5 hours of video per month, while staying below the baseline 200 MB data cap. For this reason, the one-time in-app purchase of a Skyfire mobile browser ($2.99) can save an average Android user from $120 to $240 annually in data charges. (This comparison is based on current AT&T and T-Mobile data plan pricing.  Specific pricing for other carriers around the world will vary.)

"With today's global economy, consumers still need ways to save money," said Jeffrey Glueck, CEO of Skyfire. "Skyfire helps protect users from surprise data charges.  Users struggle with these new charges as there are no labels warning how much any given video will burn off their plan.  Skyfire is putting the 'smart' back in smartphone browsing."

Download Skyfire 4.0 here:  Market Link