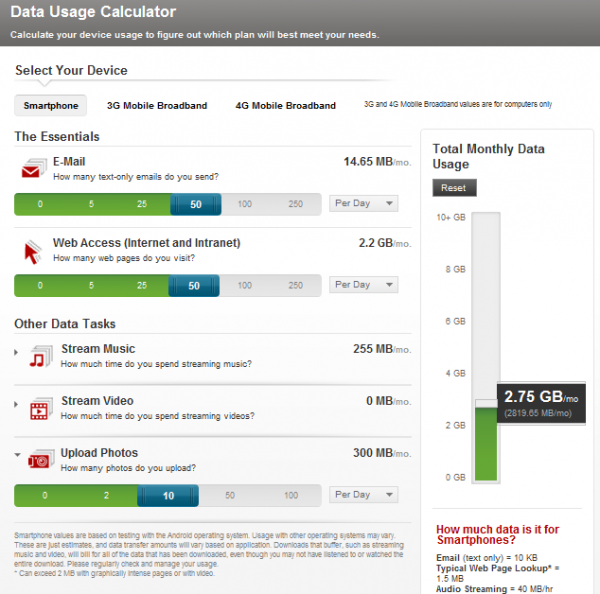 Since the confirmations have come from a variety of Verizon representatives after our initial report on tiered data, we know for sure now that these plans are coming July 7.  As you also know, we received reports that pegged the tiers at $30 for 2GB, $50 for 5GB and $80 for 10GB which has probably led many of you to wonder which you should consider if you were to for some reason lose your unlimited plan.  Thankfully (yes, that's snark), Big Red has this fun little data calculator that can estimate how much data you use in a month.  As you can see above, we went relatively extremely conservative, leaving out streaming video and still managed to eclipse 2.75GB.
So what can we gather from this tool?  That the majority of you will strongly consider jumping up to the 5GB tier which costs $20 more than your current unlimited plan.  Since you are charged $10 per 1GB after going over your allotment of data on the 2GB plan, you'll be sold on the $50 plan since it's like you are getting a "free" 1GB of data.  That's right, if you were to go with the 2GB tier and then use say 4.5GB for the month, you'll be charged $60 when you could have just purchased the 5GB tier and only topped out at $50.  Sneaky right?  Don't think that was unintentional.
Fortunately for all existing customers, it's looking more and more likely that we will be able to renew and upgrade for a least a period of time without having to give up our current unlimited plan.  (Please continue to cross those fingers for the next 3 weeks.)
You can calculate your smartphone usage here.
Cheers Brandon!