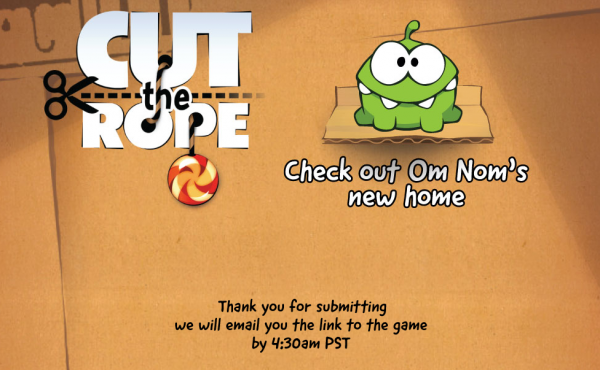 Update 2:  It's already available over at Getjar.  We've posted it here.
So there is this weird, semi-underground notification system going on for Cut the Rope on Android, which we have all be told is coming tomorrow by a random Twitter account that appears to be unaffiliated with the real Cut the Rope makers.  If that didn't make sense to you, trust me when I say that you aren't the only one who is confused.  Just minutes ago though, that same @CTRAndroid account tweeted a URL to a Reddit landing page which is allowing users to sign up with their email address to be notified when it hits what we're assuming will be the Amazon Appstore.
Sound a little shady?  Yeah, providing your email address to something that isn't necessarily confirmed and in a world that seems to be filled with malware and other sneakiness, doesn't seem like such a good idea – does it?  Don't worry though, we plugged one of ours in to see what evil deeds may occur.
The really odd thing about all of this, is the fact that there is an official Cut the Rope Twitter account that refuses to acknowledge this other one.  Part of me is wondering if it's fake, but then again, you would think the official account would let everyone know that danger is near?  Who knows…
Update:  OK, we already have an update.  The game appears to be headed to GetJar:
You can sign up through Reddit here, but please proceed with some caution.  And know that if the game does drop tomorrow, that we'll be posting it anyway, so there is almost no need to fill out this form.