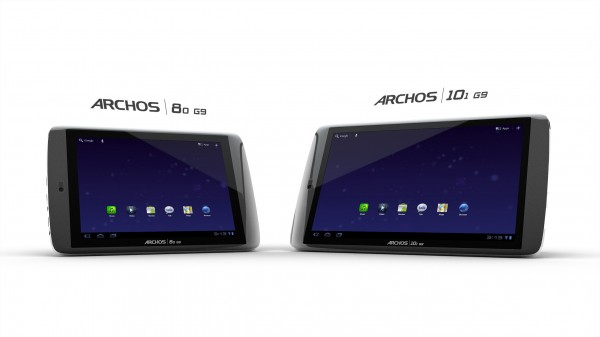 Archos finally decided it was time to join the legitimate Android tablet game today by introducing two new Honeycomb variants of 8″ and 10.1″ that actually have the market installed.  Before we get into the specs of these things though, let's talk about the most important piece which may really blow your minds:  price.  The 8″ G9 tablet can be had for as little as $279 with the 10.1″ G9 dropping in at $349.  Remarkable, right?
So what's packed inside – it's gotta be garbage right?  Not necessarily.  Archos decided to use TI's OMAP4 dual-core processor which has been clocked at 1.5GHz and allows them to call this the "fastest tablet experience ever."  In fact, they are claiming it can outperform the Tegra 2 by up to 50%.  They are also giving customers the choice of either 16GB of on-board storage with the ability to add additional SD cards or a 250GB Seagate hard drive.  Seriously, a 250GB hard drive.  Both tablets come as wifi-only, but an additional 3G dongle stickie thingy can be purchased and connected to give you on-the-go data.  These tablets can decode 1080p H264 High Profile videos – something no other tablet can apparently do.
They have gyroscopes, vibrators (hah), GPS abilities and every other normal tablet feature we've seen over the last few months.  When I initially saw the announcement for these, I sort of rolled my eyes, but I'm taking that attitude back and will gladly say, "Nice work Archos."
Both tablets will be available at the end of September.
Who's buying?  
Archos 8″ G9
Archos 10.1″ G9