"The 3.1 update for non-U.S. devices, in addition to many other improvements, also includes SD card activation."  Thoughts on that?
I'm sort of speechless at this point.  Our 4G LTE upgrade has been delayed until, well we don't even know when.  The SD card was supposed to be activated separately with a software update, but now we're hearing that it won't happen until we get 4G, which is a hardware upgrade and makes no sense.  And I'm not even talking about the WiFi edition which isn't receiving 4G and should be updated at the same time as these Euro versions.  Why is it that we are getting left out of this one?  I'd love an explanation.
Update:  And it looks like Motorola is pushing this one onto Google's plate…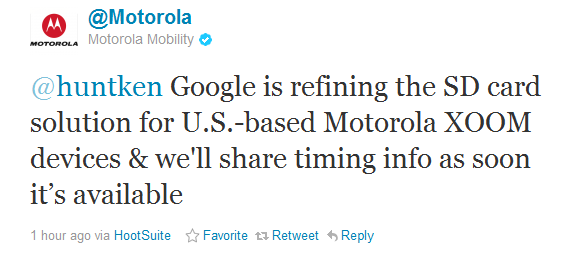 Update 2:  OK, even I can admit when I'm called out – and it just happened.  One of our long time readers reminded me that the US version is essentially the "development device" for Honeycomb and that Google does in fact have to do work on SD support to get it to function properly.  We should all remember that Android 3.0 was released as a half-baked product and that some of these tweaks that were missing initially could be taking more time than anyone originally thought.
Thoughts?
Via:  Facebook, Android Community