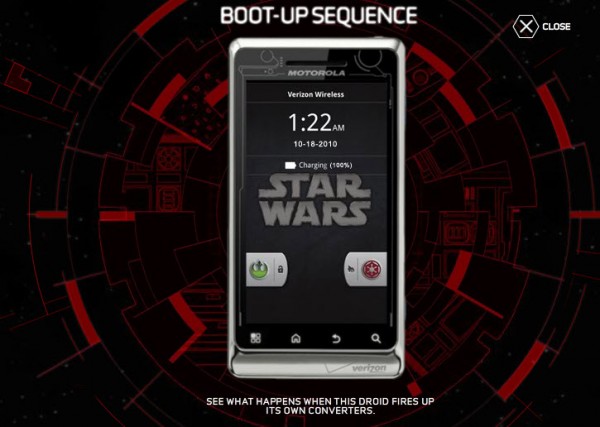 More R2-D2 Droid 2 secrets have been unlocked and the latest might look strikingly familiar to a lot of you.  The official boot animation can now be seen at the droiddoes.com/r2d2 page, but you have all seen it already due to a leak last week.  Unfortunately though, Motorola keeps requesting that links be taken down so it can no longer be downloaded at this time.  Actually, good luck finding any of the leaked live wallpapers either or anything else to come out from this device.  (I'll reserve further comment on the situation.)
Update: DL Forum member danrua was the winner! Congrats on the win Dan!  Check out his post thanking all of the hardwork and group effort put in by the community here.  And the official announcement tweet from @DroidLanding!
On a related note, the new custom lock screen is viewable and pictured above.  Nice touch throwing in the Rebel symbol, right?  You have to admit that the creators of this device did a great job of adding in little details here and there to make it pretty special.  Geek or not, you've got to respect the work put in.
Only 3 left to find!
Official R2-D2 Boot Animation:
Don't forget to follow along in the hunt at the Droid Life Forums!