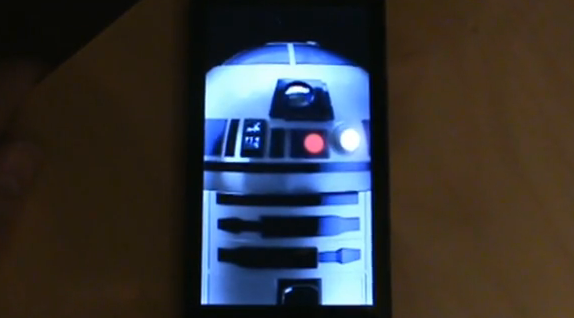 A new R2-D2 boot animation appeared on the internet late last night and there are rumors that it's the official one you'll see with the special edition Droid 2 that we've been covering over the last few weeks.  In even better news, the boot animation is available for all to use, geek out to, and to aide your path of remaining single for the foreseeable future.
Download:  bootanimation.zip
*For both rooted and non-rooted users.  Separate instructions though.

*Should work on almost any phone, Droid 1 and Droid X for sure.
Instructions (rooted users):
1.  Download the bootanimation.zip file from above to your SD card.
2.  Open Root Explorer and copy the file to /data/local.
3.  Reboot your phone and enjoy your new boot animation.
Instructions (non-rooted users):
*You will need the Android SDK installed to do this.  Instructions here.
1.  Download the bootanimation.zip file from above to your PC.
2.  Move the file into your android-skd/tools folder.
3.  Make sure nothing is selected and hold SHIFT+right click inside your tools folder.
4.  Choose "open command window here."
5.  Type in the following commands:
adb push bootanimation.zip /data/local
adb reboot
6.  Your phone will reboot with your new boot animation.
And if you are feeling super saucy this morning, here is an audio file which reportedly works during boot, yet I can't for the life of me get to work.  Actually, almost no one can get it to work.  Let us know if you do!
Cheers Aaryn and Mike!
Via:  MyDroidWorld
______________________
Some of our best videos.