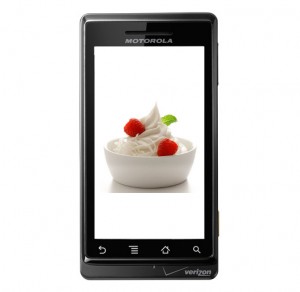 There have been plenty of rumors over the last few days which suggest that Verizon/Motorola put a stop to the current Froyo OTA update FRG01B for the Droid because of some unknown bug.  Well we received word from a source today that the next expected date for a big rollout is August 12th.  We're sure seeing that date quite a bit aren't we?  Droid training.  Droid 2 release date.  What else can we possibly pack into next Thursday?
Like I said, still no word as to what caused the delay, but we're now fully expecting FRG22 to be the official release when this thing starts poppin' again.
Update: MyDroidWorld is reporting that all FRG builds of Froyo will be pulled as it appears to not be playing well with Flash.  I guess you can throw out August 12th then?  (Link)
Update 2: We're receiving reports that the update has been halted but has not been pulled.  It should resume again on Monday.
We'll be sure to fill you in as we find out more or if anything becomes offiicial.  And be sure to let us know if you still receive FRG01B.