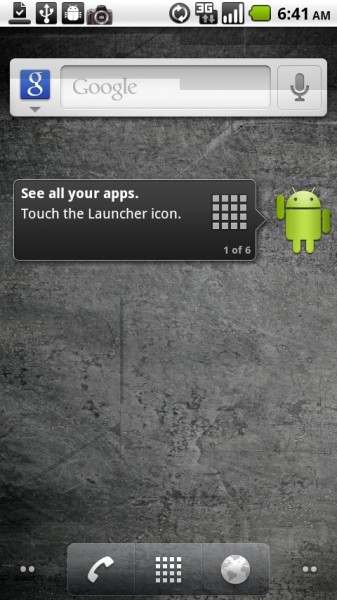 UPDATE: A NEWER FROYO BUILD IS OUT.  DOWNLOAD IT HERE.
The Froyo build which we saw here and here is finally in the wild and ready for your personal viewing pleasure.  Yes that sounded dirty on purpose as I crawled my lazy bones out of bed at 6:30AM on a Saturday, just for you (OK, that's probably a lie. Who wouldn't wake up for Froyo?).
So what do we have here?  An apparent early 2.2 build for the Motorola Droid.  I say early because it appears to have a ton of missing features from the Nexus One Froyo and also has a few bugs.  With that said, the MyDroidWorld guys have made it easily installable via nandroid backup in both ClockworkMod and SPRecovery, so anyone with root access can check it out.  When you are finished, you will keep root access and your custom recovery, so just make sure to backup your current settings in case something bad happens.
This also comes with a custom kernel, so you can overclock to 800Mhz right away.
(Want to root your Droid and try this?  Check out our full 2.1 rooting guide.)
Early feature list:
It is indeed Android 2.2
New Market with "auto-update" feature
Apps2SD
Froyo Launcher with 3D app drawer
USB Tethering (no Wi-Fi tethering)
New camera software
Wi-Fi doesn't work (FIX HERE!)
Update: Might have JIT.  See benchmark below.
Update: Gallery works, just took 30 minutes to load photos.
Update 7:37am: Had this 2.2 build up and running for a good 45 minutes now and I've got to admit that it is pretty damn fast.  It seems like the longer you play with it, the faster it gets.  Interesting.  While the MFLOPS in Linpack aren't there, check out this Quadrant benchmark I just ran.  If only wi-fi worked…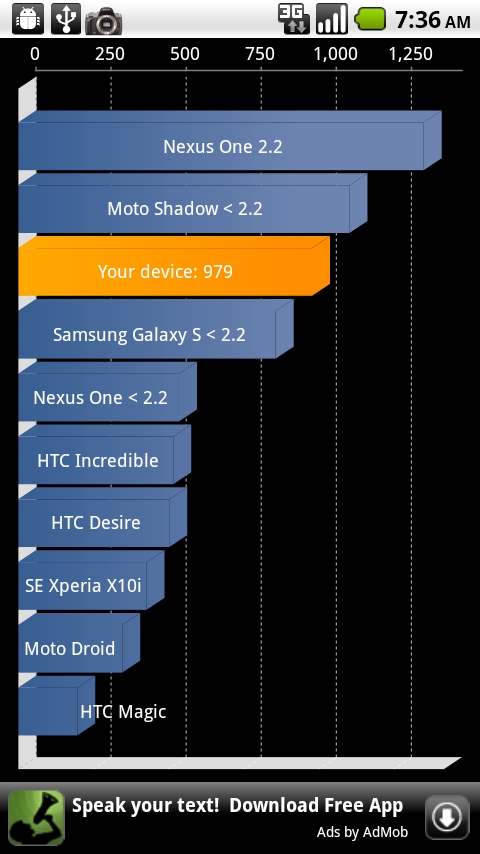 Gallery:

Ready to do this?
*Warning* – This has the potential to be disastrous on your Droid.  You take all responsibility should something happen when you go through this process.  Droid Life is not responsible for dead devices.*
*ROOTED USERS ONLY.
Download:  P3DF-CW.zip
Installation Instructions…
*Note 1* – This process uses ClockworkMod Recovery.  SPRecovery method/file at source link.
1. Make a backup of your current ROM.
2. Download the P3DF-CW.zip file from above.
3. Extract folder named 2010-06-05.06.15.32
4. Place folder 2010-06-05.06.15.32 in the /sdcard/clockwork/backup folder on your sdcard
5. Restart phone in recovery
6. Go to nandroid, select restore, select the above folder and press the camera button.
*Note 2* – After installing this nandroid, update the kernel to fix wifi.  Kernels here.
Comments or questions?
Update 10:53am: If you used the SPRecovery file and have lost root access, please install this file.
Source: MyDroidWorld (Big "thanks!" for releasing this!)
_______________________________________________________
Other Motorola Droid Froyo Goodies:
Download and Install Froyo | Download Flash 10.1 for Froyo | Video: Froyo Walk-through/Overview
Froyo Overclock Kernels | New Froyo Baseband | More Froyo Tips
Tip: Move Apps to your SD Card | Tip: Watch Hulu on your Droid | Tip: Use Chrome to Phone