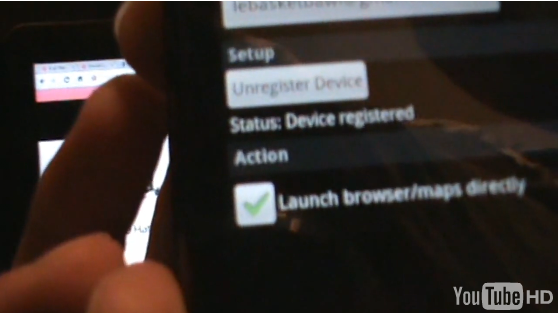 Remember all of those amazing new Android 2.2 features we were introduced to at Google I/O?  One of them being Chrome to Phone, which allows you to send directions, URLs and even files straight to your device without connecting it?  Well, now that we have a full leaked version of Froyo in the wild and available for download, you can finally take advantage of such brilliance.
Instructions…
1.  Visit the Chrome to Phone project site.
2.  If you are using Google Chrome, install the extension they have into your browser.
3.  If you use Firefox as a browser, install this add-on.
4.  Download the Chrome to Phone app to your phone and install it.
5.  Open the Chrome to Phone app, and select "register device."
6.  Once it finishes, you are done.
7.  Now navigate to a website on your Chrome browser, and tap the cell phone extension button.
8.  It will likely ask you to login to a Google account. Login with whatever acct you registered.
9.  Link sent!
Pretty sweet right?  Are you starting to realize the potential this app and extension have?
_______________________________________________________
Other Motorola Droid Froyo Goodies:
Download and Install Froyo | Download Flash 10.1 for Froyo | Video: Froyo Walk-through/Overview
Froyo Overclock Kernels | New Froyo Baseband | More Froyo Tips
Tip: Move Apps to your SD Card | Tip: Watch Hulu on your Droid | Tip: Use Chrome to Phone