The launch of a Pixel Watch 2 is going to be a surprise to me up until the moment the watch is on my wrist. I keep saying that because it took Google soooooo long to create the original, that I just can't believe they could have a follow-up ready a year later. That's the story, though, and that story keeps expanding.
Over the weekend, supposed watch faces from the Pixel Watch 2 surfaced and they may be exclusive to the 2nd generation smartwatch. The report comes from Android Authority, who received the details from a Google source.
The source believes that there will be at least 4 new watch faces on the Pixel Watch 2. Those watch faces will be called Accessible, Arc, Bold Digital, and Bold Analog. I'd imagine these names could change, but that's what we're going with for now. You can see all of them in clockwise order below.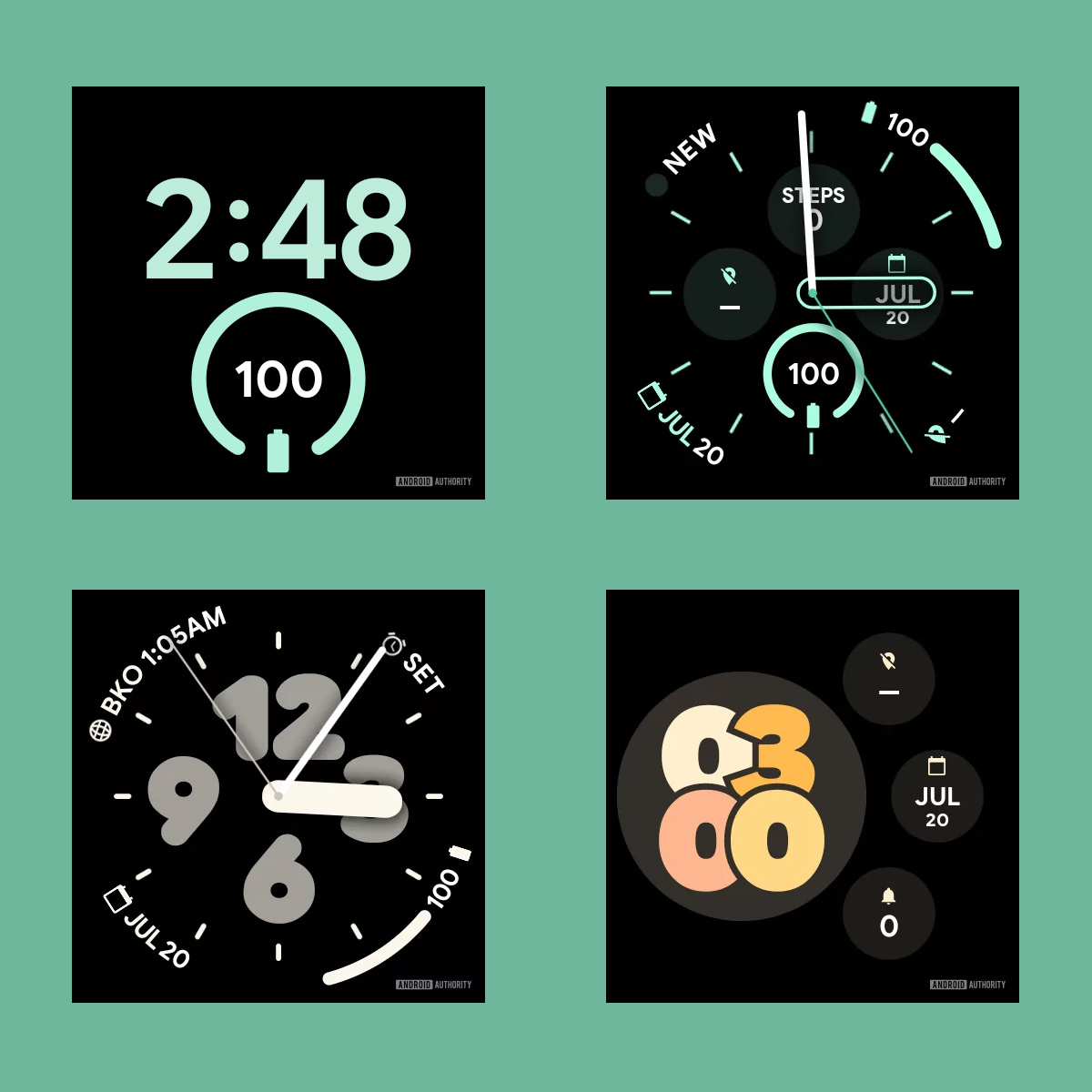 Accessible is meant to be clean and simple with few complications, while Arc could be one of Google's most customizable watch faces to date. Bold Digital and Analog are takes on the lock screen clock we recently received in Android 14 on Pixel phones and is the one I personally love. It has been my lock screen clock since the minute Google gave it to us. I love this little watch face. Both of these watch faces also offer plenty of customizable spaces or you can leave them simple with just a clock.
One other detail this Google source provided is in the colors of each watch face and the rest of the watch UI. We heard as far back as February that Wear OS might offer dynamic color theming at some point down the road and this report suggests it'll happen with watch faces on the Pixel Watch 2. The system UI elements will pull from the watch face color you set, bringing just that extra touch of customization we love currently about Android.
So far, the Pixel Watch 2 rumors paint a picture of upgrades around Google's decent first attempt. We should see a battery life upgrade, lighter material in the case, and a potentially better chipset powering things.
I'm cautiously optimistic about a Pixel Watch 2, although I am worried about pricing.