Verizon and AT&T apparently weren't happy with streaming services getting all of the attention over the past couple of weeks with price increases, so they quietly pushed out their own to select legacy customers. If you happen to have held onto an older unlimited plan from either carrier, you may receive an email over the next week or two to inform you that they'd like more money each month out of your wallet.
For those of you who pay Verizon for your wireless service, you could see a price increase of $3 per month per line if you subscribe to any of several unlimited plans that are no longer available. The full list includes 5G Start, Go Unlimited, Beyond Unlimited, Beyond Unlimited w/5G Ultra Wideband, Above Unlimited, Above Unlimited w/5G Ultra Wideband, and Single Unlimited Talk & Text 500MB. That's according to this reddit thread, which has several customers confirming the new incoming charges.
So if you don't subscribe to any of those plans, you should be OK, at least for now. Remember, they raised prices on several other legacy unlimited plans a few months ago in a similar way with $2/line "Plan Rate Adjustment" fees. It'll only be a matter of time before they come for you. Or you could jump on a newer plan that isn't any good.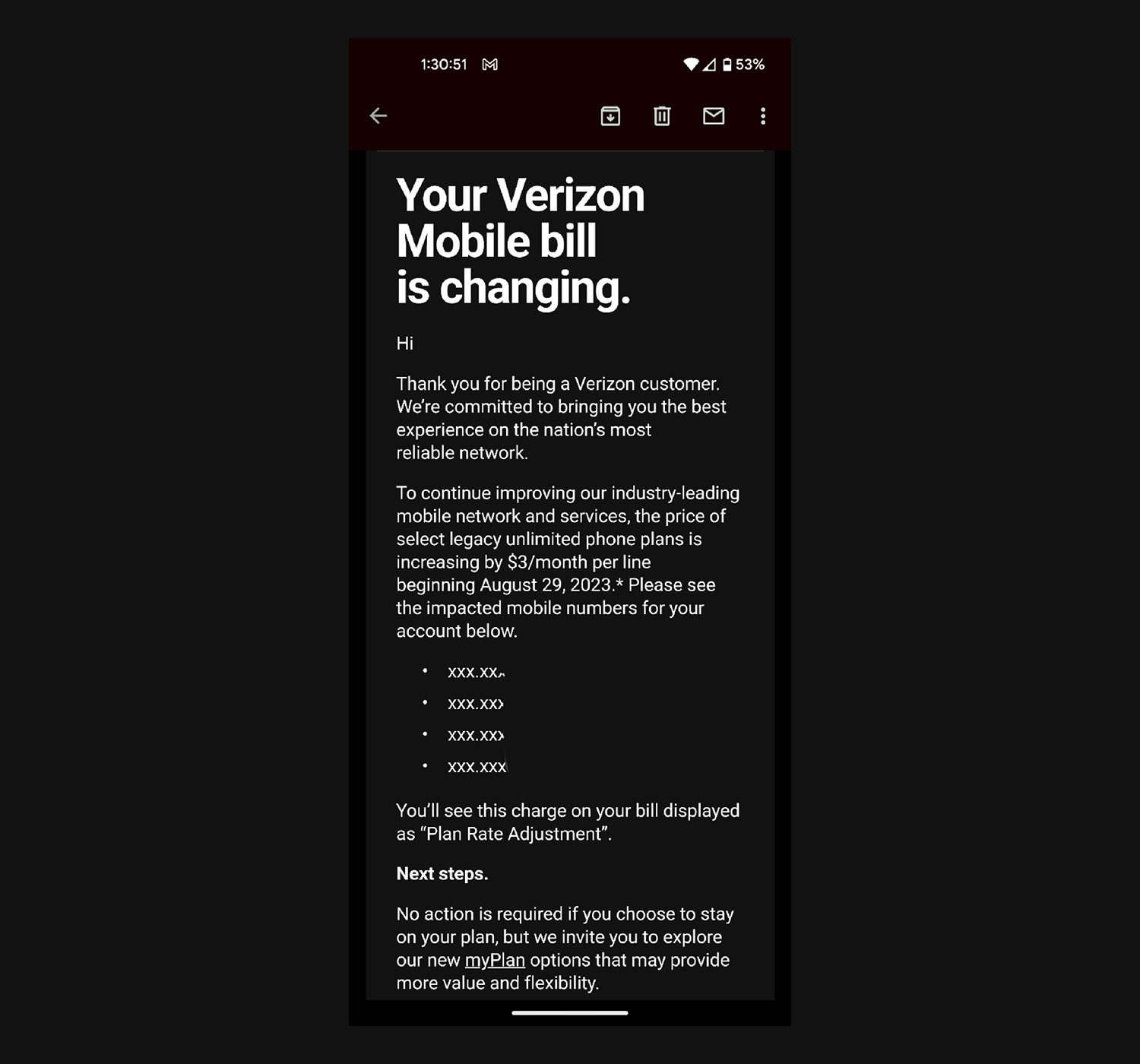 As for AT&T, they are making a similar move, according to CNET. In the August billing cycle for customers on older Unlimited Elite plan, an increase of $2.50 per line per month will be added on. This support page that details the new fee says that the price increase will "allow [AT&T] to continue to deliver the great wireless service you expect." Mmmmhmm, got it.
I'd suggest you look at your options for a cheaper wireless bill, but the only other option at this point is T-Mobile. Since there are only 3 major US carrier options now, things could get ugly in a hurry. While T-Mobile has held its pricing for the most part since merging with Sprint, it'll only be a matter of time before they too come for your bill. Prove me wrong, T-Mo.