I returned late last night from a much-needed vacation only to find that Google's new Pixel Tablet had arrived and was begging to be setup in my office. So rather than catch-up on news from the past week, I decided to do just that in order to get this review process started, since well, that's the fun part of this job. I know we're way behind the rest of the world, but I can tell you that I've viewed none of the happenings around this tablet and plan to share them with you as I uncover the good, bad, and confusing choices Google has made here.
Up first, we need to talk about the out-of-box experience you might run into. And I'm pointing this out right away because I was immediately frustrated at what Google presented to me and then I realized some things needed to be done first. So let's do these together – here are the first handful of items to take care of on the Pixel Tablet.
Apply a System Update right away
OK, I should probably know better, but there is indeed a day one update on the Pixel Tablet. I didn't check for this at first and the tablet didn't prompt me, but after realizing one of the headline features was missing, I went looking and sure enough there was new software downloading in the background. I'm now on software version TQ3A.230605.009.A1 (we wrote about this build).
When I first setup the Pixel Tablet, I let it pull items from my Galaxy S23 and then waited patiently for it to install all of the apps it matched. Once that finished, I tried to setup the Hub Mode, as that's kind of a big deal if you want to use the Pixel Tablet to replace a Nest Hub. Unfortunately, it was blocked from access and wouldn't show up on the lock screen. The update enabled it – at least I think it did.
I also ran into bugs where Google Photos was rarely showing on the lock screen when it was supposed to. The fingerprint reader went unresponsive a couple of times too. Both of those issues seem to be addressed in this newer build.
To check for the update, assuming it doesn't start downloading in the background right away, head into Settings>System>System update. My update was 200MB or so and took at least an hour to install.
Setup fingerprints from both hands, because Google put the buttons on the wrong side
This may be a personal annoyance, but Google designed this tablet in such a weird way. Unlike every other device they make, they put the volume rocker and power switch on the left side – the wrong side. So when it's in hand in portrait mode, you'll use your left hand to adjust things, which means you need to have fingerprints setup from your left hand. But when it's docked, those buttons move over to the right side, so you'll also need to setup at least your index finger on your right hand. Good luck to your brain when it tries to figure out volume up and down too. Jesus, Google.
Utilize the taskbar gesture from anywhere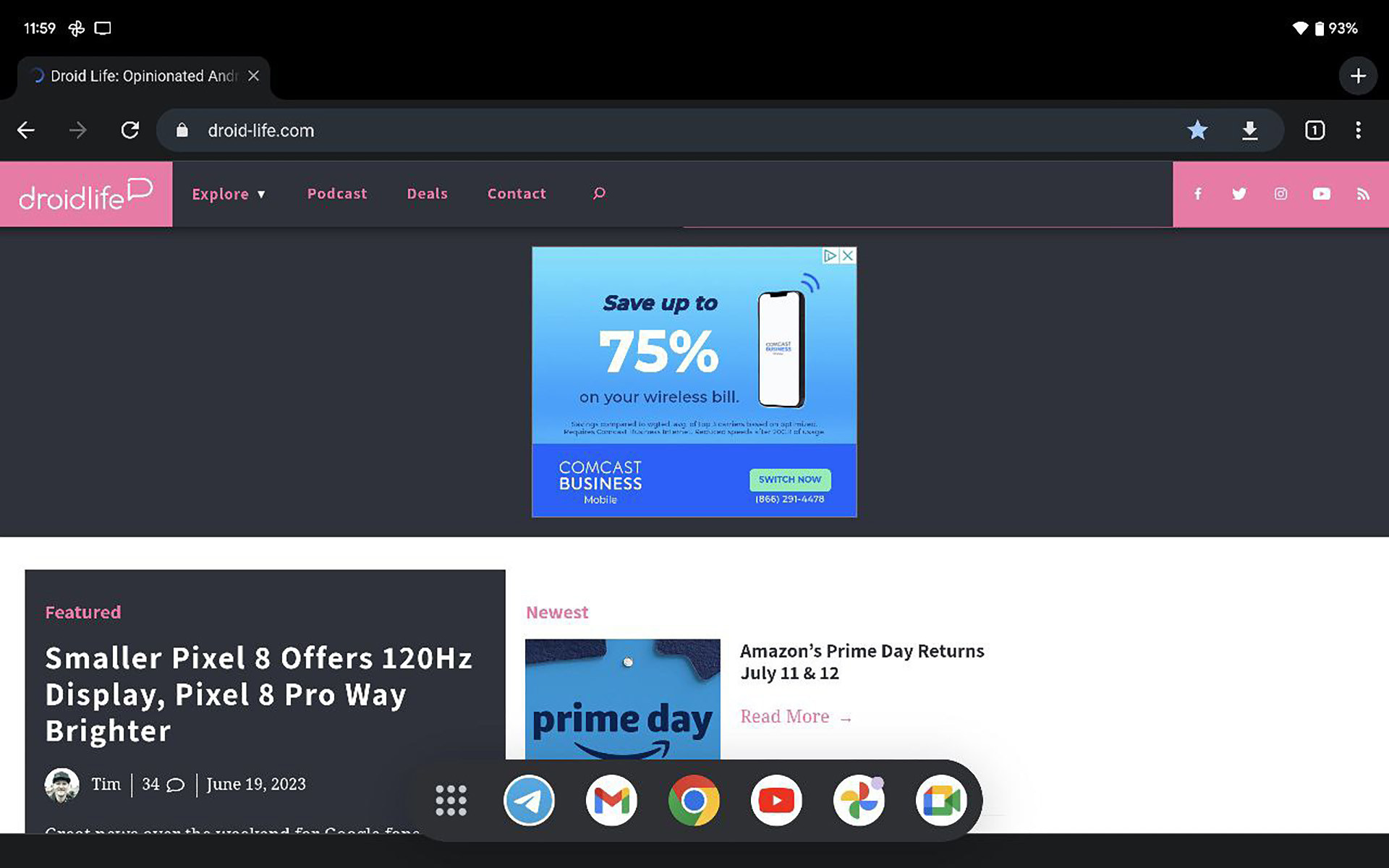 Google's renewed focus on creating tablet experiences that don't suck has been fun to watch and they've definitely added more improvements than I can list here. One in particular that I wanted to make sure you knew about was the taskbar and a little gesture you can use to pop it up wherever.
When in an app, Google's taskbar can be accessed to let you pick from your favorite/pinned apps, the app drawer, and recommended or relevant apps. This is super handy if you plan to multitask on the Pixel Tablet.
To use this, you simply perform the tiniest of swipes up on the navigation bar and then let go. I'm talking about your gesture moving all of a half-inch and then you let go. That should show a floating taskbar with everything I mentioned above. Seriously, get used to this move as it'll come in handy all of the time.
Make sure the tablet is docked properly and charging
In the first few times I picked up the tablet and docked it, I was probably at a 50% success rate for the PINs to connect from tablet to dock and the charging experience starting. That seems low! I sort of figured this thing would only snap into one position. I've since found a groove and haven't had any issues, but those weird angles I slapped it into meant no charging or hub mode. Be careful and make sure it goes "Ding!" and starts charging if you do slap it and then plan to walk away.
Charging optimize or charge to full?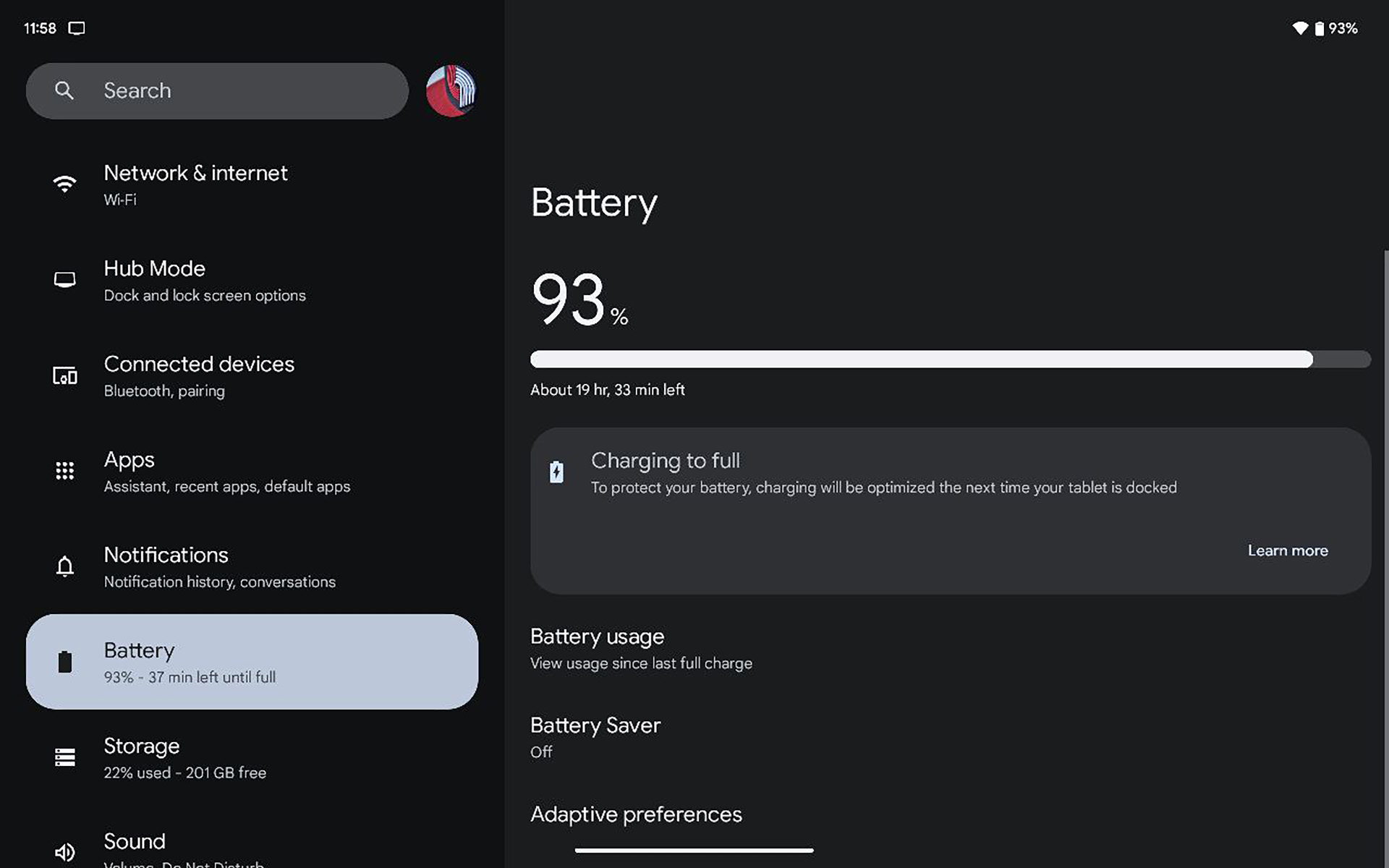 Out of the box, the Pixel Tablet has a battery protection system that stops your tablet from charging to full to try and extend its lifespan. So that means your tablet will only ever charge to 90% unless you override the setting.
Google calls this an "optimized" battery charge and you can't fully disable it. You can temporarily disable it from one charge to the next by telling the tablet to charge to full. However, when you go to charge again, the tablet will switch back to optimized charging and cap itself at 90%. It's sort of like the way you charge an electric car, which is almost never to 100% to keep the battery inside healthy.
Touch responsiveness is pretty bad
Unless I have a faulty unit or Google has a way to fix this with software, I'm just going to say it – good luck gaming in any serious way on the Pixel Tablet. The touch responsiveness on this thing is not great. I fired up Pokemon Unite to try and play a quick test game and the movement controls were always delayed as I moved around the map or into and out of fights. I've also noticed the slow response and drag in Chrome, where the display ends up being a solid inch behind your finger in whichever direction you swiped.
I also played a couple of games of Subway Surfer to see how it ran and it was fine. I think the issue is a game like Unite, with constant touch on the screen, there's an input delay or just straight lag. With a game that only requires quick swipes or touches, you might be fine. Whatever the case, I'm disappointed.
No face unlock, always-on display, grid size changes, and probably more
Again, I'm still very fresh in the world of Pixel Tablet, but I've already noticed some things that are missing. Rather than you waste time looking for them, I'll just tell you what they are here. And yes, I'll probably add to this section as I uncover more.
The Pixel Tablet doesn't have face unlock, which seems like a huge omission. This is a device that sits on your desk or counter and should absolutely have a way for you to get into it without touching it. Where's the Pixel Tablet Pro already? It doesn't have always-on display in any form. You can set a screen saver to show Google Photos or the weather, but no AOD at all. You can't adjust home screen grid size changes in the Wallpaper & style section, so you've only got a 6×5 layout no matter what.
Nest Hub Max charger works!
The charger that comes with the Pixel Tablet appears to be the same charger that comes with the Nest Hub Max. The only reason this really matters is if you have a Nest Hub Max in a spot that you planned to change out for a Pixel Tablet, you could just use the charger you already have in place.
And that's probably it for now! I'll share more as I dive deeper into Google's new Pixel Tablet.