The Pixel phone line isn't the only Google hardware product seeing a Feature Drop today. Google is also pushing several new features to the Pixel Watch that cover everything from blood oxygen tracking (!), the new Spotify app, heart rate alerts, and more.
Blood Oxygen tracking
For the June Pixel Watch Feature Drop, Google is finally turning on the blood oxygen (SpO2) sensor that has been on the watch since it launched last October. You probably forgot about this, but we knew at the time that there was an SpO2 sensor, only Google wasn't doing much with it. They said they were using it as a part of sleep tracking and hoped to use it further later on. Well, that time has come.
With SpO2 tracking on the Pixel Watch, your wearable will finally display your blood oxygen from sleep. This metric is used to measure your quality of sleep and could uncover trends over time that are impacting your overall health.
High and low heart rate notifications
The Pixel Watch can now establish high and low thresholds to monitor and then notify you if your heart rate spikes above or drops below those. Like with SpO2, this is an attempt to discover trends or let you know something seems off.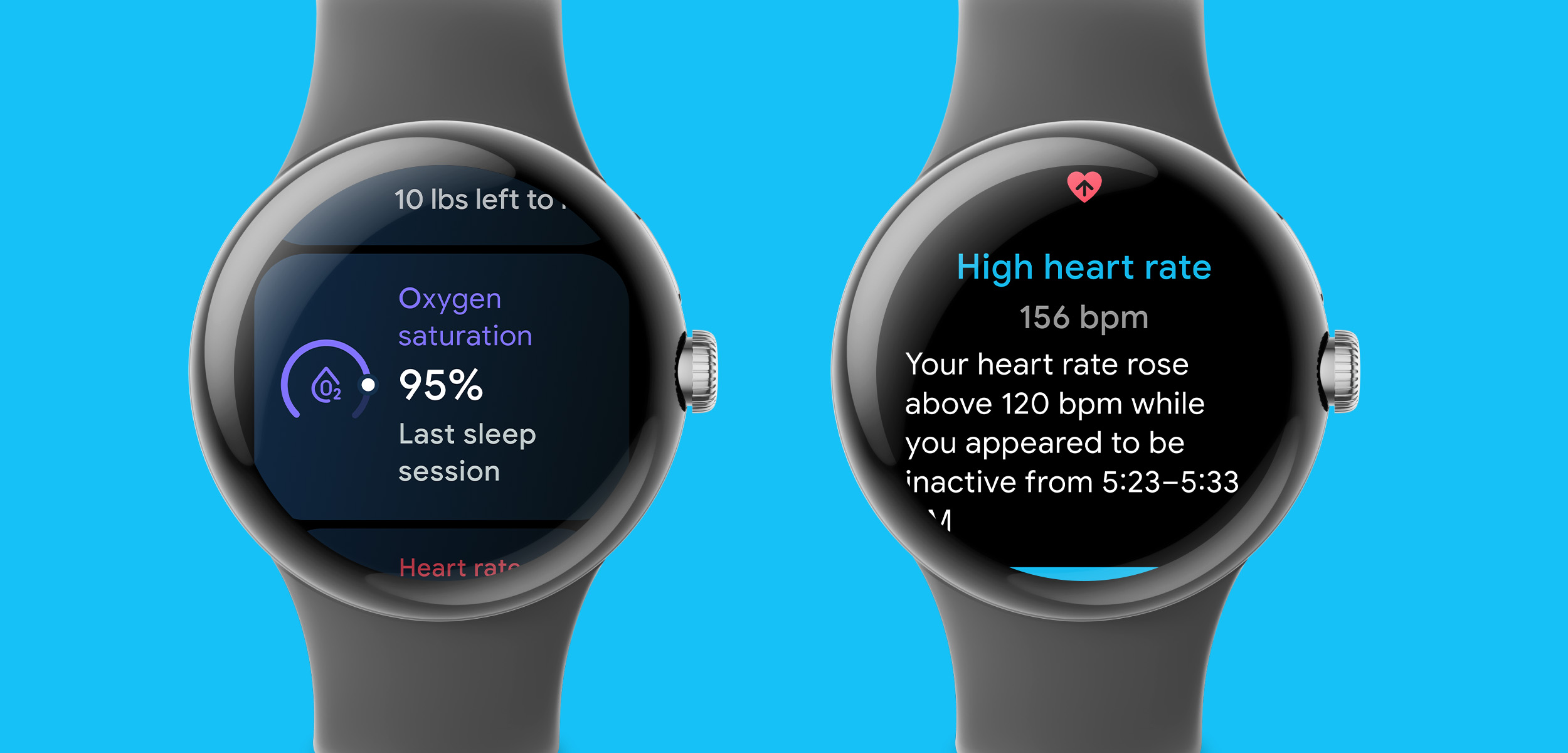 Auto-pause during exercise
Sick of manually hit the pause button during a workout bathroom break or if you stop for a few minutes? Those days will soon be behind you, thanks to auto-pause making its way onto your Pixel Watch. This should work with running, walking, and biking and maybe others. Workout tracking should also auto-resume once you pick things back up.
Spotify app
Google previously teased this at Google I/O and is now delivering – Spotify has launched its new app on Wear OS and your Pixel Watch. Yay for more apps. Note: This previously said that the new WhatsApp app was here, but it is not quite ready yet.
Google Assistant new languages
Google has expanded Wear OS support of Google Assistant to Italian, Portuguese, Swedish, Polish, and Spanish.
The Pixel Watch Metal Band is here
Remember the metal bands for the Pixel Watch we knew about back in October of last year when it launched? For now, we're only talking about the $199 Metal Links band that was on display in promo materials and even had a Google Store page, yet never went on sale. It's here!
The new Metal Links band for the Pixel Watch will be available June 16 in Brushed Silver or Matte Black. You can buy it here.
Like all Pixel Feature Drops, this stuff should start rolling out today and could take days or weeks to hit your watch.
// Google