First revealed in an early build of Android 14 back in March before going official at Google I/O a few weeks ago, the upcoming Emoji Wallpaper for Pixel phones is one of the features we're most looking forward to for this year. We're a sucker for cute emoji, especially in randomized patterns or setups of our choosing spread out across our home and lock screens.
The early images we've seen of this new wallpaper, including a demo from I/O, have us a bit giddy about the possibilities for our setups. OK, that's a lie – we are more than giddy. We are so excited about this emoji wallpaper that we wrote about it twice and called it the "best feature" of Android 14 Developer Preview 2.
Because of that excitement, we couldn't help but let you know that the Emoji Workshop Wallpaper (official name) showed up in a Telegram group for a small group of users running the latest Android 14 Beta 3 today. It's here!
Because this is Android, those folks then ripped the .apk file and began sharing it with the world, so that we can all take it for a spin. Well, Pixel phone owners can at least. Tim and I were both able to get it up and running on our Pixel 7 devices with the latest Android 14 Beta 3. Your mileage may vary depending on version of OS and phone.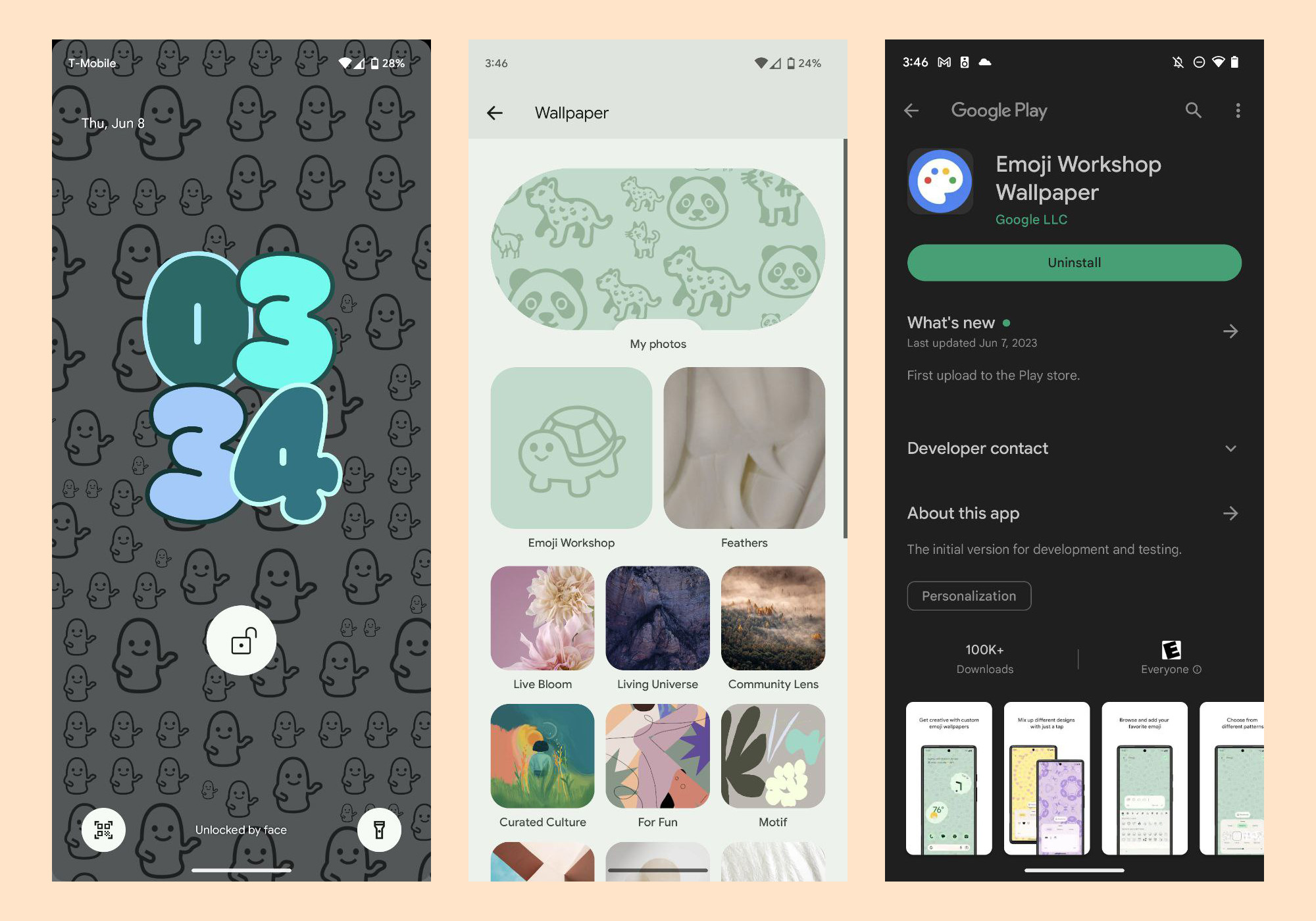 Once installed (and with a reboot or two), you'll find an option for "Emoji Workshop" in your wallpaper picker. Tapping on that lets you dive into wallpaper creation, but it'll also show previously made wallpapers through the Workshop. Your amazing creations can live on as your mood changes or you need to switch things up throughout a day.
The Emoji Workshop Wallpaper delivers you a first tab that allows you to choose as many emoji as you can to make up your emoji wallpaper pattern. You can also "randomize" the layout if you aren't motivated at the moment. From there, you get to choose from patterns of Mosaic, Lotus, Stacks, Sprinkle, and Prism, as well as the size displayed. The final tab before setting the wallpaper is a color picker with 20 colors.
To find the listing for it on Google Play, you can see it here if you have a supported Pixel phone. That's apparently where the first batch of folks found it before sharing the .apk file. My guess is that Google didn't mean to send it out just yet. However, once it moved through there as an update, folks were able to grab it.
Go have some fun.
// reddit