When Samsung launched the Galaxy S23, Galaxy S23+, and Galaxy S23 Ultra, we were sort of surprised that trade-in values for current phones to be used towards the new ones weren't as high as usual. We were so used to trading in the previous-year Galaxy S and then paying almost nothing for the new model. Maybe it was the poor Q4 performance or maybe there are other economic factors weighing on the discounts, but buying a Galaxy S23 wasn't as cheap as anticipated.
As we move further from that initial launch, Samsung is continuing to run promo after promo to move units. While they aren't offering up bigger discounts than we saw at launch, they are at least matching them, which they don't often do. For Samsung Discover, each day has given us a deal worth considering.
Today, the Galaxy S23 and Galaxy S23+ are headlining Discover with one of their best prices to date. The Galaxy S23 can be had for as little as $99.99 (here) or you could upgrade to the bigger Galaxy S23+ for $299.99 (here).
How do you get those incredible prices? By trading in a phone, of course. At the moment, you can trade in a Galaxy Fold 4 and get $700 off – that'll get you the lowest $99.99 price. You could also trade-in a Galaxy S22 Ultra and get $600 to use towards that new Galaxy S23. From there, the values of trades drop under $600, which you can see below.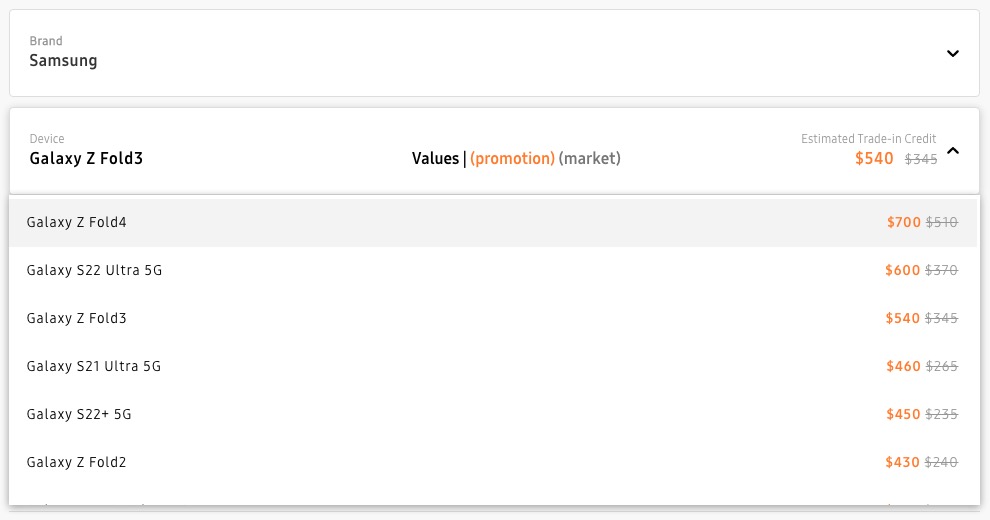 I'm not sure I need to keep reminding you, but for those new, Samsung takes your trade-in and gives you the value as an instant discount today. Should you have a Galaxy Fold 4 to trade towards a Galaxy S23, you will pay just $99.99 today. They'll ask you to send in your Fold 4 to confirm later on, but the discount really doesn't happen immediately, not further down the road.
As a bit of a bonus, Samsung is tossing in 10,000mAh portable battery with capable speeds up to 25W. That's a $35 value. Not bad.
Again, this is a price that is supposedly only good for today. Tomorrow we will see the special sale on the Galaxy S23 Ultra.