The world of Android smartphones doesn't have many realistic options for those who prefer a smaller phone. That's not to say that there haven't been smaller smartphones in recent years, but they often lack in high-end specs or have predictably poor battery life. With the Galaxy S23, Samsung has delivered a small phone without any glaring problems and is the best I've used in a long, long time.
After wrapping up my Galaxy S23+ review a week ago, I mentioned that the battery life it showed was so impressive I was considering the purchase of the smaller Galaxy S23 for personal use. And that's while keeping in mind that the Galaxy S22 from last year was so horrible in the battery department, that the special colorway I ordered, even as hot as it was, could only hold my attention for a couple of days before shelving it and then eventually selling it off.
Tim said it in his review, but the battery life was truly awful. He talked about adjusting his daily usage amount around the fact that the S22 couldn't get him through a day. In 2022, a flagship phone was asking him to limit the amount of time he spent with it or else. Think about that. It made the Galaxy S22 a phone that almost no one should have purchased.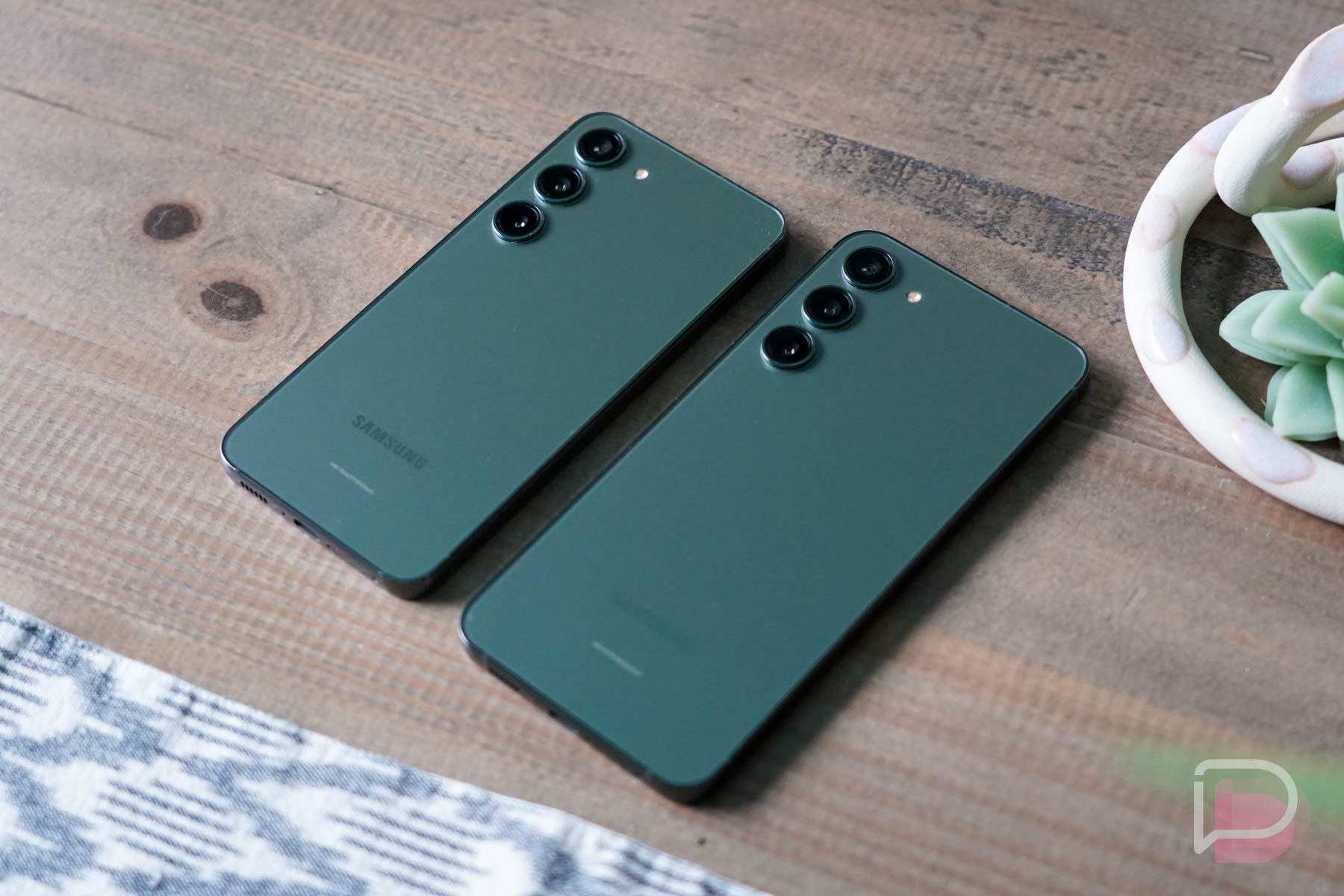 Over this past weekend, I did indeed order a Galaxy S23 in "Green" and picked it up from Best Buy. It has absolutely met (and maybe exceeded) every expectation over these few days of use.
To back up for a minute, you have to understand that I'm one of those guys who has never really loved the move from phone makers to making extra-large devices. While I've learned to handle a 6.7″ display in a massive frame, phones like the Pixel 5 earned more time in my pocket in recent years than the Pixel 7 Pro. I am always on the hunt for a phone that provides an excellent experience in a smaller body.
Since the Pixel 5 retired from my regular rotation, I've been desperately seeking a smaller phone to replace it and is probably why you've seen me with an iPhone 14 Pro off and on. I tried with the Pixel 6, but it wasn't small enough. I tried with the Galaxy S22, but as I just said, it had pathetic battery life. I tried with the Pixel 6a, but it had unimpressive battery life and a camera I didn't love. The Pixel 7 has come the closest to winning my heart, but battery life in recent months has pushed me away once again.
So here I am with the Galaxy S23. What's battery life looking like in these early days as the phone is still trying to learn my usage patterns? It's good, guys.
The first full day of use I hit 5.5 hours of screen on time and went to bed at almost midnight with 24% left. That's a heavy day of customizing from me, along with the phone trying to figure out how I use it. I was shocked to see it still running, without a charge in the middle of the day to get me to bed.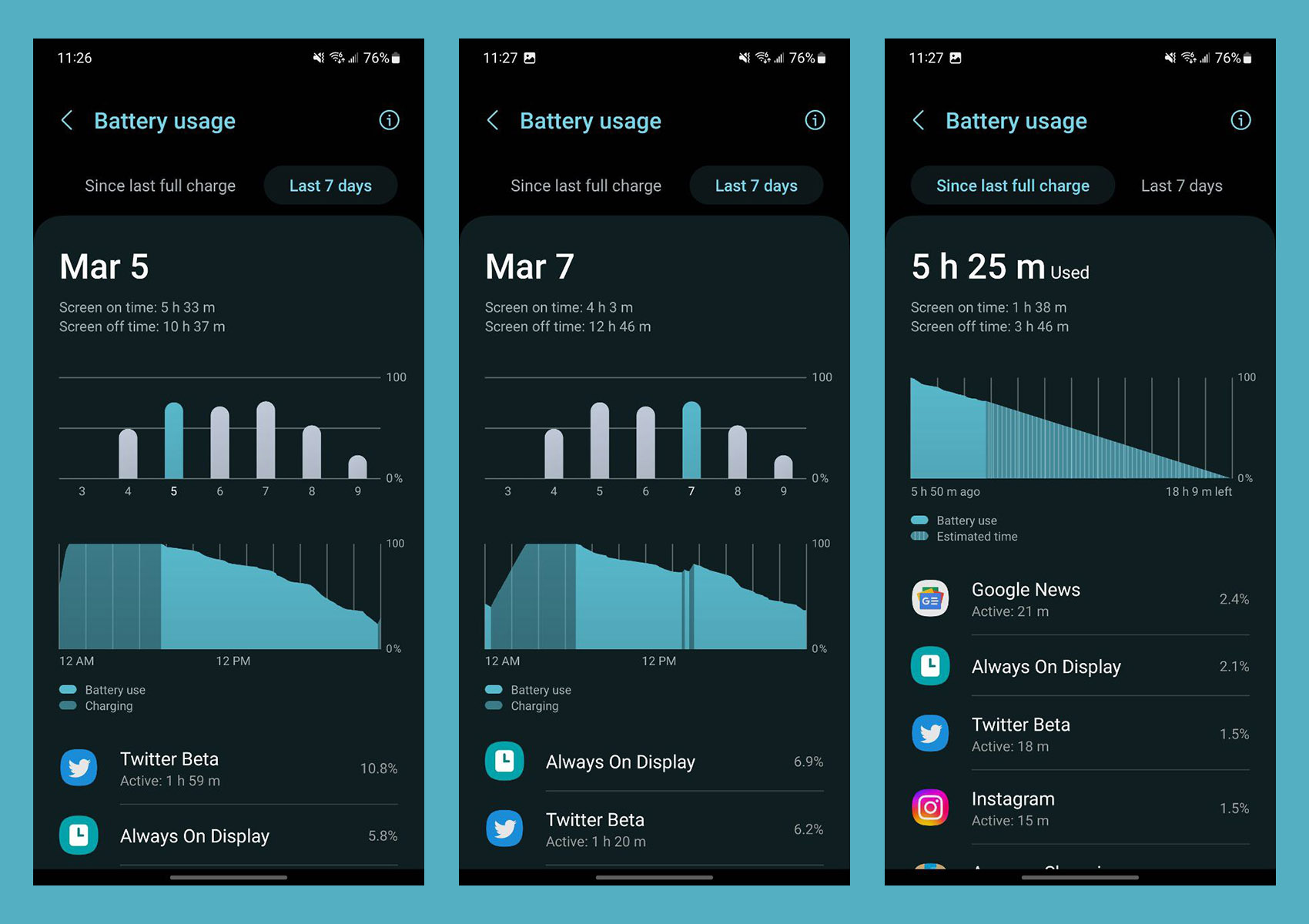 Other days have been similarly great. One of the days we went out to dinner and my kid stole the phone to game for a good portion of it and I once again went to bed with 25% or so, although I did get a brief 10 minute boost while it charged in my car on the way home. On lighter use days, I'm going to bed with close to 50% battery remaining. So again, the Galaxy S22 was asking us to limit usage in order to make it through a day and yet the Galaxy S23 in the first week has me at a place where I could probably turn off the battery percentage, because it doesn't really matter. And there's a chance this only gets better.
Why is battery life so good on it compared to last year? For one, Samsung did bump the battery size up from 3700mAh to 3900mAh. That's not a huge jump, so then we'll probably have to give Qualcomm a bunch of credit. Samsung put Qualcomm's Snapdragon 8 Gen 2 inside and it appears to be an efficient little beast. Qualcomm claims there is a 40% improvement in power efficiency from the CPU and 45% from the GPU. I'd tend to believe them after using both this S23 and the S23+.
Is everything else good? That's the thing, right? Battery life is only one important piece of a phone, but we still need to care about overall performance, display, camera quality, software, etc. Since this is simply a smaller Galaxy S23+, I can tell you that everything else is good, yes. The Galaxy S23 has the same internals as its bigger + brother and so we're looking at the same excellent phone, only smaller.
My friends, the Galaxy S23 is the small phone we needed. For those who weren't considering it knowing the story from last year, I think it's worth another look.
If you want to buy one, Samsung's got you.