AT&T TV quietly adjusted prices in the wrong direction this week alongside YouTube TV and fuboTV. Each of its available plans are now $10 more per month than they were a few days ago, plus one of the packages no longer has its best freebie.
I still can't find an announcement from AT&T about the price change, but it appears they made the sneaky switch after June 27, when the Internet Archive last shows the old pricing.
Going forward, it looks like new customers will pay $59.99/mo for the Entertainment Package, $64.99/mo for the Choice Package, and $74.99 for the Xtra Package. Both the Choice and Xtra packages still include a free year of HBO Max, but the cheapest Entertainment Package no longer gets that bonus. To be clear here – AT&T cut free HBO Max from the cheapest package and raised its price by $10/mo.
AT&T TV still requires customers to sign-up for a 2-year contract too. So not only are you looking at a $10/mo increase in year one, AT&T TV's price will increase further in the 2nd year. In looking at the terms, AT&T is apparently charging a $19.95 activation fee, as well as early termination fees of $15/mo for each month remaining on the 2-year contract. Woof.
Streaming TV is becoming a really, really bad deal.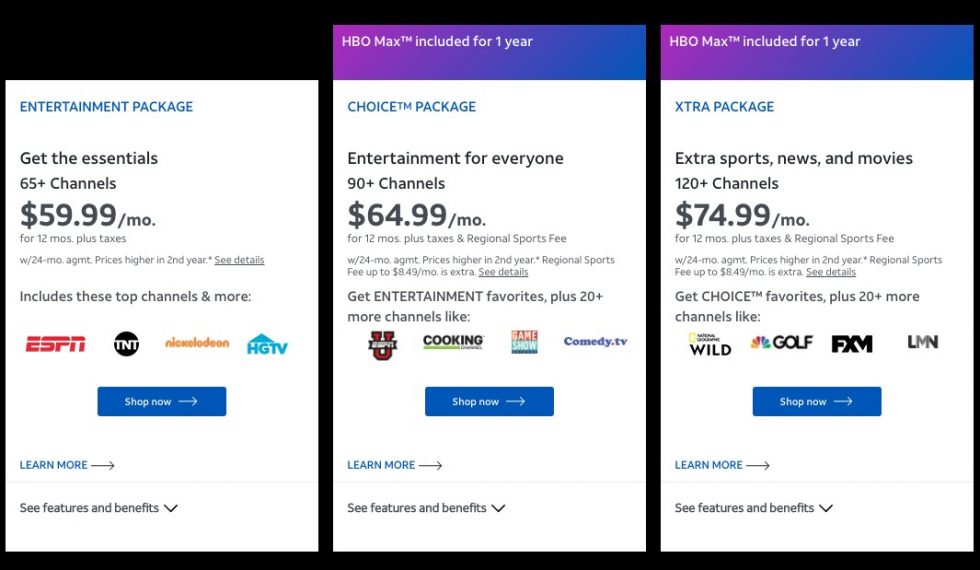 // AT&T TV