Comcast's Xfinity Mobile has taken a slow approach to adding support Android phones for its BYOD or Bring Your Own Phone program. They've supported iPhones for a some time and Samsung phones since earlier this year, but for whatever reason, never allowed others, like Google's Pixel line. That appears to have changed today!
Thanks to a reader tip, we can confirm that Comcast Xfinity Mobile now supports the entire family of Google Pixel phones in its BYOD service. That list of Pixel phones includes the Pixel, Pixel 2, Pixel 3, Pixel 3a, and Pixel 4, according to a recently updated support page. I even tested my Pixel 4 XL IMEI just to be sure and as you can see below, it's compatible.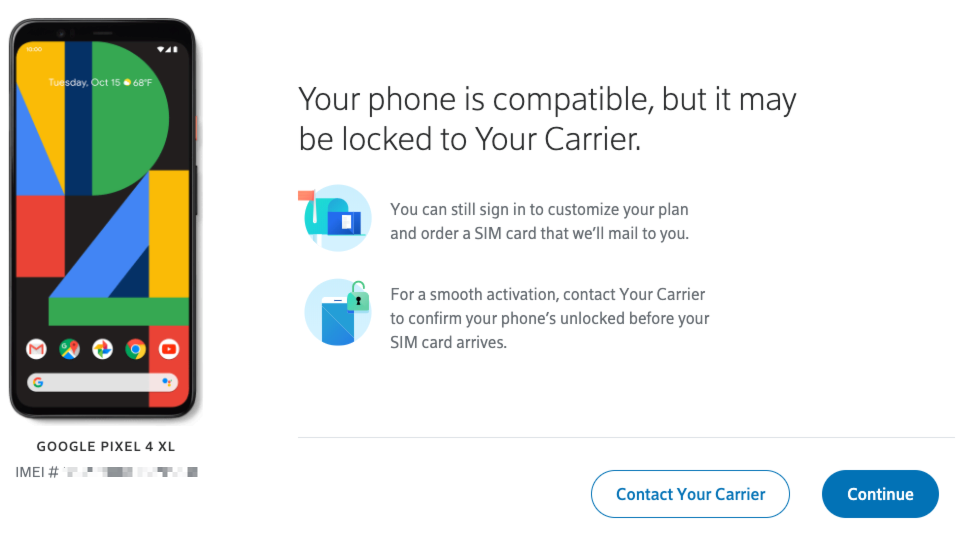 Why would you want to switch to Xfinity Mobile? For one, it uses Verizon's network, which is still probably considered by most to be the best in the US as far as stability goes. It's also pretty damn cheap. There are "By the Gig" shared data plans that start at $12 (1GB) and go up to $60 (10GB), as well as an unlimited plan that costs just $45 per month. That unlimited plan gets full Verizon speeds up to 20GB.
What's the catch? You have to subscribe to a Comcast Xfinity service in order to get those low prices, though I'd imagine a whole bunch of you do. For example, as long as you have Xfinity Internet, you are eligible for Xfinity Mobile, including that $45 plan. If you don't the plan costs $65.
So while Xfinity Mobile has been around for a couple of years, with direct selling of some Android phones, this is the first time you are able to bring your own Google Pixel phone to their service. That's big for Comcast customers!
Cheers Brian!