The final Android update of the year is here!
Google has posted the December Android security patch for its Pixel phones. That includes images and OTA files for the Pixel and Pixel XL, which should be the last for the original Pixel phones. We seem to be missing updates for the Pixel 4 and Pixel 4 XL, though.
Currently, we are seeing new 10.0.0 files for Pixel 3a and Pixel 3a XL (QQ1A.191205.011), Pixel 3 and Pixel 3 XL (QQ1A.191205.008), and Pixel 2 and Pixel 2 XL (QQ1A.191205.008). Assuming Google doesn't have a change of heart, the final Pixel and Pixel XL update will be build QP1A.191005.007.A3.
UPDATE: Below are the "notable" fixes for this month's update. Also, Google says the Pixel 4 and Pixel 4 XL update is coming next week.  The builds for Pixel 4 and Pixel 4 XL are QQ1B.191205.011 (T-Mobile, Fi, EMEIA), QQ1C.191205.016.A1 (Japan & Taiwan), and QQ1B.191205.012.A1 (all other carriers).
UPDATE 12/10: The Pixel 4 and 4 XL factory image and OTA files are now live.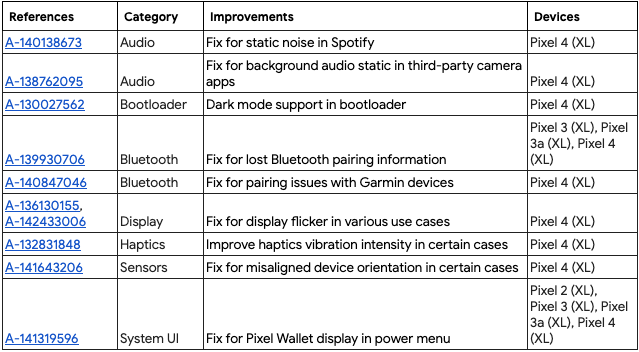 You will find each image or OTA file at the links below. For instructions on how to flash a factory image, here you go. For instructions on how to flash an OTA .zip file, here you go. To check for the update, head into Settings>System>Advanced>System update.
We'll continue to update this post as Google gives us more information on the update.
Links:
______________________
Some of our best videos.