T-Mobile, after pushing out a couple of 5G coverage maps in June that no one would have been mad about had they never been presented publicly, is ready to launch nationwide 5G in about a month. They also have two phones ready for action that will both work once (and if) New T-Mobile is formed with Sprint.
On December 6, T-Mobile will open up 5G coverage to "more than 200 million Americans and more than 5,000 cities and towns," including some in rural America, the company announced this morning. With those numbers, that's around 60% of the country's population.
T-Mobile says that it's doing this big nationwide push thanks to a combination of their LTE and 5G networks. This particular 5G network will run over their 600MHz spectrum (low-band) and is different than the 5G they launched earlier this year over millimeter Wave (mmW, high-band) This is basically a forming of the backbone of what will be their super 5G network should they ever get full approval to merge with Sprint and create New T-Mobile. They did get big news on that front this week, though.
To start, once the network is live, T-Mobile will offer the Samsung Galaxy Note 10+ 5G and OnePlus 7T Pro 5G as options for those looking to get early 5G action. Both of these phones can access this 600MHz edition of T-Mobile's 5G, but they'll also be able to connect to Sprint's mid-band 5G spectrum with New T-Mobile. That's big, because Sprint's mid-band is the key to what could be the best 5G network in the US.
Unfortunately, for those who own a Galaxy S10 5G, you won't be able to connect to this 5G. The S10 5G was built to work on their 5G mmW (high-band) service in those 6 markets from earlier, but is not capable of connecting to this 600MHz 5G (low-band). That sucks!
Where will you find T-Mobile 5G? Well, here is an updated map that T-Mobile should feel much better about showing. As the key shows, the darker magenta is 5G, with the lighter pink as 4G LTE. This 600MHz 5G is the type of 5G that stretches for miles and works indoors and through walls, unlike 5G mmW, which barely works a block away and not in direct line-of-sight. This low-band stuff might not be as fast as the 2Gbps speeds of mmW, but it'll actually work.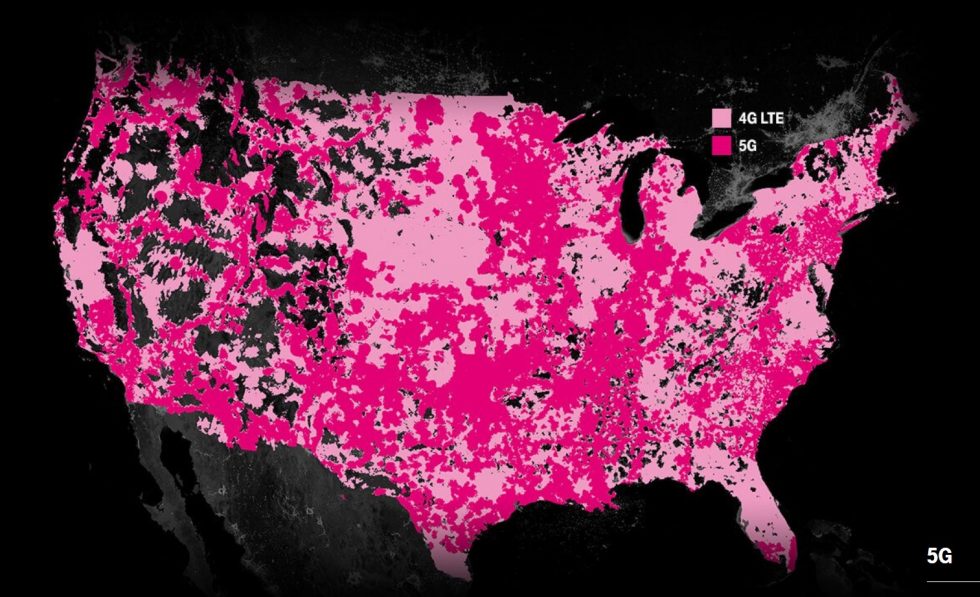 So again, T-Mobile's real 5G network is launching on December 6 and there will be two phones that can access it. We'll have more once December 6 rolls around.
// T-Mobile