Back in September, a report suggested that the mystery tech that Google bought from Fossil at the beginning of the year was related to a "Diana" hybrid watch platform that the company had yet to release, but that Google hoped to license to other wearable makers. Then, days after that report, listings for that unreleased hybrid watch were spotted, basically revealing all, only Fossil never followed those up with an announcement. Today, those Fossil Hybrid HR watches and the platform are official and available immediately.
The new Fossil Hybrid HR comes in two models: Collider and Charter. They start at $195, but can climb up to $215 depending on the band type.
As for specifics, what we have here is a hybrid smartwatch with an always-on e-paper-like display. That display can show all sorts of information, like heartrate, notifications, real-time weather, steps, other workout info, music controls, etc. Since this is a hybrid, you have mechanical hands for telling the time, though Fossil says you'll still be able to customize the watch face some.
And speaking of time, you can set alarms, timers, and a stopwatch, plus you can light up the watch at night with a light. Each watch can connect to Android or iOS devices through the Fossil Smartwatches app (Bluetooth 4.2), which allows you to customize everything, track health and sleeping, that sort of thing. They are water resistant to 3ATM, track sleep, have customizable buttons, and last for 2+ weeks on a single charge. Once that charge (finally) runs out, you can re-charge the battery in under an hour.
For case sizes, the Collider and Charter are both 42mm, 11-13mm thick, and made of stainless steel, but you'll get 22mm straps on Collider and an 18mm strap width on Charter. To be clear, Collider is the more masculine of the two. Below, you'll find many of the available models with the gold versions being Charter and the rest as Collider.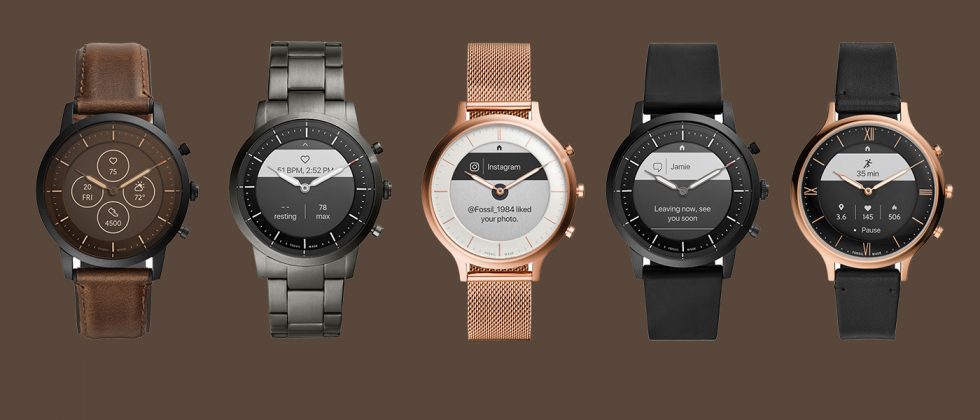 Is this the mystery tech that Google bought from Fossil? It could be, but Fossil hasn't disclosed that to us (EDIT: They told The Verge there is "no relation" between Hybrid HR and the tech they sold Google). They also do not mention the words "Wear OS" at all here, so no, I still don't believe this is some random fork of Wear OS that works on hybrids. Instead, you've got a hybrid watch that borrows some of the UI design from Wear OS, likely to keep things in alignment with the rest of Fossil smartwatches. Everything is powered by Fossil's Smartwatches app.
Still, I'm weirdly excited to wear one for a bit and see what the experience is like. I know that LG tried something similar to this and failed, but this looks less smartwatch and is instead a focus on the essentials. I'd love a close-to-smartwatch experience that last 2 weeks on a single charge, tracks workouts and sleep, and lets me get all of the notifications I need in a visual way. It's also a bit like the rebirth of Pebble.
Interested in Fossil Hybrid HR? You can buy them today at the links below. Would you rather wait to hear our thoughts? We should have one in house very soon.
Shop Fossil Hybrid HR: