As a part of the Pixel 4 launch, Google adding new benefits to its Google One storage service. Not only do Pixel 4 get a free Google One trial and help sessions with "Pro" Google experts, there's a new rewards program with benefits that increase depending on your storage tier.
For the free trial, Google announced on stage at the Pixel 4 event that they were giving Pixel 4 owners the entry-level 100GB plan for free for 3 months. That plan normally costs $1.99/mo, so yeah, a $6 freebie.
For the rewards program, Google is giving you expanded rewards depending on your tier. For 100GB storage plans, you get access to Pixel 4 Pro Sessions, which really are just 1-on-1 Hangouts sessions with a Google expert for those of you who might need help. For 200GB members, you get the Pro Sessions and 3% back on Google Store purchase. Finally, for 2TB members, you get Pro Sessions and 10% back.
As long as you purchase goods on the Google Store with the same account you use for Google One, you'll earn rewards as Google Store credit. Those credits are automatically calculated and issued 30 days after your purchases ship.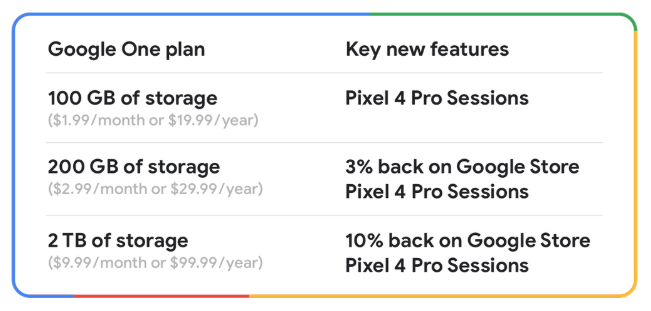 Anyone else just upgrade like I did? Also, this would have been nice to know before I pre-ordered two Pixel 4 phones.
// Google