The new NVIDIA SHIELD TV Pro that showed up at Amazon for pre-order this morning isn't the only new NVIDIA SHIELD on the way. Spotted at Newegg, there's another device in smaller, stick form that packs very similar specs in an easier-to-hide form factor.
The device, which has already been pulled from Newegg, is meant to be hidden behind your entertainment center where you hide the rest of your cables. This device is just 6.5″ long and less than 2″ wide. It's not quite a dongle or Chromecast, but pretty close.
This new NVIDIA SHIELD also has the new Tegra X1+ processor (there's a Tegra Z1+ processor in there too) Dolby Vision-Atmos support, 4K AI upscaling of HD content, 4K HDR, HDMI, dual band 802.11ac WiFi, and Gigabit ethernet. You'll be able to expand external storage through a microSD card, unlike the bigger SHIELD TV Pro where you'll need an external storage or USB device.
This smaller unit appears to have the same new remote as the Pro with menu button, play/pause/fwd/rwd buttons, a voice button for voice controls over Alexa or Google Assistant, volume controls, and a dedicated Netflix button. It should also run on 2-AAA batteries, with  lost-remote locator, motion-activated backlit buttons, and Bluetooth connection.
We don't yet know pricing, but Newegg Canada had it listed as $200 CAD.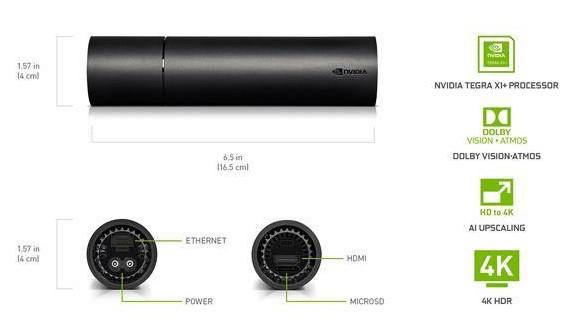 You now have a decision to make – you buying this little guy or the Pro?
// reddit