The Samsung Galaxy Fold went up for pre-order on Sunday and sold out immediately. Shortly after, Samsung handed a number of review units to press (not us), who have had them for a couple of days now for testing. At least three of those units have already broken.
Within a few minutes of each other this morning, three tech reporters took to Twitter to share the stories of their broken Galaxy Fold units. The Verge put together a write-up that described and showed off a weird bulge that eventually broke the foldable display on the inside of the Fold. CNBC and Bloomberg tech folk followed up with devices showing the inside display half-dead, flickering, or getting progressively worse since issues first started last night.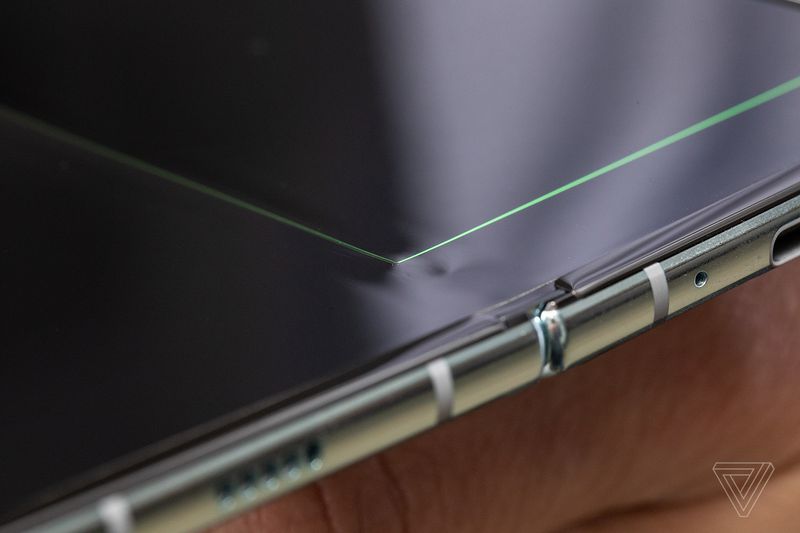 What's going on here? The Verge isn't sure exactly what happened with their unit. As I noted above, they noticed a bulge of some sort within the bottom crease of their review unit that eventually cracked or put enough pressure on the folded display to cause a line to form down the middle and off to the right side. With Steve Kovach from CNBC, his unit began flickering after "one day of use…" where he said he simply "just unfolded it."
As for Mark Gurman of Bloomberg, his screen is possibly the worst of them all, but could have died because he removed a protective "polymer" layer on the outside of the foldable display that I'm guessing he thought was a screen protector. Samsung has apparently told people they weren't supposed to remove it, just not in time, obviously. It looks like Marques Brownlee did the same thing, so we'll have to watch and see if his unit survives.
The screen on my Galaxy Fold review unit is completely broken and unusable just two days in. Hard to know if this is widespread or not. pic.twitter.com/G0OHj3DQHw

— Mark Gurman (@markgurman) April 17, 2019
So the $2,000 Galaxy Fold has been in the hands of press for a day or two and is breaking. That's not good.
We'll update this post as we learn more.
UPDATE: Samsung issued a statement to The Verge that recaps what we shared and says that they'll investigate the couple of devices that may have run into hardware issues. On the flip side, for those who ripped off the protective layer, well, Samsung will make sure customers know they shouldn't do that.
A limited number of early Galaxy Fold samples were provided to media for review. We have received a few reports regarding the main display on the samples provided. We will thoroughly inspect these units in person to determine the cause of the matter.

Separately, a few reviewers reported having removed the top layer of the display causing damage to the screen. The main display on the Galaxy Fold features a top protective layer, which is part of the display structure designed to protect the screen from unintended scratches. Removing the protective layer or adding adhesives to the main display may cause damage. We will ensure this information is clearly delivered to our customers.