Good guy Samsung announced last week that it was going to allow owners of the Galaxy S10, Galaxy S9, Galaxy S8, Note 9, and Note 8 to remap the dedicated Bixby button without having to jump through work-around hoops. They were going to give you the ability to remap Bixby to another app within their new One UI. Today, an update to Bixby is rolling out that enables this change, but don't expect to be able to switch it over to Google Assistant.
Once updated, you'll find the new options by going into Bixby settings, then scrolling until you find the "Bixby key" section (here). Within that section, there are options to single or double press to open Bixby, along with a customization for the opposite of whatever you choose. So if you choose "Double press to open Bixby," then you can set the single press to open an app. That make sense?
Samsung will let you customize that extra layer to open almost any app on your phone, just not Google Assistant. You can choose the Google app, but that only opens up a Google Search box when pressed. If you have the Google Assistant shortcut app (link) installed, Samsung is either hiding that as a choice or it's not surfacing for some reason. I 100% have it installed, yet it's not showing in the screenshot below.
You could set that extra press to run a specific Bixby command too.
Either way, assuming you don't care about having that shortcut open Google Assistant, you can now customize Bixby to any app of your choosing! And you don't need one of those janky 3rd party remappers! Good times. Good times.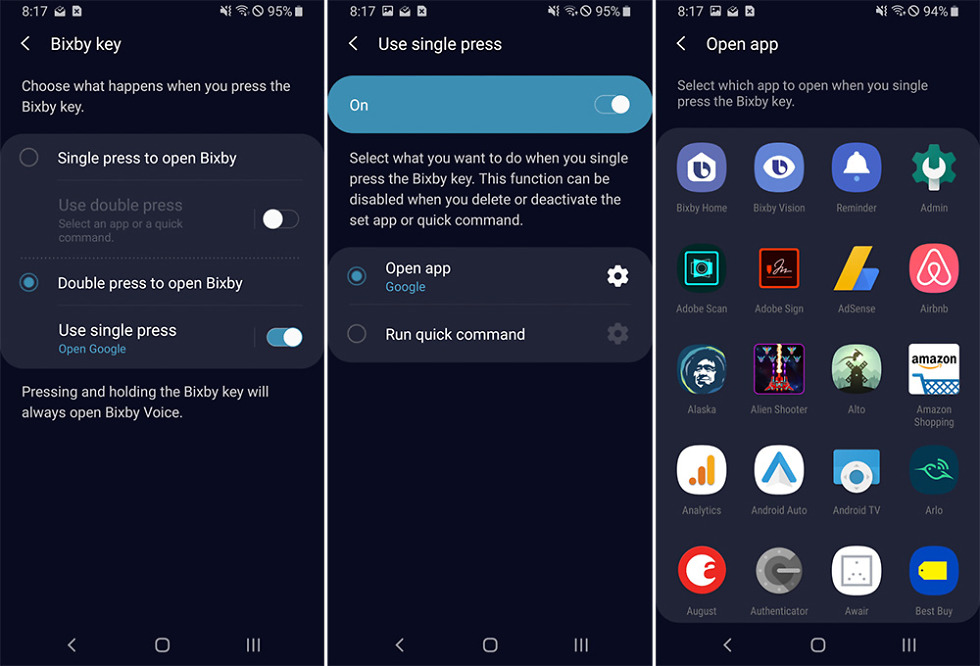 Cheers @Blacknight2332!