Thanks to a last minute banner sighting before MWC kicked off, we got a first look at Huawei's first foldable phone, the Mate X. Today, the company made it official and it showed it off some.
First and foremost, the Huawei Mate X differs out of the gate from the Samsung Galaxy Fold because it has a "Falcon Wing Mechanical Hinge" that allows its display to fold and not leave a sizable gap between folded parts. The display is a flexible OLED panel at 8-inches (8:7.1, 2480×2200) when fully unfolded, but then splits into two when folded. On one half, you have a 6.6-inch display (19.5:9, 2480×1148), while the other is 6.38-inch (25:9, 2480×892). It's much more of a maxed-out display design than what Samsung did with separate cover displays and a big notch on the inside. There is little bezel to be found here and no notches.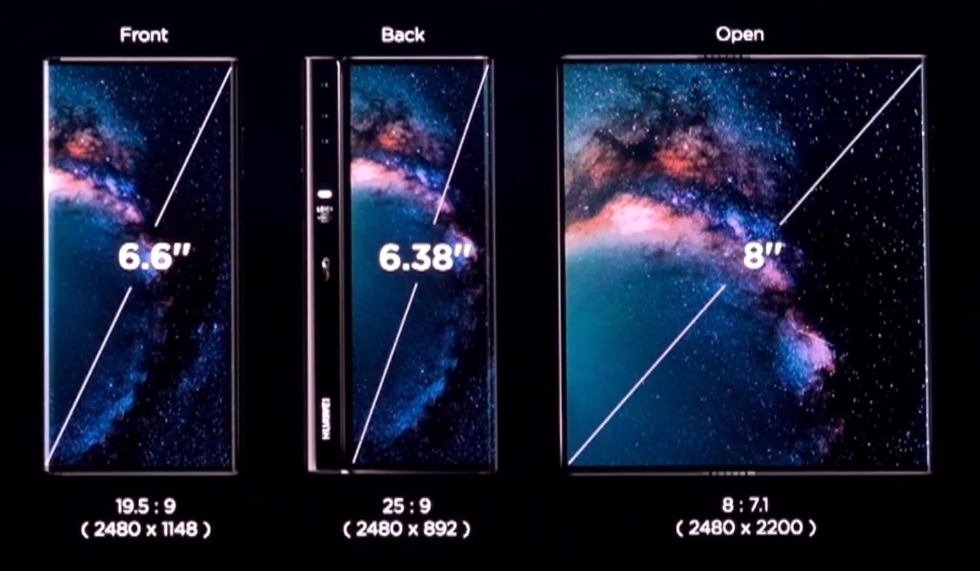 Inside, you've got a Kirin 980 processor, Android 9 "Pie" and EMUI 9.1.1, 8GB RAM, 512GB storage (with SD support), triple camera (40MP wide-angle + 16MP ultra-wide-angle + 8MP telephoto) Bluetooth 5.0, USB Type-C port, 4500mAh battery, 5G connectivity, fingerprint reader, and 55W SuperCharge powers, in a body that drops to 5.4mm when unfolded (not counting the camera hump). It's most certainly maxed out.
For software, Huawei doesn't appear to have worked on any special tricks. You really just get a smartphone- like experience when the phone is closed, plus a wider tablet-like experience once opened. It's cool enough, I guess.
The Huawei Mate X will arrive in "middle of 2019" at a starting price of 2299 EUR.
To catch the presentation, hit that play button below – it should jump to 1:21 and the start of the Mate X portion.