I wasn't originally going to take that deep of a look at the Fossil Sport after it was announced with a decent price point and the new Qualcomm Snapdragon Wear 3100 on board, but you all talked me into it. So, I've spent the past week with one on the wrist, using it as a smartwatch, doing sport things, and trying to figure out if this is going to be the new default Wear OS watch everyone should consider.
In short, I haven't actually been that pleased with the Fossil Sport. It's not doing anything particularly special, which is disappointing knowing that it runs the newest processor on the market. It's not awful, though, it's just not going to takeover and carry Wear OS into any sort of rebirth.
Let's talk about it – this is our Fossil Sport review.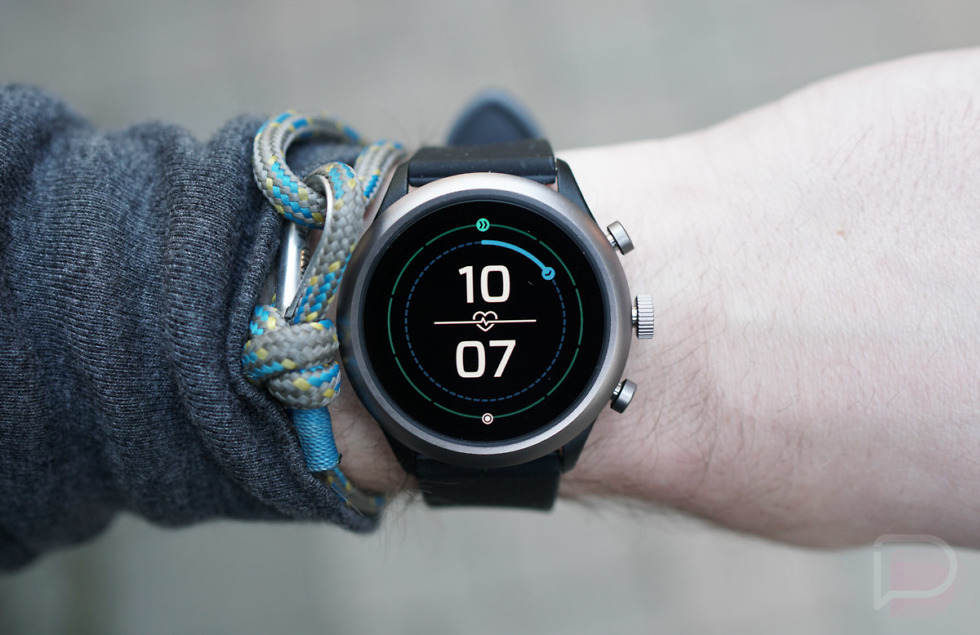 What is the Fossil Sport?
This new smartwatch from Fossil is a $255 Wear OS device that not only runs the new version of Wear OS, it's powered by the brand new Qualcomm Snapdragon Wear 3100 platform. You can buy it in a variety of fun colors (red, blue, grey, and gold) with even more color choices in bands.
The Fossil Sport is available in both 41mm and 43mm case sizes (I tested the 43mm), with easily swappable 18mm or 22mm straps, respectively. It features a 1.2″ AMOLED display, 350mAh battery, heartrate monitor, NFC, GPS, 4GB storage, and is swimproof (5 ATM). On the 12mm thick case, you have two pushers on each side of a rotation crown button. Speaking of that case, it's basically all-plastic, so it is incredibly light.
I don't know that I'd consider this an entry level Wear OS watch, but it is one of the cheaper you'll find, especially with the new Wear 3100.
What's good, what's bad about the Fossil Sport?
Design: I actually quite like the design of the Fossil Sport. It's round, has that racing watch style with the pushers and crown, and is a great size at 43mm or 41mm. It's only 12mm thick, so it sits nicely on the wrist, plus it's so light with the mostly-plastic case that you'll hardly know you are wearing it. I'm loving the multi-color approach from Fossil here, as it lets watch wearers show some personality and customize a bit. The Fossil Sport is definitely the "fun" Wear OS watch of the moment.
Now, the watch is plastic, so it won't feel like a premium, all-metal watch that wears like a piece of jewelry. You really should think of this as a sport/fitness watch that's meant to be light, worn while working out or as your fitness accessory throughout the day. Sure, you could dress it up some by putting a metal band on it, but that might look ridiculously cheesy. Actually, it probably will.
Overall, though, the Fossil Sport looks great as a casual Wear OS watch that can be worn daily, with almost anything, and that isn't big or heavy enough to get in your way.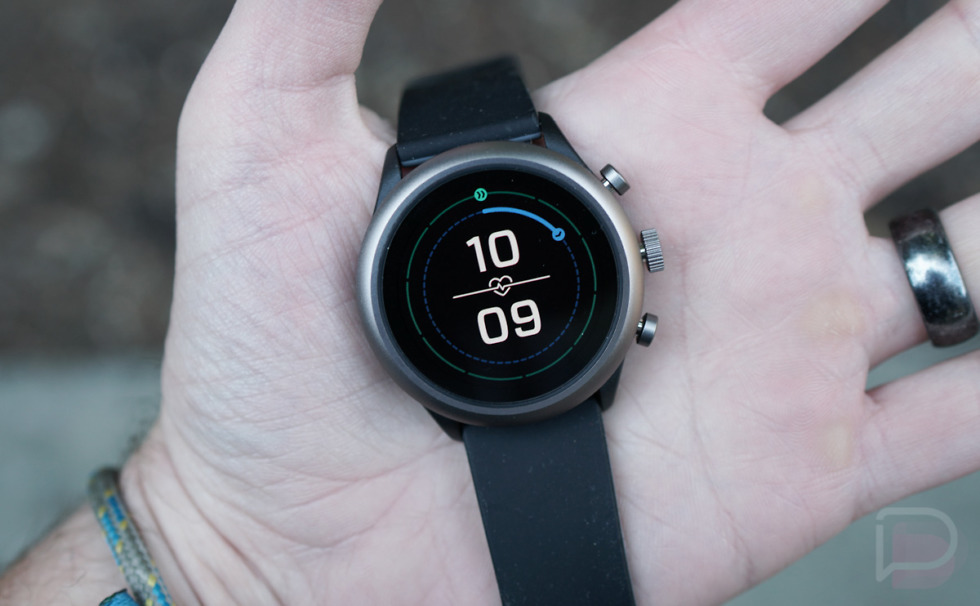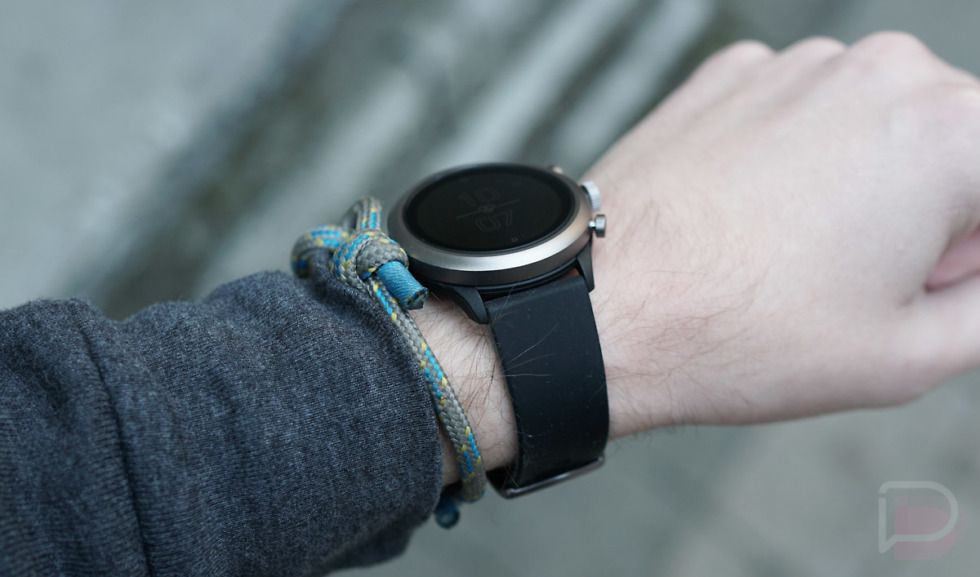 Display: The Fossil Sport's 1.2″ AMOLED display isn't awful or great, but probably somewhere in the middle. In sunlight, it will be hard for most people to see, the colors in the always-on display don't pop or standout as much as they did for me on the Montblanc Summit 2, and the extra bit of black bezel surrounding it might turn some off. The display doesn't appear to be that close to its cover glass either, which could be why I had some performance issues (see below).
Other than those complaints, it's a fully-round display without a flat tire, is quite colorful, and gets the job done in most situations. There's just nothing remarkable about it. That's probably fine.
Battery Life: Like with the Montblanc Summit 2 (review) and its Wear 3100 chip, you go into these new watches expecting battery greatness. But like that expensive Summit 2, the Fossil Sport is just average in battery life. The 350mAh battery lasts about as long as any Wear OS watch, which is about a full day.
My typical schedule has me charging the Fossil Sport around 9AM, putting it back on wrist an hour later once it reaches 100%, then wearing it until the next morning. In between those hours I'm lightly checking notifications, the time, and the weather. I tend to get a workout in on most days, which could mean circuit or strength training, as well as a good run here and there. On days where I worked out (45-60 minute workouts), the Fossil Sport still lasted until the next morning (anywhere from 10-25% remaining).
For the single run I was able to get in during testing, I hammered out 5.3 miles with both GPS and heartrate running at all times. That run took about 22% off my battery. For other workouts, the battery drop was less significant. Again, even with workouts, I was still getting a full 24 day out of the battery.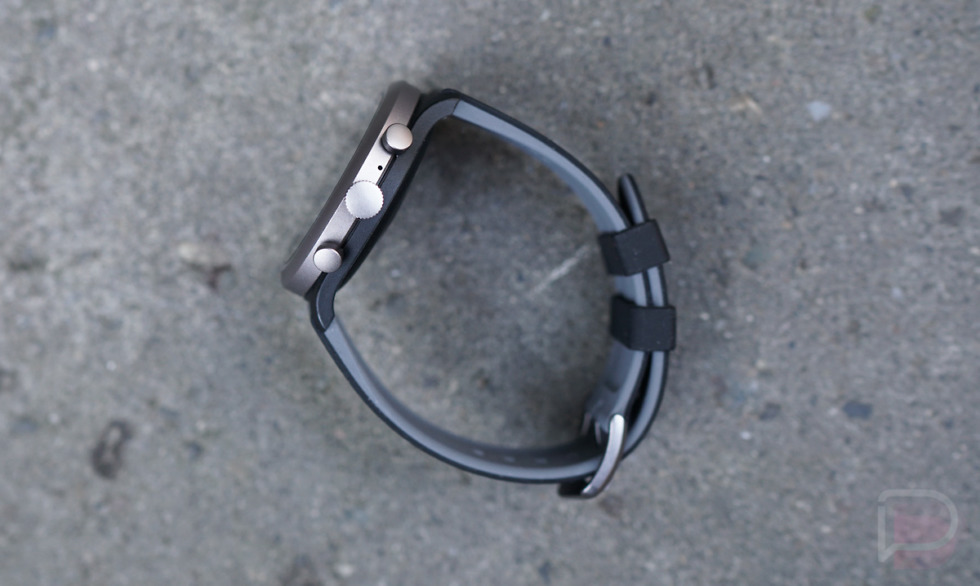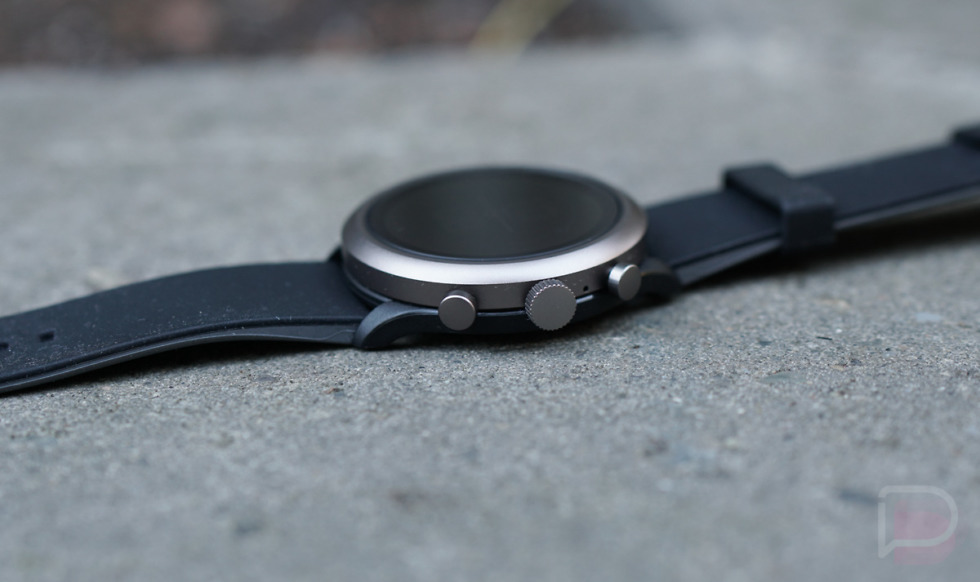 To get there, I turn off the tilt-to-wake gesture, but do leave on the always-on display. Since this watch is built to work with Google Fit, I also let it read heartrate throughout the day.
On a related note, since this watch is a 3100-powered watch, it has Time Only Mode or whatever its called. It's really just a battery saver mode that turns everything off on the watch except the screen to allow it to act only as a watch. It's a useless feature unless you really are in a pinch, forgot your charger, and need to have a timepiece on your wrist. But this is a smartwatch, so why would you turn your Fossil Sport into a dumb watch just to get a couple of days use without the smarts? I don't know.
So not 2-day or 3-day battery life, just a solid full day. That's fine, if you are used to charging a smartwatch everyday, but if you were hoping for some Wear 3100 magic, thanks to its low power co-processor, you won't find that here.
GPS and Heartrate: The Fossil Sport does have both GPS and heartrate, which is good, since it's called the Fossil Sport. As I mentioned above, I was able to get out for a single run during testing, a 5.3 mile casual, crisp Portland Sunday morning jog. I used Strava's Wear OS app on the Fossil Sport while simultaneously running my Garmin Fenix 5 watch to compare.
The GPS tracking of the Fossil Sport matched my Fenix 5. The Fossil Sport pegged my run at 5.25 miles and an 8:59 min/mile pace, with the Fenix 5 showing 5.29 miles and an 8:54 min/mi pace. That's pretty damn close, especially for a first run with the Sport. Even the mile breakdown was spot on, something that couldn't be said for the Summit 2 during run testing.
As for the heartrate monitor, it's not one I'd fully trust. I've been thoroughly slacking in my running these days, so my heartrate has climbed from its normal rate during runs. Even so, the Fossil Sport showed for the first 2.5 miles that my heart was about to explode at 180+ bpm. It then began to fall for the final 3 miles, down to the 120s, yet the run became more difficult and I pushed through the finish. That just isn't a correct reading. My Fenix 5, on the other hand, showed a more realistic and consistent readout in the 160s as I settled in and then finished.
I used the Fossil Sport to track a bunch of non-running workouts too, with heartrate monitoring active in the Google Fit app. It kept better track during those times, showing the proper ups and downs between sets and rest periods. So it does work, I'm just not sure I'm ready to completely trust it during more intense or longer runs. And maybe the Strava app is to blame there, but the only fitness app that comes with the Fossil Sport is Google's Fit app.
To recap, even though I only took the Fossil Sport on a single run, the GPS performance was good enough and matched my Garmin running watch. The heartrate stuff is something I just wouldn't look to seriously at. Typically, these casual fitness devices aren't meant to provide you with the best vital sign readings.
Performance: I wouldn't say that the performance of the Fossil Sport is all that impressive. The Snapdragon Wear 3100 runs the same processor as the old Wear 2100, so there isn't going to be a performance boost, I guess I just hoped there would be one knowing that the Sport is running the newest of the new. The only real difference is the addition of a low power co-processor to help with battery life.
For me, the Fossil Sport stutters while scrolling, doesn't load apps all that quickly, and is really slow to wake. Since I have tilt-to-wake turned off, the watch requires me to touch the screen or press a button to wake it. Almost every time I do that, I have to tap on the screen twice before it recognizes my finger and wakes. That's been pretty frustrating and discourages me from wanting to use it much.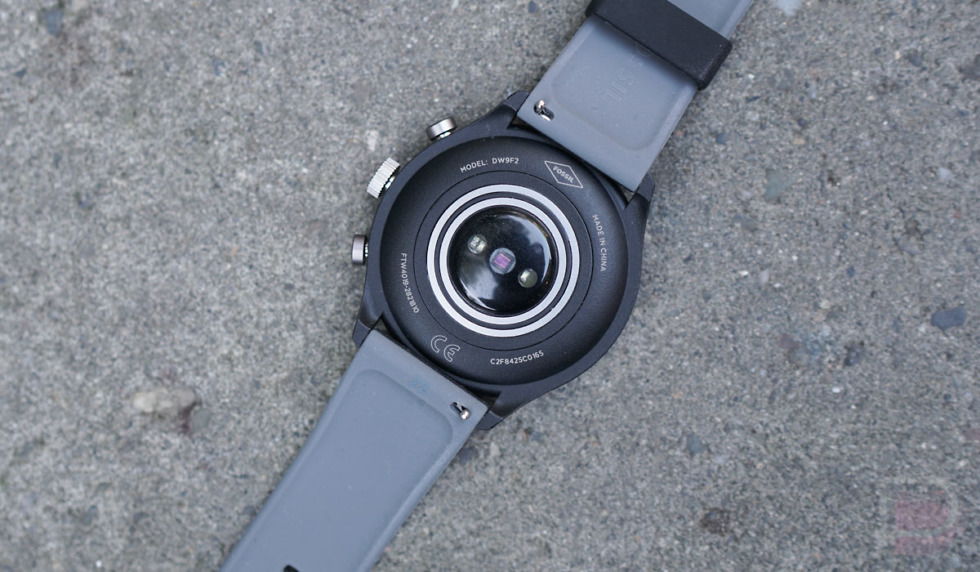 Nothing happens particularly fast on this watch, ever. It takes seconds and seconds for the Alarm app to load or to pull up contacts in the Contacts app. When you do wake the phone after a second tap, the whole screen has to flash or refresh to get out of always-on mode and show you an active screen. That handoff seems to take far longer than it should.
I'm borderline disappointed here in the performance department with the Fossil Sport, if you can't tell. Because of the price, I was hoping this little guy would step up, show true optimization, take advantage of the new chipset inside, and be the watch to recommend, but it's going to be tough with these stutters and slowness.
Price: At $255, the Fossil Sport is probably properly priced. It's not ultra-expensive nor is it a budget-device, yet it contains everything you want in a smartwatch. It has the newest Wear OS processor, GPS, NFC, and heartrate sensor. It has a fully-round display with interchangeable watch bands, a good-looking round and slim case, and isn't a huge tank of a watch.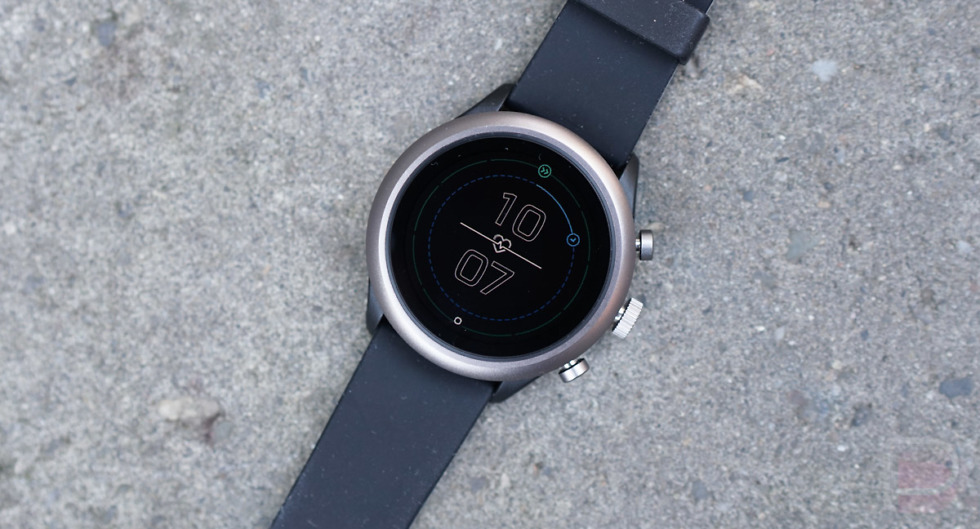 Other notes:
Sport Mode: Part of the deal with the Snapdragon Wear 3100 is a feature called Sport Mode that flips your watch into a low-power mode that allows you to workout for hours with GPS and heartrate and not use up much battery. That mode isn't here and we don't know if it ever will be. Fossil would likely have to update to it once Qualcomm releases it. We still don't know when that will be.
Rotating crown: The Fossil Sport features a rotating crown that lets you scroll through pages without having to touch the screen. It's a cool little addition that makes navigating the watch easier, similar to what we saw on the Summit 2.
Included band: The 22m band that Fossil includes with the Sport is about as cheap as it gets. It's a soft plastic or rubber that wears nicely, just don't expect the quality to blow your mind. That's no biggie, though, because there are plenty of watch bands out there that will fit it.
Unboxing and First Look
Should you buy the Fossil Sport?
If you can get this Black Friday deal that drops the price by 30% to $178, sure. That's a good deal.
Should you buy it at its full $255 price? Maybe…if you really like the look, are a fan of fun colors, aren't worried about the average battery life, and don't need the best display. I know that sounds kind of harsh, and I don't mean for it to, but this watch is just a load of average in a plastic case that's getting nothing extra out of the new chipset inside.