Qualcomm talked a lot about its new Snapdragon Wear 3100 platform today, but what they didn't have much to say on was the release timing of the first watches running it. The best information we got surrounded Louis Vuitton, Fossil, and Montblanc, which are all in line to make and sell 3100-powered watches before the holidays, and Montblanc's will probably be the first.
At the end of their Wear 3100 presentation, Qualcomm did announce that Montblanc's new Summit 2 Wear OS watch should be here by October. Unless something changes, it will likely be the first you can buy. They showed it off on stage (above), but wouldn't let anyone near it.
How much will it cost? I don't know, but the original Montblanc Summit started at $930. This new one, especially since it's running the newest Qualcomm chipset, is almost guaranteed to not be priced much cheaper.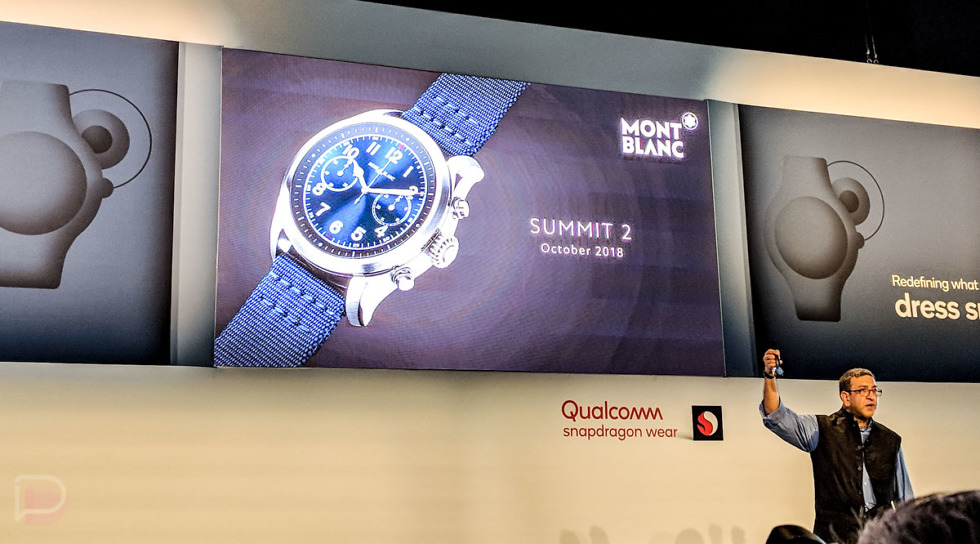 One thing to note, as far as specs and Wear 3100 go, is that the platform includes GPS and NFC (there may be a non-GPS version too). A Qualcomm rep told me that they wanted to make those features standard, rather than let watch makers pick and choose as much as they did with the 2100. So going forward, almost every watch you buy should include the base specs you'll want. After that, it's up to the maker to decide on display and battery size, design, etc.
You guys ready to spend a grand on the Summit 2?