The Google Pixel 3 and Pixel 3 XL, two phones that are fully capable of working on every major carrier without issue, are SIM locked out of the box when purchased as a "Verizon" model. That means they are locked to Verizon because Verizon says they have a theft problem, or something. As we first reported yesterday, the lock is only in place for about a day and goes away automatically overnight once a Verizon SIM card has been inserted and the phone activated.
This morning, a couple of readers who first fired up their Pixel 3 and 3 XL units yesterday, let us know that their phones notified them today of their carrier locks being removed. And again, this all happens automatically, just as Verizon told us it would. Neither reader tried to use another SIM from another carrier, yet still received the notification that their phones were now unlocked.
Below you can see the notification on a Pixel 3 that says "Carrier lock removed" and "The device can now be used on any network."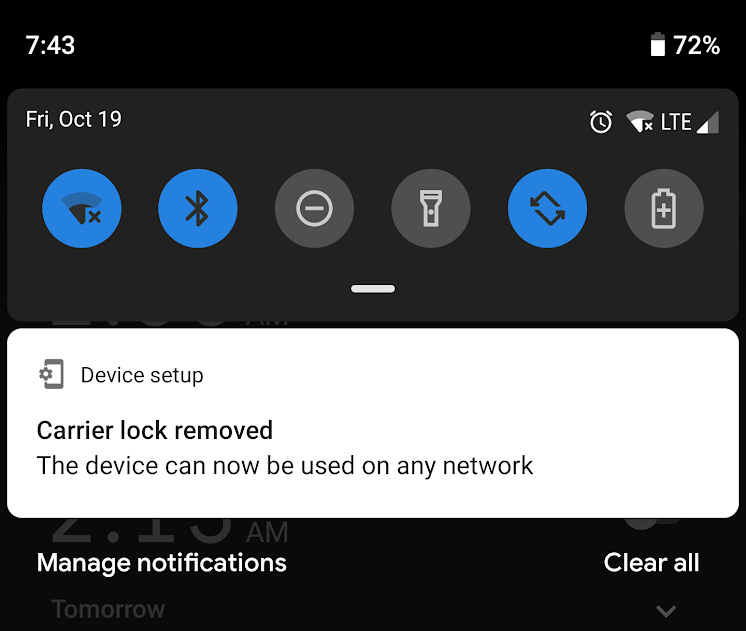 To recap, Verizon is SIM locking most of their phones at this point. That SIM lock is only temporary and goes away automatically overnight, once the phone has been activated on Verizon. If you buy a Pixel 3 or Pixel 3 XL from Best Buy, you need to first activate it with Verizon before you can take it to another network. That's going to be somewhat tricky for most, so you should instead just buy the phone directly from Google.
Cheers Bryan, Jake, Dennis, Mike, and Raymond!