UPDATE 6/6: Verizon says that it's ready for the Galaxy S7 and S7 Edge!
UPDATE 6/18: The update is here for the Moto Z and Moto Z Force too!
---
If you own a Verizon Galaxy S7, Galaxy S7 Edge, Moto Z DROID, or Moto Z Play phone, Verizon has a message for you:
"We're planning an Android 8.0 Oreo update for your device…It may take a while, so check back in a few weeks!"
Owners of these devices noticed in recent weeks that Verizon replaced the "System updates" page with that message, giving hope to phone owners that probably weren't sure if/when their phone may be upgraded to 2017's big Android version release. And there may be other phones too, but these are the two we keep hearing about the most.
The thing is, we have emails as far back as early April with the "few weeks" timeline. We're more like 7 weeks into these messages and still no Oreo updates for any of them. We have no idea when any of them will see Oreo. It could be another "few" weeks and then another.
If you are seeing these messages, I can't say I blame you for getting excited. We'll certainly let you know when the updates begin.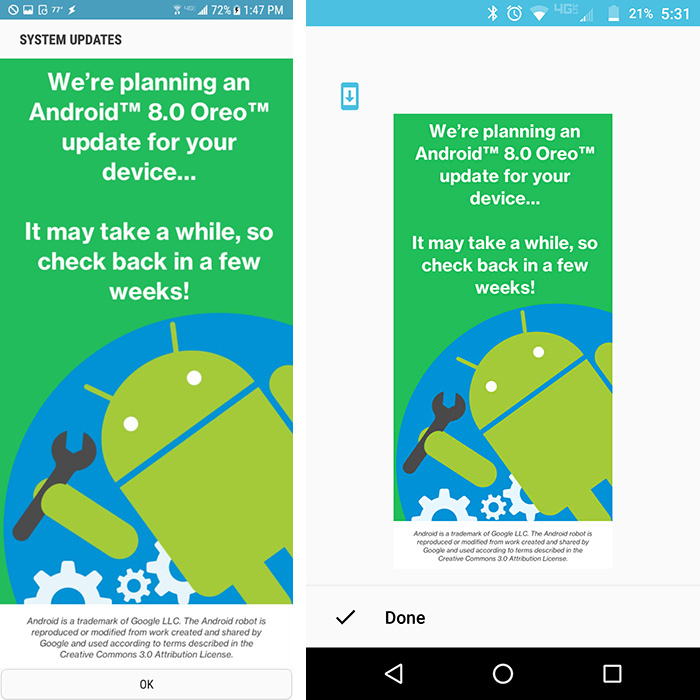 Cheers Kyle, Adam, Dan, Brent, Galen, Josh, Chris, Robert, Robert, Themik, and everyone else on Twitter!