We thought last year's Galaxy S8 and S8+ had everything we needed from a Samsung device, but in typical Samsung fashion, the company was able to bring certain additions to the Galaxy S9 and Galaxy S9+ to get potential buyers and even myself excited about them.
In our full reviews, we came away mostly positive with the phones, though, there is always room for improvement. The 2018 Galaxy S devices feature dual stereo speakers, a first for Galaxy S devices, plus Samsung continued to deliver exceptional mobile cameras, opting for a dual shooter on the Galaxy S9+. My main criticism is the software experience, but hey, we can overcome that.
Overall, the phones are packed with goodies, but let's break them down into something more easily digestible if reading a full review isn't something you have time for.
Here are 5 reasons the Galaxy S9 and Galaxy S9+ are worth buying.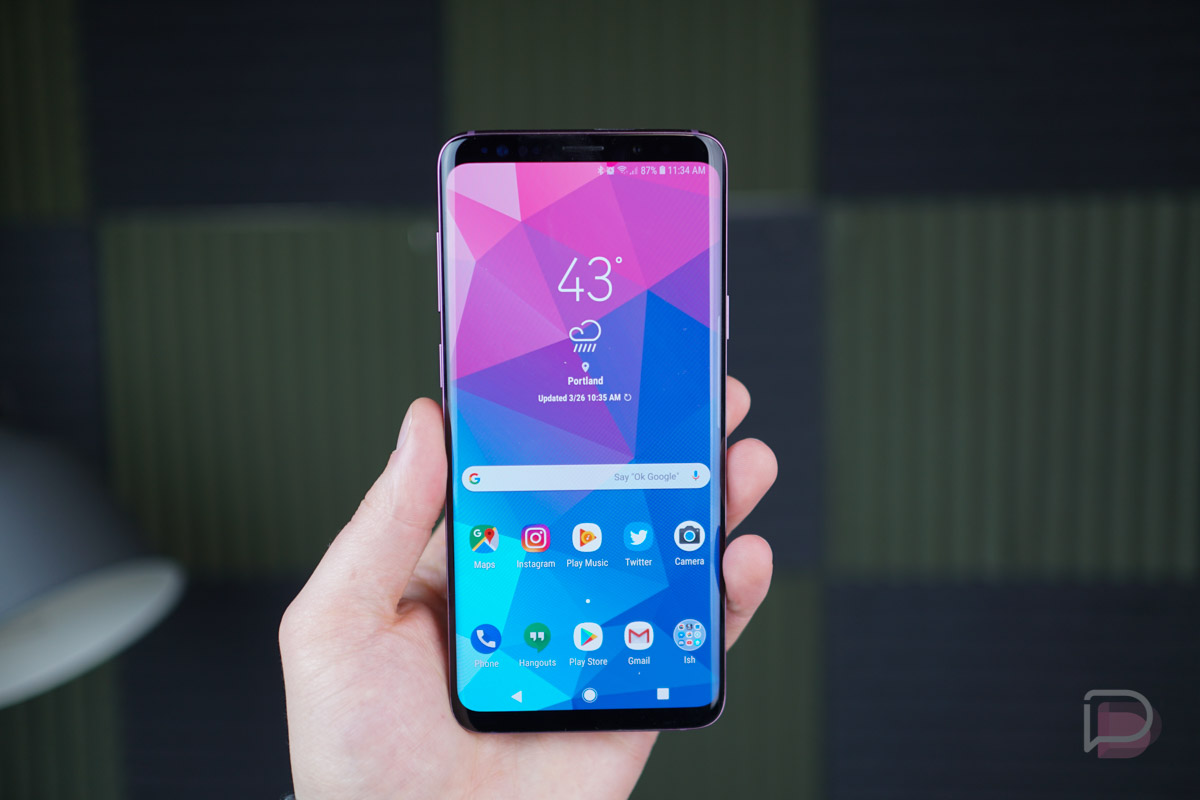 1. It's a Complete Package
A lot of times when a new phone is announced, there's something clearly missing, like a feature or spec. With Galaxy devices from Samsung in general, that is hardly the case. If anything, there's too damn much, leaving you with a phone priced as much as your monthly mortgage payment. For Android fans who want it all, though, the Galaxy S9 and S9+ meet all demands, offering high-end displays, good cameras, a well-placed fingerprint reader, fast wireless charging, expandable storage, a headphone jack, water resistance, iris scanning which we tend to forget, and now they even have dual stereo speakers and an ultra slow motion shooting mode for the camera. While the looks haven't changed much year-over-year, Samsung is still cramming in new stuff.
Like I just mentioned, Samsung could probably get away with charging more for these devices than they are, but the fact that they aren't charging $1,000 is, like, really awesome. Before pricing was confirmed, Kellen and I had guesses for pricing, but both of us were way off when Samsung announced that the US unlocked Galaxy S9 would start at $719.99 and the unlocked Galaxy S9+ would cost $839.99. If you end up getting a less expensive device, you will notice big differences, too. A lot of the less expensive devices won't have the IP68 rating, as good of a camera experience, and forget things like wireless charging and iris scanning.
Compared to other devices on the market, the Galaxy S9 and S9+ offer the most at this point in time.
2. Camera
Samsung has been putting out good cameras for its flagship devices for years now, with the S9 and S9+ being no exception. Things were changed a bit this year, though. In the past, both Galaxy S models came with a single backside shooter, but this year, the S9 came with the usual single camera (12MP Dual Pixel w/ OIS) while the S9+ was equipped with a dual rear-facing camera setup (12MP Wide Angle + 12MP Telephoto both w/ OIS). Essentially, the S9+ has the same setup as the Galaxy Note 8, but instead of being placed horizontally, it's vertical.
The camera on the S9 and S9+ not only take good pictures when pointing and shooting, but there is a ton of software and features to play with. There is a Pro mode for really getting into controlling certain aspects and values, as well as filters, an AR Emoji feature for turning yourself into a shareable emoji, plus that slow motion aspect I previously mentioned. With that, the camera can capture video at 960 frames per second (FPS), meaning the videos of your dog running through water or tall grass are going to look super awesome when you share them on Instagram.
We have many words to share about the S9 and S9+ camera in our full review, but I'll go ahead and place a few samples below just to give you an idea of what you're working with.
3. Size Options
Like past years from Samsung, as well as Google and its Pixel devices, you're getting two options for the Galaxy S9. You can go the smaller, more compact Galaxy S9 route, or upgrade to the Galaxy S9+. The choice is yours, but let's break down the exact differences.
The most noticeable is size, of course. The S9+ comes with a 6.2″ display over the standard S9's 5.8″ display. The S9+ also packs a bigger 3,500mAh battery, while the S9 has a 3,000mAh battery. Other differences include more RAM (2GB more at 6GB, to be exact), plus the dual rear-facing cameras (Wide Angle + Telephoto) instead of a single camera (Wide Angle).
For the bigger display and battery, plus more RAM and an additional telephoto lens on the back, buyers are asked to pay $120 more for the unlocked Galaxy S9+. That's not bad at all. If you were to ask my opinion on which one to get, I'd tell you to go with the S9+. I'm a sucker for bigger batteries!
4. Tons of Software Features
Samsung is in the business of piling features on top of features for its flagship devices, with both the S9 and S9+ bursting at the adhesive with stuff. Users can utilize an Edge Panel, Bixby AI voice commands, Samsung+, enhanced gaming modes, plus so much else. Couple all of that Samsung software with Google's own Android features and you have a smartphone that is essentially ready for anything and everything.
While I stress that I'm not the user of all things you'll find baked into these phones, I can confirm that much of it could be useful to other people. I can certainly appreciate someone else's needs, so even though I'm not a huge advocate for everything Samsung builds into its software, I at least realize that Samsung isn't building every phone with just me in mind. Yes, the narcissistic a-hole inside of me hates that, but I've come to live with it.
While it would take all day to do a complete rundown of the different software features on the Galaxy S9 and S9+, let's go over just a few that I think you can get some good usage out of. There is the aforementioned Edge Panel, which has a few panels for quickly accessing contacts and different applications (and even sports scores!), Game Launcher for game organization and enhanced features inside of games (recording, etc.), as well as Samsung's Multi Window that has been around way longer than Android's native Multi Window and Picture-in-Picture features. The point is, even if you don't think you'll use some of these features, they are there if you need them!
Let's say you don't care for most of what Samsung offers here. That's totally fine. Thanks to tweaks you can easily perform, why not turn your Galaxy S9 into a Pixel?
5. Updates Should be Better
The S9 and S9+ are the first Samsung devices to launch with Oreo, meaning they're also the first devices to launch with Google's Project Treble. Treble's goal is to make major Android software updates less difficult for OEMs and we have our fingers crossed Google's work pays off for consumers.
As we know, Samsung just rolled out Oreo to last year's Galaxy S8 and S8+, a solid half of a year after Oreo's official release. I don't know about you, but waiting a half year to get a highly anticipated update isn't what I'm about. I know many might shy away from anything that isn't a Google device specifically because of updates, but Treble should alleviate that feeling a bit for you.
While we can't put a timeline on when the Galaxy S9 and S9+ will receive Android P, we have to assume it will come quicker than Oreo, thanks to Treble. For more info on Treble, I recommend you read this.
---
Buy the Galaxy S9, Galaxy S9+