Samsung's back, offering the Galaxy S9 and Galaxy S9+ in 2018. As usual, these will likely be the most popular Android devices sold among average Android consumers and that's pretty high praise in an ecosystem with quite the assortment of devices from numerous OEMs.
As they say, cream rises to the top, with Samsung's latest hardware and camera experiences hardly ever straying from that idiom. Samsung has been dominating the Android market with a consistent experience, one that seems very reliable for all of its buyers.
Will the Galaxy S9 and S9+ be more of the same from the Android king? Let's find out.
This is our Galaxy S9, Galaxy S9+ review!
Note: Tim spent his review period with the Galaxy S9+, while Kellen used both the Galaxy S9 and S9+. The bulk of this review is from Tim's perspective on the Galaxy S9+, with additional insights from Kellen on both the S9 and S9+.
The Good
---
Specs
The Galaxy S9 and S9+ have all the specs you'd expect in 2018 and then some. For the S9+, it has a 6.2″ QHD+ Curved Super AMOLED (18.5:9, 529ppi) display, Qualcomm-made Snapdragon 845 processor, 6GB RAM, 64GB storage, dual rear-facing cameras both with OIS (Wide-angle: Super Speed Dual Pixel 12MP AF sensor (F1.5/F2.4) – Telephoto: 12MP AF sensor (F2.4)), 8MP front-facing camera, 3,500mAh battery, Fast Wireless Charging, USB Type-C, rear-facing fingerprint reader, iris scanner, AKG-tuned stereo speakers, IP68 water and dust resistance, and Android "Oreo" with Samsung's custom Experience 9.0 skin on top.
For the Galaxy S9, everything is the same with exception to the screen size, battery size, RAM allotment, and number of cameras. Specifically, the S9 has a 5.8″ display (same curved Super AMOLED with the same resolution), 3,000mAh battery, single 12-megapixel Dual Pixel camera, and 4GB RAM.
For a side-by-side spec sheet with the smaller Galaxy S9, see here.
While you'll find things like dual cameras or stereo speakers on other devices currently available, the fact is, the Galaxy S9+ has everything you'd desire in a single package. It has the dual cameras, water resistance, large battery, wireless charging, headphone jack, plus 6GB of RAM. I can't actually think of anything this phone is missing, so if that's not a good thing, I don't know what is.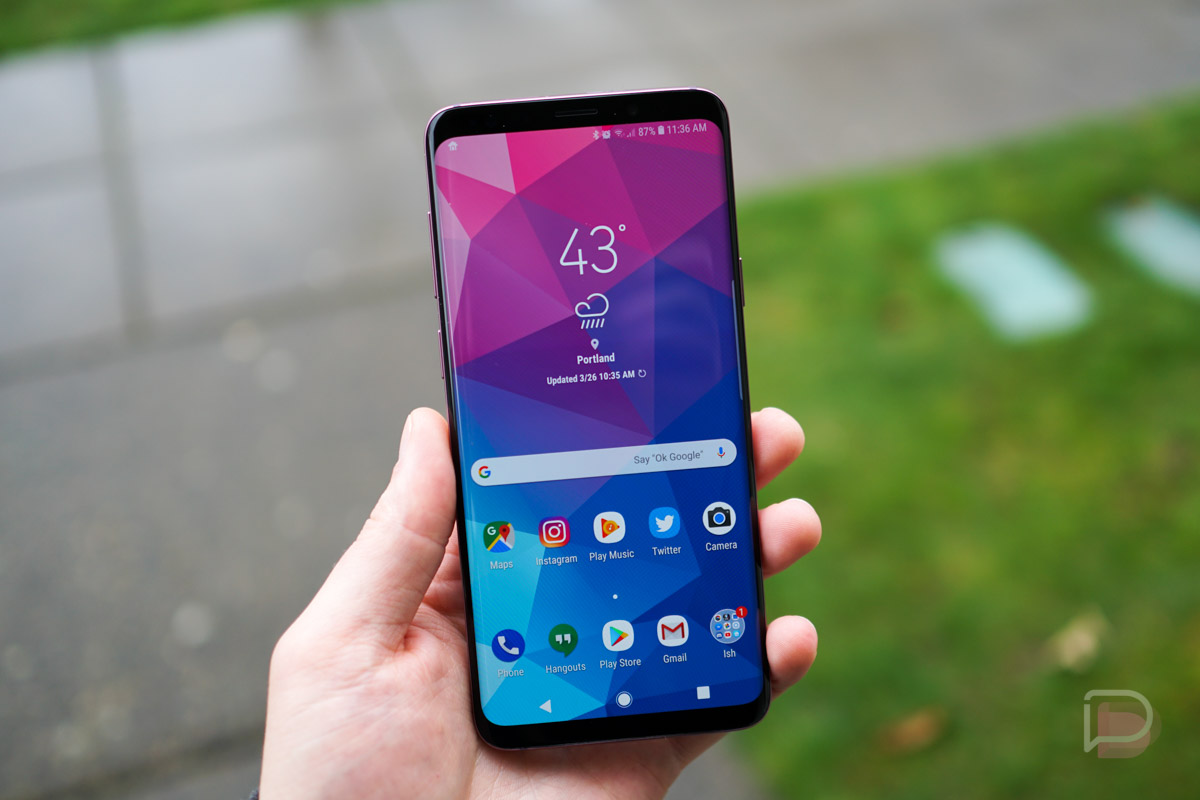 Display
Last year's Galaxy S8 and Galaxy S8+ had basically identical displays to this year's S9 and S9+, even featuring the exact same pixel per inch (PPI) numbers (570 for the S9 and 529 for the S9+). Just because they're the same, though, doesn't mean any potential buyer should be upset. They're darn good looking displays.
These displays' colors are great, with Samsung's software offering different profiles to choose from based on your personal preference, plus the curved aspect of the panel and hardware itself makes for an eye catching aesthetic. If you want punchy, overblown colors, you can have them. If you want a more natural color profile, you've got that too. Brightness levels are excellent on both ends, with highs good enough to make visibility outdoors an enjoyable experience, and lows dropping down in darker situations to ease eye strain. Oh, and there isn't a weird blue shift like people complained about with the Pixel 2 XL, but there are plenty of reports of dead spots that Samsung is looking into.
Also inside the settings menu for the display, users can choose which resolution to use (HD+, FHD+, WQHD+), but this is also where you can set up your blue light filter. It took Samsung a while to incorporate this feature, but it's still there, so I'm happy.
Samsung is also still utilizing Always On Display, another feature I can't seem to live without, but thanks to it being used on basically all Android devices these days, you'll be happy to know it is accessible on these phones, too. If you have ever watched one of our tips and tricks videos, you probably know how much we love Always On Display.
I think it's safe to say that the displays Samsung used in the S9 and S9+ are some of the best we've ever seen.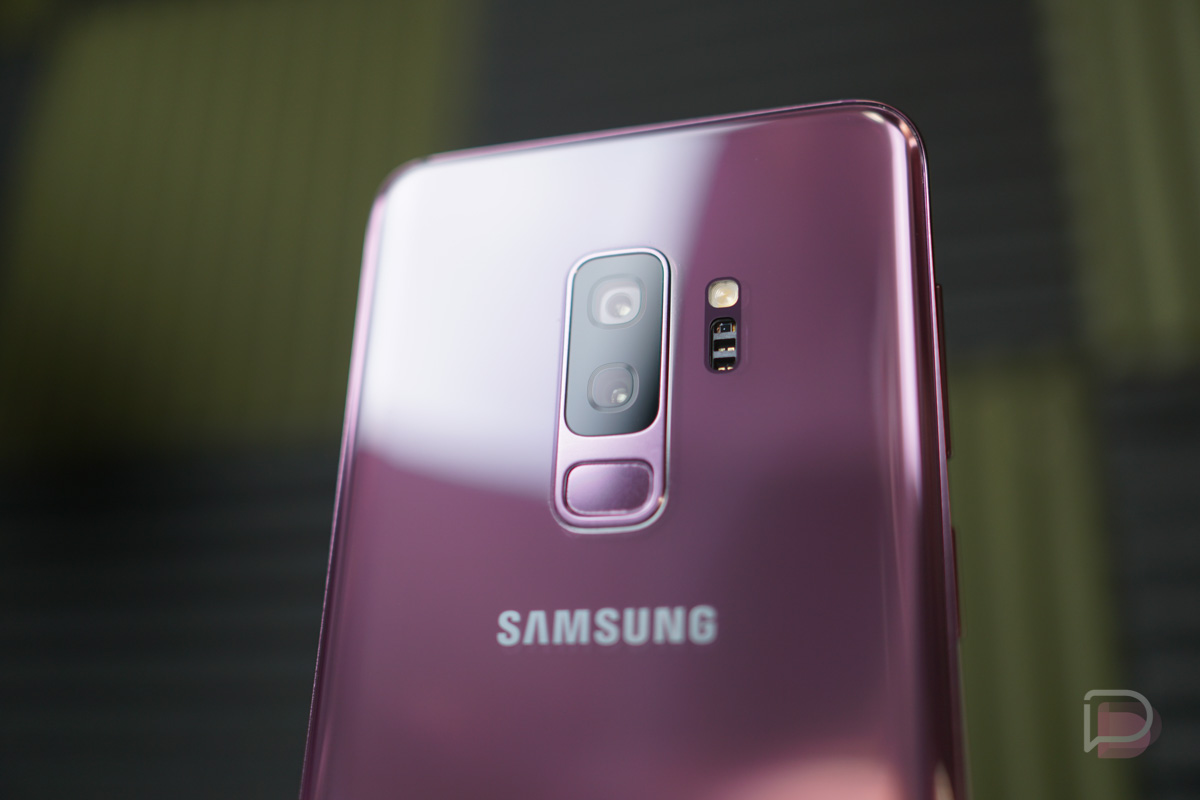 Camera
The Galaxy S9+ comes with a dual camera setup, while the regular S9 only comes with a single shooter. From my experience so far, I'm not exactly sure that having two cameras is necessarily better, but I suppose it's an added bonus when getting the larger device.
Both sensors have optical image stabilization (OIS), which helps to keep your captures steady while shooting and recording, and to top it off, the wide-angle lens (the top sensor) features Samsung's unique dual-aperture mechanism. To sum that feature up, it essentially allows for the phone to deliver better shots in super bright or super dark conditions. With a very wide aperture of f/1.5, many shots could end up being blown out with light, but with dual-aperture, the phone's Auto mode should be able to determine which aperture is best for any given shot.
In my testing, I couldn't determine if this is just marketing mumbo jumbo or actually useful, but it's there. I also haven't heard much praise for it in other reviews, so I believe the jury might still be out. Regardless, though, the S9+ takes some very good shots, which is no surprise for a flagship Samsung device.
Like other smartphone cameras, your best shots will come when lighting is abundant, but too much light can also cause issues from what I found. In one photo you will see below, the one that is set in a bar, there are neon signs and TVs providing additional light to the photo which look pretty terrible when the camera is determining what to focus on. In this case, you chose the pool tables directly in front of it, which is what I wanted, but when the rest of the photo looks blown out, it's not something I'd share to social media.
Should your lighting be good, the cameras are extremely quick to focus on subjects, then are instantly ready to snap shots. The S9+ was almost as quick as the Pixel 2 XL in terms of focusing and shooting in a recent shootout I conducted, which is a good outcome to have. When looking at samples from both the Galaxy S9+ and Pixel 2 XL, there is a noticeable difference in contrast and exposure levels, with my preference leaning towards the darker and more contrast-heavy shots. The S9+ seems to take in a whole lot of light which can either be great or detrimental for the shot you're trying to capture.
As for the secondary telephoto lens on the Galaxy S9+, I didn't find it to be all too helpful in most cases. It's as if you need to go out of your way to utilize it, because typically, you just assume the zoom functionality on your phone isn't going to turn out well. On the S9+, the results are fine when using it, but it's not something I would find myself using over the standard wide-angle lens. It's good to have it there, but if I was asked whether I want a single camera that does an assortment things very well (such as the Pixel 2 XL) or the Galaxy S9+'s dual camera setup, I'd likely opt for the single camera in most cases.
AR Emoji was also introduced with the S9 and S9+, but of course, I was somewhat let down by this feature. Basically, the camera scans your face, then turns your head into an emoji, which can then follow your facial movements for winking, smiling, frowning, and other little movements. Samsung also creates a few shareable GIFs for you, but they aren't anything to write your mom about. On top of your own face, there are usable animal emojis you can use, as well as new packs that you can download, such as a Mickey and Minnie Mouse pack. Overall, it's neat, but nothing more than a me-too feature to counter Apple's Animoji feature.
Another new feature Samsung has included on the S9 and S9+ is Super Slow Motion. I was quite excited about this, given Samsung claims the camera can capture video at 960 frames per second. Unfortunately, I didn't find it to be all that great, mostly because the software is quite confusing at first.
Typically in other slow motion modes, you enable it, then just shoot. With Samsung's, you enable it, make sure you're holding the phone incredibly steady, then when something happens within a box that the UI places on top of the viewfinder, the slow motion is activated. After taking a few Super Slow Motion videos, then going into the Gallery to see that no slow motion was recorded, I was actually quite frustrated. Not only that, but in other slow motion models, you can select which part of the video you want to be slow motion. Not on Samsung's. In this mode, the phone chooses what will be slow motion, based on movement within the square. It's not the worst implementation, it's just a lot harder to use than I was hoping. Once you actually have a video shot in slow motion, you don't have access to the audio either. You must select between mute or from a library of terrible samples that Samsung offers. For being a marquee feature, and something I was incredibly excited about, I'm not a fan.
Kellen's camera notes: Dancing between both the S9 and S9+ has given a good feel for each's different camera setup. I can't exactly say that I prefer one over the other or that one is necessarily better, but there are some things to be aware of. For one, the regular S9 doesn't have Samsung's Live Focus, which is basically their Portrait Mode. What does that mean? That you don't get the full bokeh/background blur experience or the dual capture mode that tries to really separate stand-out objects. This is likely due to Samsung's camera software relying on the S9+'s secondary zoom lens. Speaking of that, without it on the S9, you don't get to 2X zoom on objects. Just saying.
As for quality, I think both take excellent pictures with a more natural color profile than Google's Pixels do. They don't go wild on the contrast or color reproduction, even if some of us prefer Google's look. The camera's are mostly fast enough too, although I did notice both struggling here and there to lock focus on the objects I wanted it to focus on.
Overall, though, the cameras here are top notch and most of my complaints are just nitpicks.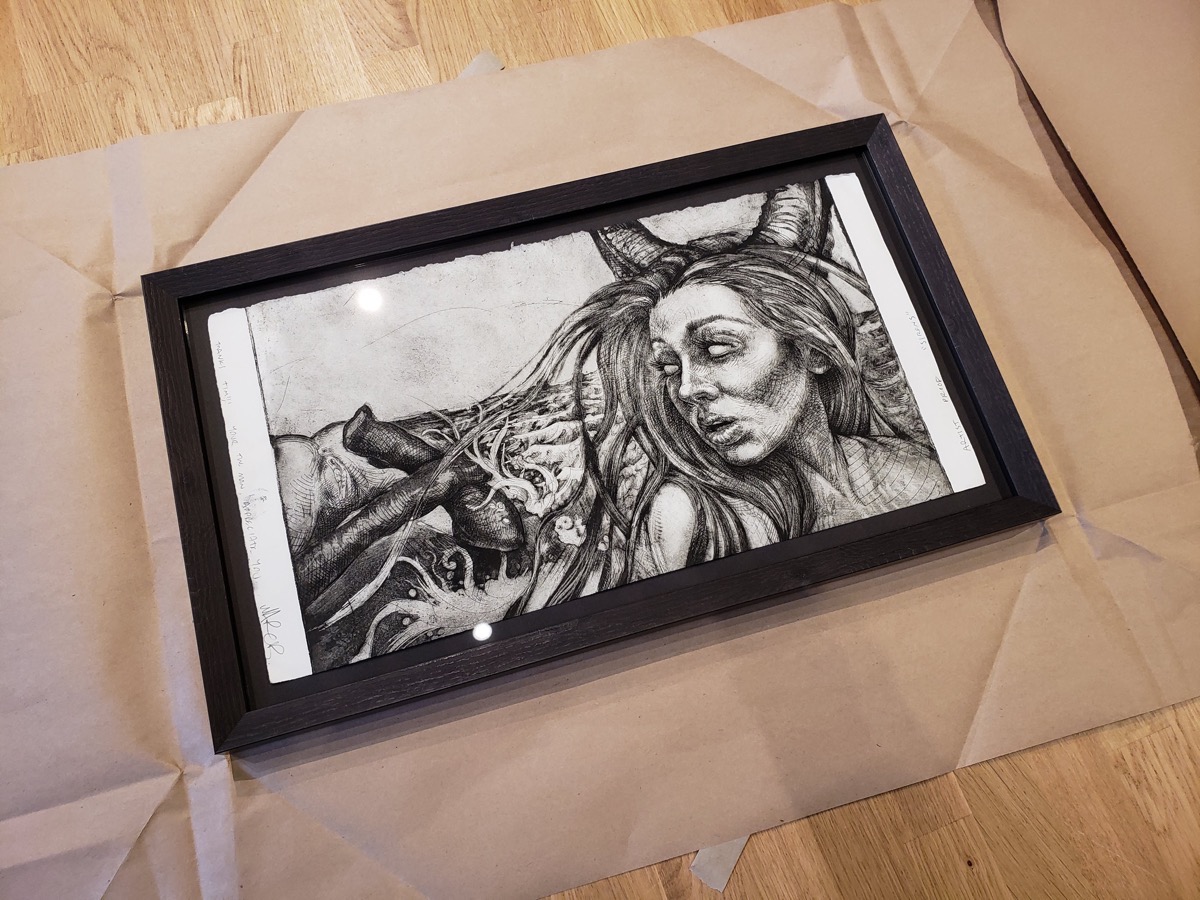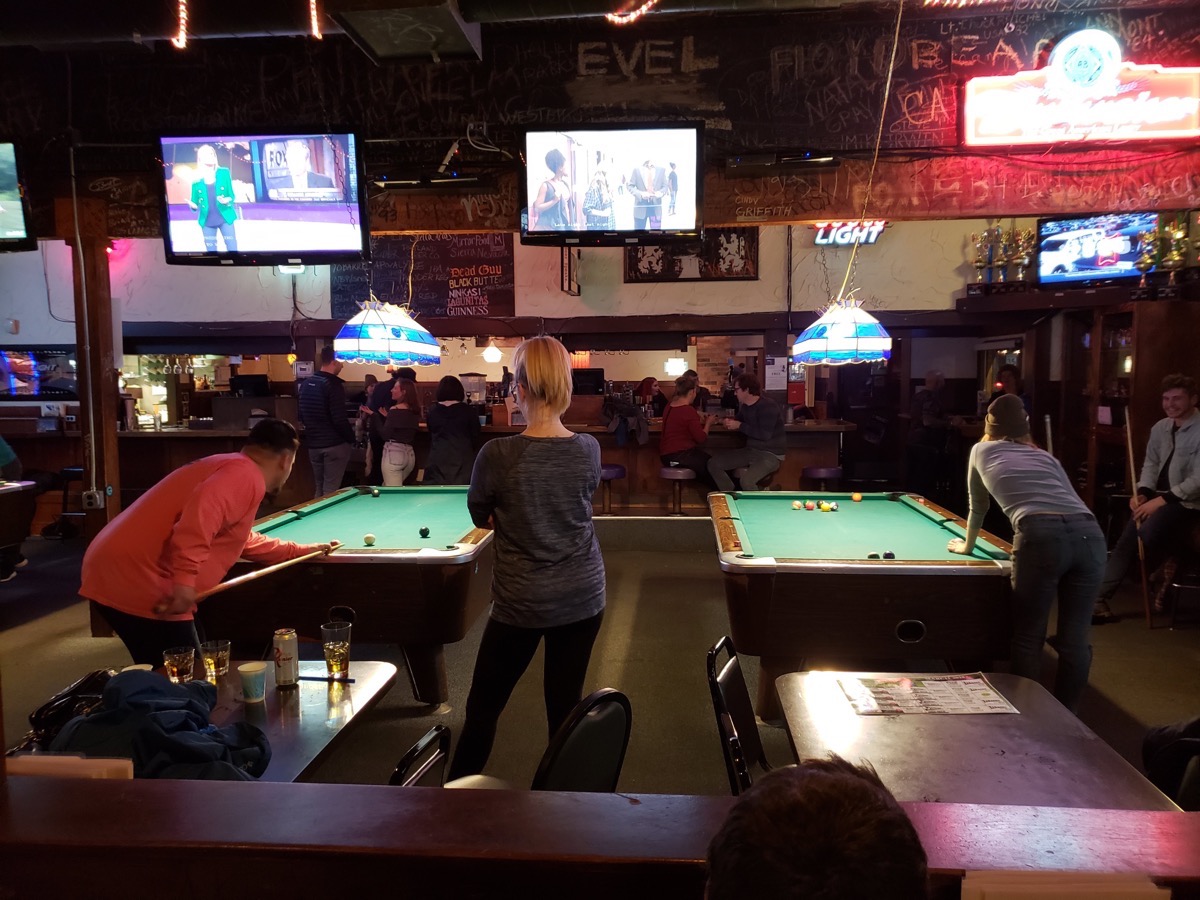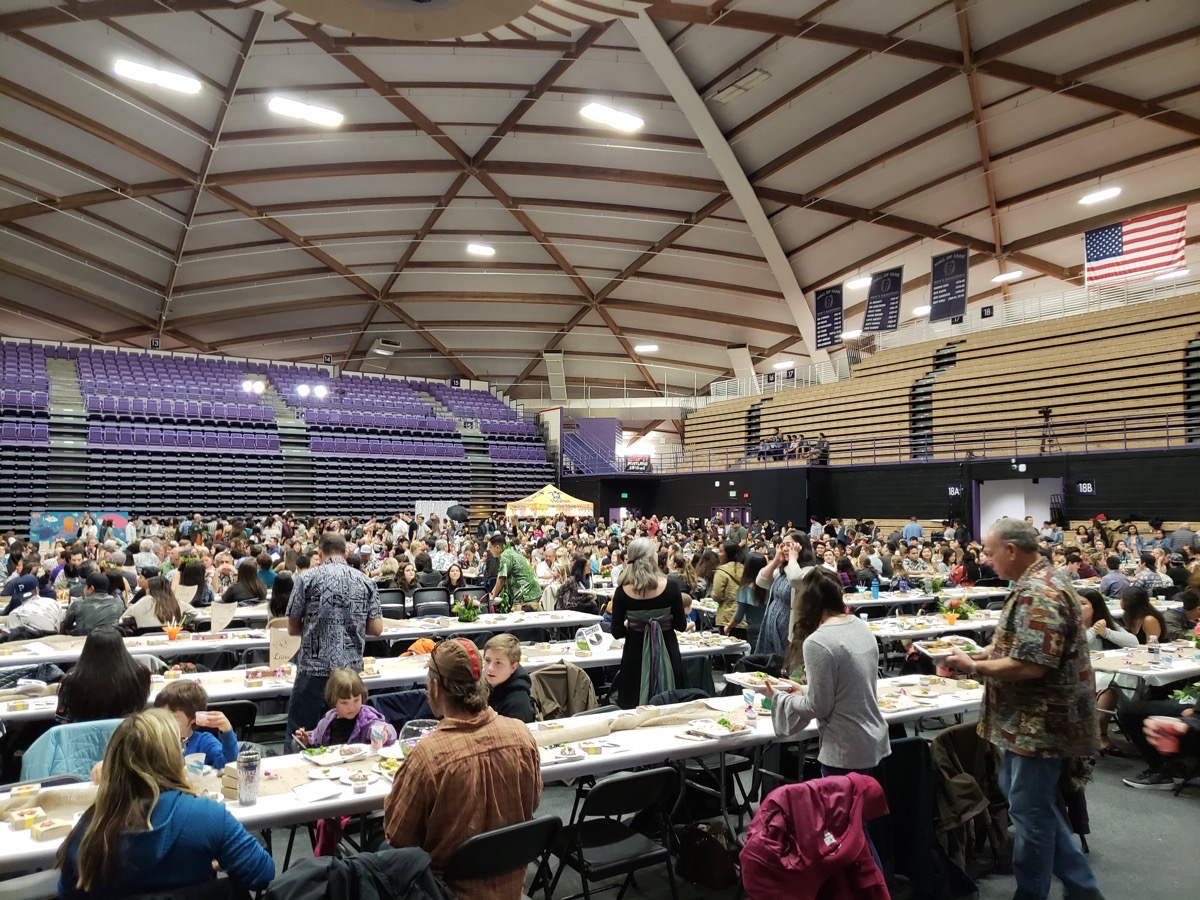 Super Slow Motion Sample (Complete with bad Samsung music.)
Hardware
I think we're all a bit curious what Samsung has in store for next year's hardware design, given the Galaxy S9 and last year's Galaxy S8 are twins. The concern is, "What can Samsung improve that they already haven't?" Will they make the bezels even smaller than they already are or maybe even add a notch because that's the trend? In my mind, the Galaxy S9 and S9+ feature some of the slickest hardware you can find on the market, with a gorgeous meld of metal and glass. How do you improve upon this?
In-hand, the S9+ is a fantastic size, and even throwing a case on it isn't too cumbersome. The look is also very noteworthy, with Samsung using a more metallic aesthetic on the backside, instead of the matte look we had last year. I'm also a big fan of the Lilac Purple units we have and the Midnight Black, but Samsung's Coral Blue color can just go away. It's very dull in appearance.
The major hardware change this year would be the fingerprint reader's placement. Last year, the reader was placed besides the camera on the backside, but Samsung appears to have listened to us and moved it below the cameras. With this, I have actually found myself using the fingerprint reader as I normally would, instead of opting for different unlocking methods like I did on the Galaxy S8. I'm sorry, but I'm not about getting my camera lens all greasy from fingerprints.
As I've said since last year's Galaxy S8 review, Samsung's hardware feels years ahead of most other Android OEMs, but it's the software that should have people pause. My opinion hasn't changed much, with me loving this hardware and the support Samsung has from nearly all of the 3rd-party case and accessory makers, but having a less than desirable software and software update experience.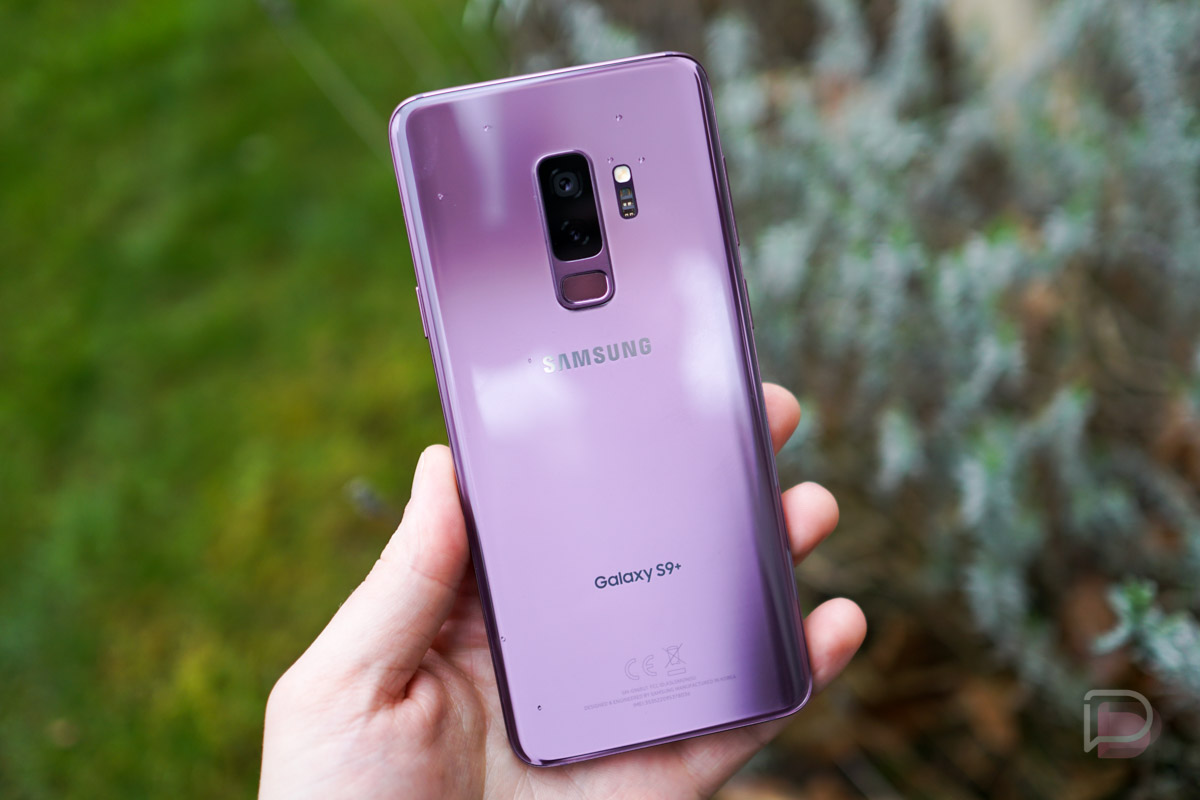 Battery
Here's a little bit of a spoiler for Kellen's upcoming video review of these devices, but don't expect too much praise for the battery. For me, though, I have very positive things to say about the S9+'s battery. My usual day is 7:30AM to about 10 or 11PM, and I was going to bed every night with between 30-40% battery left, with four hours of screen on time consistently. During that day I am playing my Star Wars game and other games quite a bit, listening to music via Bluetooth and watching YouTube videos with the stereo speakers cranked, basically using it as my go-to daily driver.
It's been a while since I've used a phone with this consistent of battery life, and I must say, I can dig it. I know that if there's a night I want to go out, I'll still have plenty of juice for whatever I may need, with that being a luxury a lot of phone owners don't have. I must say, though, your battery life could vary greatly like any other aspect. I've seen not only Kellen struggle with the Galaxy S9 battery, but other reviewers as well, so it's impossible to determine what kind of battery life a potential buyer will see. If you're making the jump to the S9+ from another Samsung phone, then you probably won't see much of a difference, that is unless you're going from Galaxy S8 to S9+, for example.
To help keep your battery charged when you need it, the S9 and S9+ offer Fast Charging and Fast Wireless Charging, which can provide about 50% of battery in around 30 minutes.
Kellen's battery notes: I think battery life on the S9 and S9+ is pretty subpar and completely disappointing. I have an S9 running on T-Mobile and an S9+ running on AT&T. I generally use one for a day or two, then switch to the other to get a feel for each and test the differences in battery. Each day has been mostly bad when compared to other phones I've used over the past year.
I'm talking about taking the phone off the charger in the morning, getting 4 hours of screen on time, and needing to hit the charger by 9PM because the battery has dipped below 20%. And this has been steady and consistent with both phones using a combination of mostly WiFi and a little 4G LTE.
Performance
This phone is the first interaction I've had with the Snapdragon 845 processor, and coupled with the 6GB RAM, I think it has been performing lovely. I mentioned on our podcast recently that on other phones, there is a tendency to close down apps when I wasn't quite done with them. That does not happen on this phone. From what I can tell, the phone is quite good about keeping apps running for a longer period of time in the background and I haven't noticed this affecting my overall battery life.
As for jank, there isn't much to be seen. Everything with regards to the UI appears very smooth and because JankWiz is a term I see get tossed around with Samsung devices frequently, I feel that it's my duty to inform you that the phone performs great. I can whip in and out of apps quickly, open the camera and start firing off shots, and the mobile games I play have been performing flawlessly. I've been dominating some PUBG Mobile and Star Wars: Galaxy of Heroes on this phone, but I'm also interested in testing out some AR games once they are available for these devices.
Kellen's performance notes: I'll have to second what Tim just said in that these phones perform really well. Even the Galaxy S9, with its 4GB RAM doesn't have an issues. From unlocking to loading apps and getting that camera openly quickly, so that you don't miss a shot, these phones hardly skip a beat. My only issue is with the fingerprint reader, because it's slow and not fun to use at all, even in this proper position. Everyone else in Android is doing capacitive-style fingerprint readers that are better than Samsung's.
Stereo Speakers
Stereo speakers are new for the Galaxy S line, an addition I have been enjoying a lot. I consume a ton of media on my smartphone, so sound and sound quality have always been very important to me. Samsung states that these speakers are AKG-tuned, and while I can't quite say they sound better than they would if they weren't AKG-tuned, they do sound pretty good.
It's pretty easy to tell that the bulk of sound gets emitted from the bottom-facing speaker, with the top speaker acting as sort of a booster and enricher of the sound. The overall sound is crisp and doesn't get overly distorted when the volume is cranked to the max, which is good when you're listening to your Cannibal Corpse and Slayer tracks. There is a solid amount of low end, but nothing quite like HTC's BoomSound that was reminiscent of having a subwoofer built into the phone itself.
My fingers are officially crossed that Samsung continues the stereo speakers on future devices. It's a good addition and it was implemented nicely.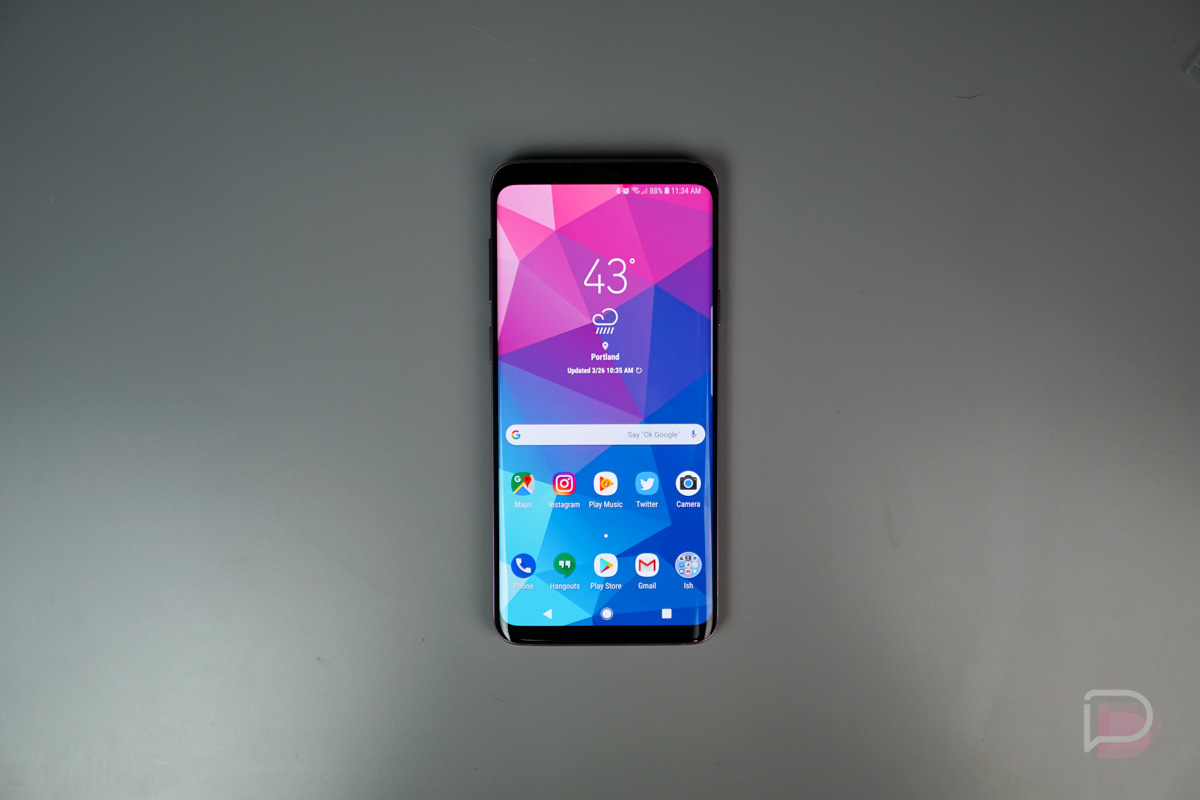 Somewhere in the Middle
---
Software
Full disclosure, I like Pixel phones. I like Pixel phones because of the software. Samsung's Experience 9.0 is not the same as the software found on the Pixel. However, I've played with worse and I always stress that we must give credit where credit is due. Am I huge fan of the software on the Galaxy S9+? Not really, but it does have its advantages in some cases, so let's go over those and maybe discuss ways Samsung could improve the software experience overall.
I could start by saying I don't like the looks of the skin, but with the ability to apply custom themes and icon packs from Samsung, or even installing these types of things from Google Play, I'm not going to talk much about the aesthetic.
To start, let me point out the things I don't think should be included, only because they don't really solve a problem or have a proper place. For me, Edge Screen can go. I always disable it after the first day because I dislike swiping it open by accident, and really, all of the features in there are handled by various apps that I can access with a couple of clicks. I don't need most of the things inside Edge Screen handled by the OS when I have better-developed apps to do it. For example, there is a Yelp panel that shows places to eat by you and their ratings. You know what else does this? The dedicated Yelp app as well as Google Maps. There is also a Sports panel, but there are numerous apps dedicated to sports. Heck, even Google Now also can provide sports scores. It's like these panels exist only for the sake of existing, not actually doing anything better than their app counterparts. Because of this, let's go ahead and axe the whole thing.
One issue Kellen brought up on the Droid Life Show recently is how the phone handles the labeling of screenshots and the problem is causes for Google Photos. On the new Galaxy S phones, whenever you snap a screenshot, it gets labeled as a regular photo inside of Google Photos and is automatically backed up to the cloud. They are typically listed as a screenshot in a separate folder, not taking up precious space in your cloud. In Samsung's Gallery app they are labeled correctly, but for whatever reason, Google Photos sees them as a screenshot, which is a slight annoyance, although an annoyance nevertheless.
As for what like about the software, there are many features baked in that I use, such as the ability to easily customize the look that I previously mentioned, a slick one-handed mode that allows you to tap on the home button three times to shrink the UI to a more easily manageable size with one hand, multi-window for better multitasking, as well as gestures built into the fingerprint reader for opening and closing your notification panel. Like I've said, Samsung's software isn't the greatest, but it's certainly gotten better over the years and there is no shame in admitting that.
Now, the biggest thing when it comes to Samsung and its software are updates. As we all know, updates are very important, but Samsung continues to act as if they don't see them as importantly as their customers do. Last year's Galaxy S8 is only now receiving Oreo, a solid half year after it was released by Google. The Galaxy S9 and S9+ launch with Oreo, but does anyone want to take a bet on when they could see Android P, the latest iteration already in testing by Google? If we want to know how positive of an impact as Google's Project Treble will have, let's use these phones as the example. As Google explains Treble, "It's a major re-architect of the Android OS framework designed to make it easier, faster, and less costly for manufacturers to update devices to a new version of Android." Will it really help? Let's be patient and find out. If it still takes Samsung six months after Android P is publicly available to update the Galaxy S9 and S9+, then we know something is amiss.
Kellen's software notes: I'd imagine this won't come as a surprise to many, but Samsung's software isn't my favorite and I'd pass on it over a Google phone's software 10 times out of 10. That's mostly because I prefer Google's way of thinking and design when it comes to software. With that said, Samsung's Experience 9.0 has some nice items going for it, which Tim just mentioned.
I'd mention the fact that Samsung's audio and sound settings are fantastic. Whether you want to change your phone's vibration pattern or setup a custom ear profile when using headphones, you can do that here. Samsung will even attempt to upscale the audio coming through, let you stream to two devices at once, and sync media volume controls with your phone. You can customize the navigation bar to your liking, the restore process through your Samsung account when setting up the phone is far better than Google's, and there are things like a download booster. Plus, this is Android, so if you don't like the look of Samsung's software, you can change almost all of it.
The Not-so-Good
---
Bixby
Oh, Bixby, you're still a thing?
I understand Samsung's want to have its own slice of the digital assistant pie, especially with regard to its ecosystem and intertwining with the smart appliances and SmartThings and all of that. I totally get it. Personally, I haven't bought into it, simply because I have already invested myself into Google's ecosystem and Google Assistant. I think many are like me, but it's not exactly like we had a choice. Google Assistant and Google's smart ecosystem was launched much before Bixby, and when you're as late to the game as Samsung has been with Bixby, it's not going to be easy to get folks using the service.
When I first booted up the phone and got everything set up, you'll come across the setup process for Bixby. Good lord, it takes half a year to learn how to use all of the commands and features it offers. No doubt, it's a truly comprehensive assistant, capable of a ton, but I'll go out on a limb and say that it's just too overwhelming to even get started. I don't feel like using a service that I have to teach. Instead, I'd rather have something like Google Assistant that is just there in the background when I need it and doesn't get in the way, asking me to speak a bunch of sentences to help it understand the English language.
Also, can we talk about the Bixby button? Yes, it's back and in just as inconvenient of a location. You'll want to turn it off or else prepare to mistakenly hit it almost every time you try and lock your phone. And no, you still can't customize to do whatever you want it to do.
Sorry, but I'm not a Bixby fan.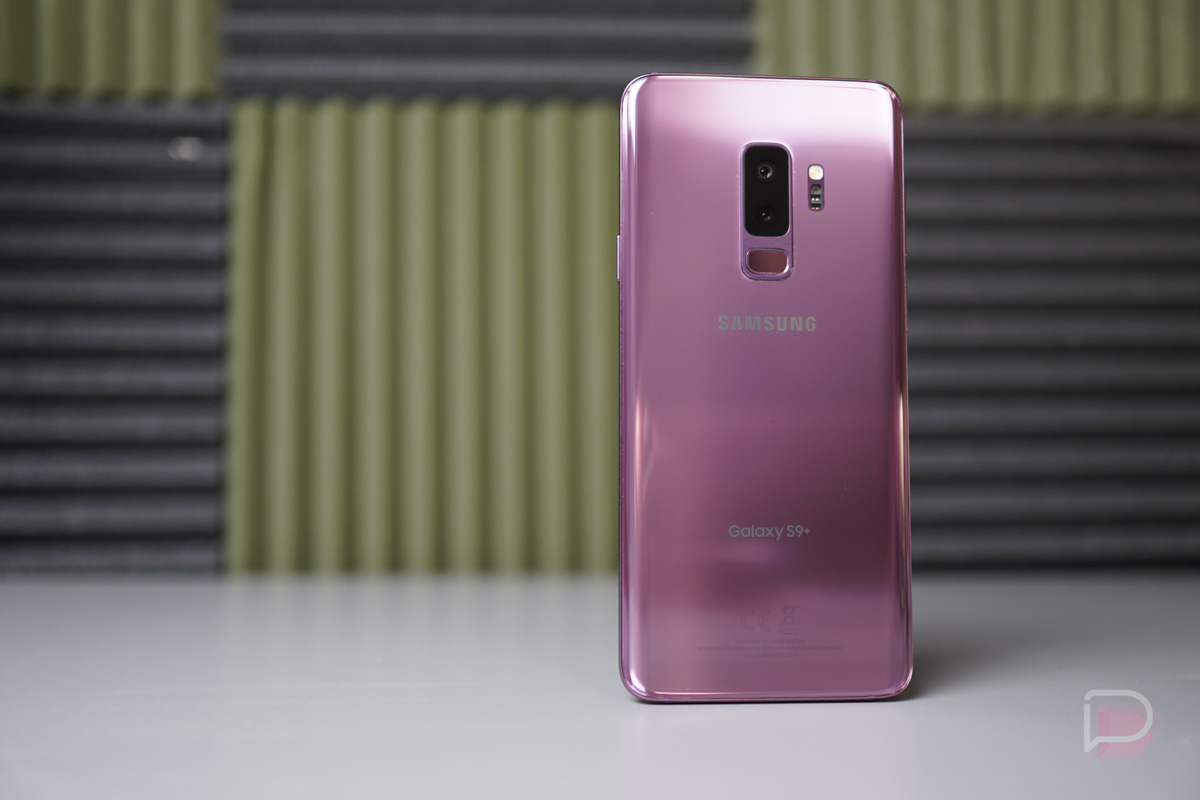 Other Notes
---
Headphone Jack – Yes, there's a headphone jack! Long live the headphone jack!
Girlfriend Impressions – I really enjoy the display and how little bezel there is. The weight is good and feels premium. It's a bit taller than other phones, but not too hard to hold and use with one hand. Good placement of the fingerprint reader, but I would like it better if it was in the shape of a circle and not this rectangle shape. I would recommend a case because how quick the glass collects fingerprints. I'm not a fan of the dedicated Bixby button. Overall it's a really solid and good looking phone.
Availability and Pricing
---
Like all past Samsung flagships, these devices are purchasable basically everywhere. You can get them through your local carrier store, Best Buy, or through Samsung's own website.
For pricing, this is where things get gross. The Galaxy S9 is $720, while the S9+ is $840. That is the price directly from Samsung for the unlocked models, but carriers have opted to stray from this, offering the phones at a bit more. I mean, carrier executives have to eat, too, right? The highest price you can pay for a standard Galaxy S9 is through Verizon, where customers will end up paying $800, which is $80 more than what Samsung sells it for. AT&T isn't much better, offering the phone for $790.
This is a problem because at Samsung's pricing, the Galaxy S9 and the S9+ could really make a potential iPhone X buyer think about which phone they want to try. The cheapest iPhone X is $999, so with Samsung undercutting that by $280, it's enough to make someone think. However, with carriers narrowing that price difference, folks may just stick to Apple and not want to venture into the world of Android. It's disappointing, but carriers will be carriers and there isn't much we can do besides suggesting you stick to the unlocked models (they work on all carriers).
Buy the Galaxy S9, Galaxy S9+
Videos
---
Unboxing
First 10 Things to Do
20+ Tips and Tricks
Gallery
---
The Verdict
---
I always look at phones as packages, a combination of different aspects varying in quality that will ultimately satisfy or dis-satisfy differing needs. In the case of the Galaxy S9 or S9+, I give it two thumbs up, with gorgeous hardware and software that should please the customizers among us as well as those who want loads and loads of additional features. You may not need them, but you aren't forced to use them. For example, I refuse to use Bixby, but it's there if I change my mind. I may not like Edge Panel this time around, but again, it's there should I want it.
Beyond just the software things that I don't care for, the phone is truly the most complete package currently available and it has everything that diehard Android fans want. It has the wireless charging, dual cameras, great water resistance, and even dual speakers. It's a very solid workhorse, one that also happens to be supported by one of the world's largest companies and all of the various 3rd-party accessory makers. It's basically Android's iPhone, so if you're into that sort of thing, then getting the latest Galaxy is never a bad option.
As I stressed already, though, Samsung is not known for timely software updates. If you value running the latest and greatest Android version, you'll want to stay away. Beyond that, though, I think you'll love this phone.