A report from last week suggested that LG would soon debut a new version of the V30 and attempt to spice it up with some "AI" camera tricks. Last night, the company confirmed that to be true.
In a press release, LG announced that the "2018 version of the LG V30" is on the way and that it'll take advantage of "more than a year" of research that LG has done in AI technologies. At MWC 2018 in a couple of weeks, LG will show off both, though this first announcement will introduce the "first of a suite" of their AI goals.
LG's Vision AI
LG is calling this Vision AI and it's a lot like Bixby or Google Lens, mixed with a scene analyzer to help you take the best photo. Comparisons to those other assistants are fair because of the "shopping advice" and results it will give when you point your V30's camera at objects, as well as its ability scan QR codes and provide image searches.
It differs a bit in that it also tries to automatically analyze objects in order to recommend which shooting mode you might use while taking a picture. LG says that it takes into account the angle of view, color, reflections, backlighting, and saturation levels. LG worked with a partner to analyze over 100 million images in order to develop algorithms for Vision AI.
And finally for Vision AI, LG says to expect a new low-light shooting mode that "automatically brightens images in dim environments by a factor of two."
Google Assistant exclusive commands
If you didn't own the original LG V30, you probably didn't know that there were exclusive Google Assistant commands built-in (there were 23 of them), like the ability to ask Google to "Take a picture on a wide angle" or "Take a pop art Cine video." For 2018, LG is adding another 9, including commands to take food photos, scan QR codes, perform image searches, and record time-lapses.
The full list of commands can be seen here.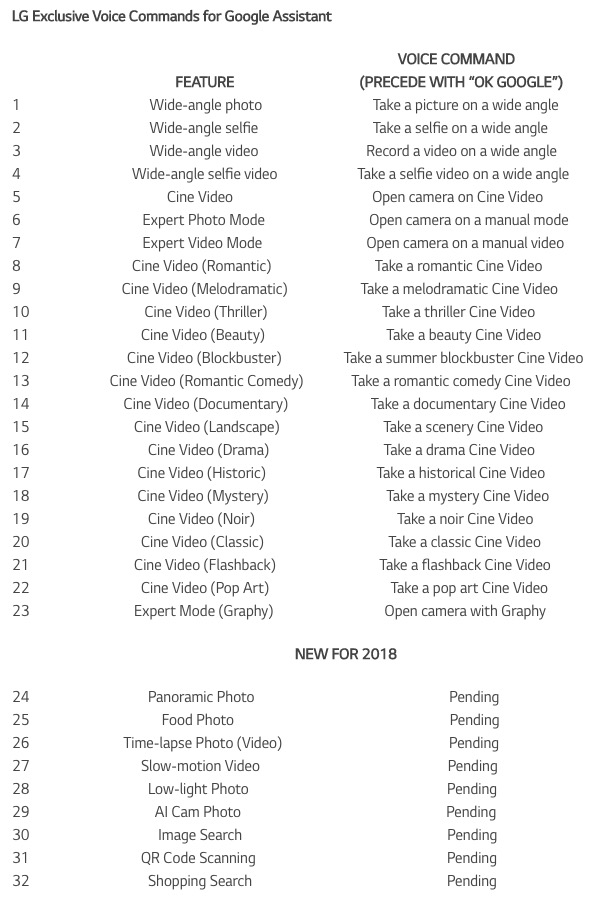 LG's early 2018 story is fully taking shape now. They really are cutting back on releases, ditching their previous phone schedule (G6 in spring to start), and re-releasing last year's phones with new features and in new colors.
// LG