If you happened to read our reviews for these devices, which can be found here (Moto Z) and here (Moto Z Force), you will know that if it was our choice, we would likely opt for another device over either of these two. They just don't quite mesh well with our lifestyles. However, if you are on the fence about these phones, possibly looking for a few specific reasons as to why they are worth your money, we can help you with that. You see, just because they aren't for us, doesn't mean you wouldn't enjoy them.
Both of the DROID editions for the Moto Z and Moto Z Force are now available exclusively at Verizon. For pricing, the Moto Z full retail is listed at $624, while the Moto Z Force is priced at $720. These are not inexpensive devices.
With that being said, we can think of a few good reasons why someone might want to rock the Moto Z or Moto Z Force. Allow us to enlighten you.
Here are 5 reasons the Moto Z and Moto Z Force are worth buying. 
---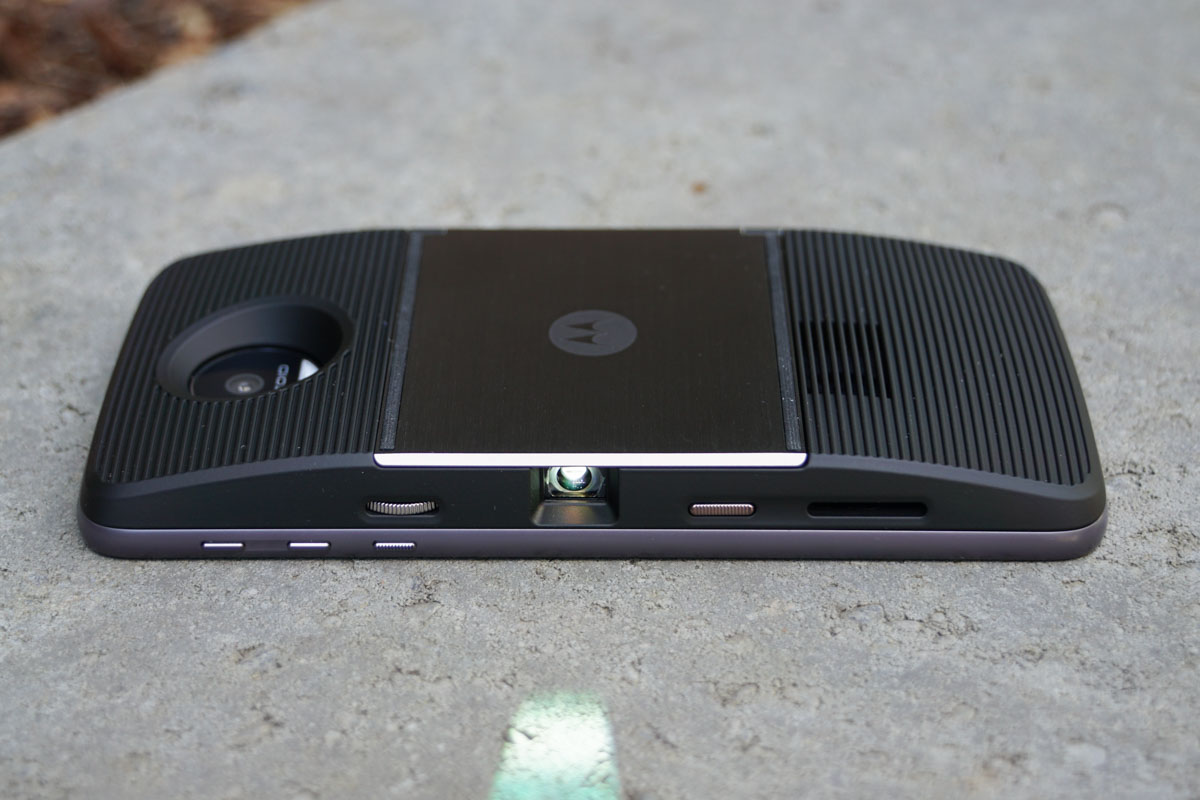 Moto Mods
I'd assume that if anything, the Moto Mods must excite anyone who is deliberating on whether to purchase this device or not. No doubt, the modular movement is coming to smartphones, and unlike the LG G5, we believe Motorola did a fantastic job on Moto Mods. At launch, there are quite a few options to choose from, and we believe there might be more to come.
To start, there are external battery packs you can attach via the magnetic pin system, a projector, Style Shells, as well as the JBL Sound Boost speaker. The beauty to Moto Mods is the design and syncing, although, I should say the lack of syncing. You see, Moto Mods just work. There is no pairing to do like you would see on Bluetooth devices, which makes using them extremely simple. A small child could understand how to attach them, which is why we give so much credit to Motorola/Lenovo for the concept.
Besides the projector that costs $300, the Moto Mods are relatively inexpensive. For the JBL speaker, the price is set currently at $80. For Style Shells, they are roughly $20, and battery banks start at $60. We go over all of the details for Moto Mods in this video, which is definitely worth your time if the Moto Z is on your radar.
Specs
In terms of 2016 flagships, the Moto Z and Moto Z Force feature specs that can compete with the best of them. First, let's go over the differences between the two, since it's not that much. The Moto Z and Z Force differ in the camera department, with the Moto Z featuring a 13-megapixel rear-facing camera with Phase Detect autofocus, while the Z Force features a 21-megapixel rear-facing camera with Phase Detect and Laser autofocus. From our findings, both cameras deliver pretty similar results, so long as your lighting is good.
Another category these two phones differ is the battery. The Moto Z features a 2,600mAh battery, while the Moto Z Force features a 3,500mAh battery. Both are built-in and non-removable. If that isn't enough juice, remember, you got a Moto Mod for that.
Now, let's discuss how they are the same. Both devices feature a 5.5-inch QHD AMOLED display (the Z Force also features Shatter Shield to prevent breakage), Snapdragon 820 processor, 4GB of RAM, NFC, microSD card support for up to 2TB of expandable storage, USB Type-C, and Android 6.0+. Together, these specs make for a very snappy device, but that is also thanks to the onboard software that we will discuss in just a bit.
The only thing we need to point out is Motorola's usage of the Snapdragon 820, with the Snapdragon 821 recently being announced. In the second half of this year, it's entirely possible that phones will launch with the Snapdragon 821, so if you pick up one of these phones, you will be a generation behind in terms of SoC. It shouldn't be a deal breaker, but you should be aware.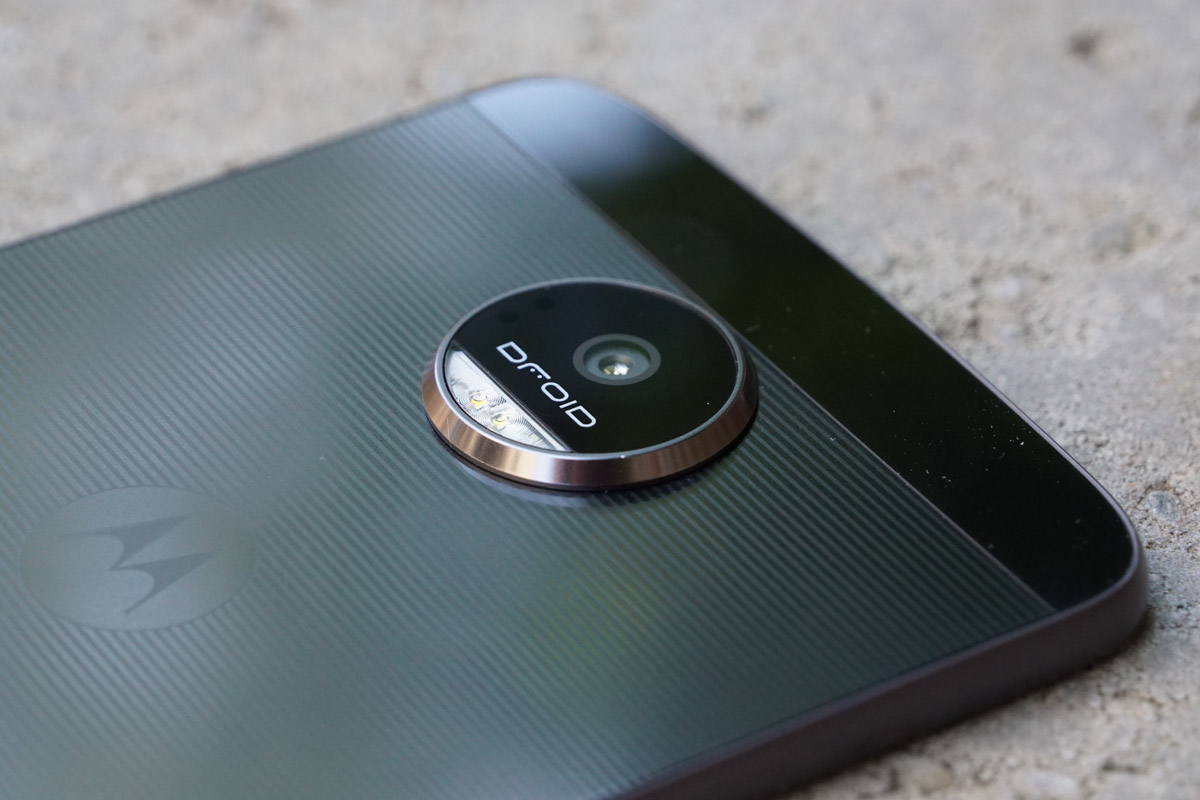 Original Design
When I first laid hands on the Moto Z, I was blown away by the lack of thickness. Seriously, words can't properly describe just how thin the device feels while in-hand, making it quite the interesting experience. Measuring in at just 5.2mm thin, the Moto Z is one of the slimmest Android devices ever launched. Even if you opt for the Moto Z Force, that phone is also very thin. With its 3,500mAh battery, it's still slimmer than a Galaxy S7. I'll let that sink in for a second. Motorola must be wizards or something.
At first touch, the wideness coupled with how thin the phones are can make holding it a bit awkward, but after a week of using the device, it grows on you. It is reminiscent of getting used to using a larger phone when you are used to using smaller phones on an everyday basis. It might seem bad at first, but give it time and your hands learn to cope with the difference.
The other design touch that catches the eye immediately would be the rear-facing camera. Pretty similar to the look of a Moto 360 smartwatch, am I right? It even features the flat tire on the bottom, which is where the LED for the camera has been placed. In my opinion, I like it. The design has grown on me, even though I thought it should be burned when we first saw it in December of last year.
Moto's Backseat Approach to Software
For a few years now, Motorola has been taking a backseat to the software that comes on its devices. By saying this, I mean they aren't tossing on some ugly skin and tons of bloat that adds no real value to the device. Instead of focusing on that garbage, Motorola includes tweaks that we quite enjoy, such as Moto Display and customizable gestures.
When Motorola first started doing this, we saw the company do pretty well with software updates. While that has changed drastically, we still appreciate the somewhat stock Android OS look and feel Motorola continues to offer. We have discussed Motorola's lacking in the updates department, so none of what I'm saying should surprise anybody. No, you won't see monthly security updates, but if that concerns you, new Nexus phones are coming.
To touch more on the software tweaks Motorola does provide, baked into both the Moto Z and Moto Z Force is the Moto app. This is the app that grants access to custom gestures (Actions), voice commands, and options for Moto Display. For gestures, users can set Attentive Display (keeps screen on while you're looking at it), the famous Chop Twice for Flashlight, and Twist for Quick Capture. With the twist, users only need to quickly twist their wrist to dive straight into the camera. No double tap on the power or looking for your camera shortcut icon. Most of Moto's gestures are pretty useful, so if you do pick up either the Moto Z or Moto Z Force, I'd suggest enabling most of them.
As for Moto Display, this is the software that allows users to see and act upon notifications while the display is turned off. Thanks to AMOLED technology, Moto Display wakes only the pixels necessary for displaying an incoming notification. Users can then choose to dismiss or act upon the notification. Moto Display has been around since the original Moto X and we still love it. Moto Voice, an app itself, allows users to utilize their voice to control the phone. Much like you see with Google Now, users can search for specific things, make calls, texts, and check the weather. It's essentially having yet another digital assistant on your smartphone. For a pro tip, if you go under your Display settings, you can enable the double-tap on power button to launch the camera app. Nice touch, Moto.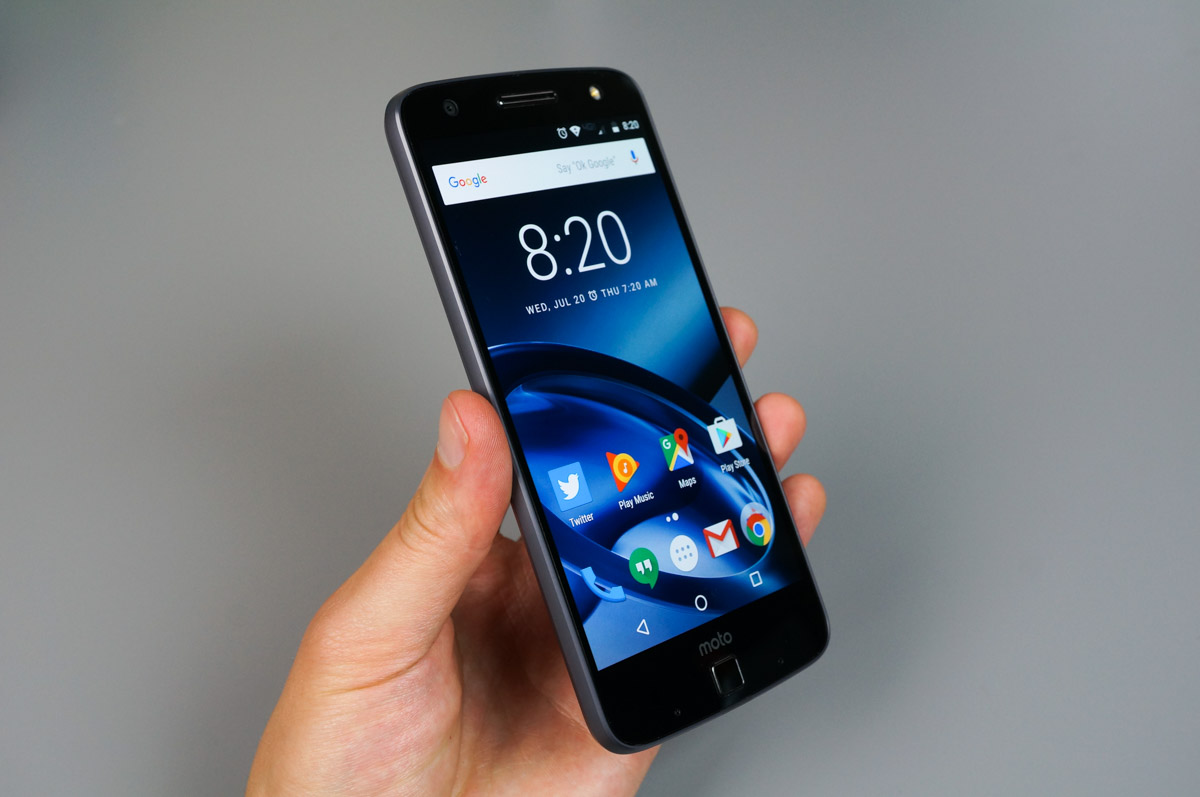 Turbo Charging
I love Turbo Charging. I don't care if its called Rapid Charging, Dash Charging, Quick Charging, Fast Charging, or whatever. At the end of the day, it's all the same thing. I plug my phone into the wall, and in about 45 minutes to an hour, I got full juice. According to Moto, with Turbo Charging on the Moto Z Force, you should see about 15 hours of battery usage from just 15 of charging. That's nuts and perfect for all you Pokemon GO players out there.
Inside of the box for both of these phones, you will find a Turbo Charger wall adapter. If you use a standard power adapter, don't expect to see the same results, though.
---
Considering another phone? Feel free to take a look back at 5 reasons to buy other phones, like the Galaxy S7, OnePlus 3, or HTC 10 in previous installments of this ongoing series.