Introduced as the Moto Z Force DROID Edition, now launched sans Edition, the Moto Z Force DROID could be described as a follow-up to last year's DROID Turbo 2, but it's much more than that. On paper, the Moto Z Force DROID attempts to bring the best of specs and modular functionality into a single device, offering a big battery and stellar camera to get people excited for this year's lineup of DROID phones. Combine all this tech nifty-ness into an incredibly thin body and you would think Moto and Lenovo are positioned to have themselves one very popular device.
The Moto Z (DROID) and Moto Z Force (DROID) were announced on June 9, meaning we have had quite a long time to get unexcited about these devices, but putting the delayed launch aside, let's find out how they fare after a week in our pockets.
Here's our Moto Z Force DROID review.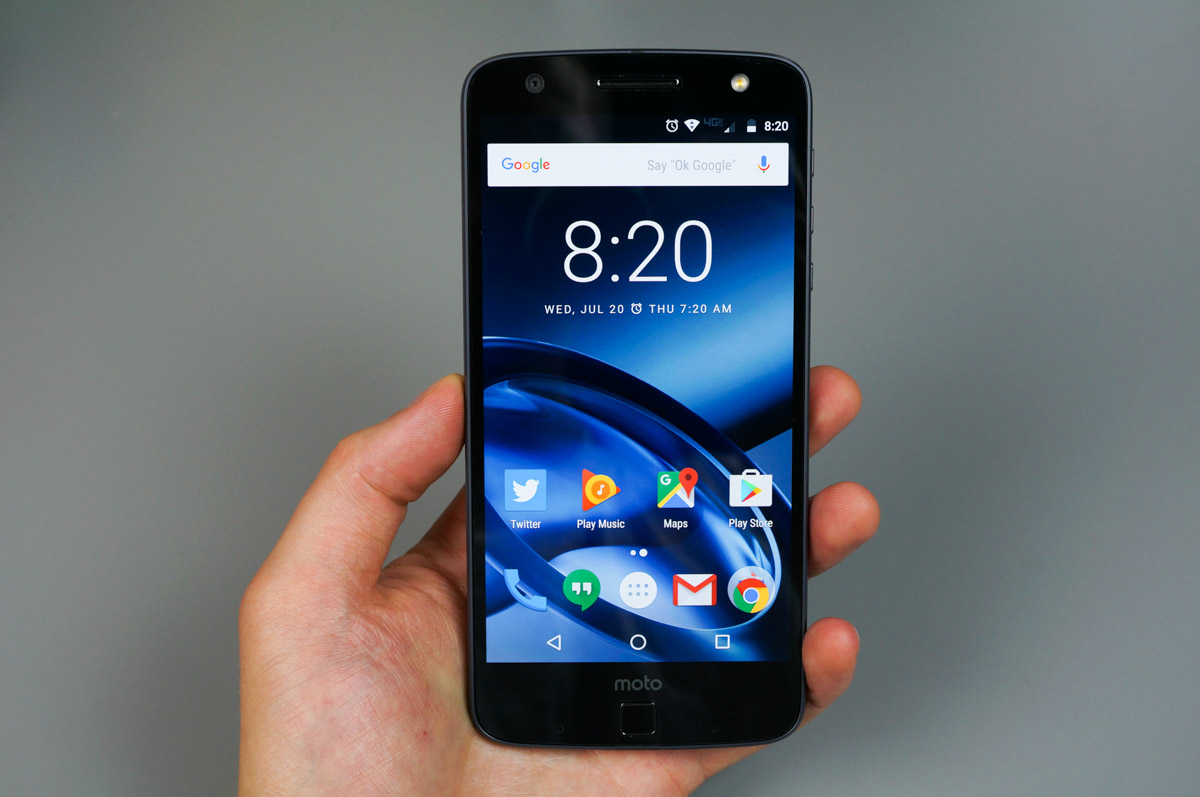 The Good
---
Specs
Before we dive into all of the finer details of the Moto Z Force DROID experience, let's go over the specs. The phone features a 5.5″ QHD AMOLED display (2560 x 1440 at 535 ppi), Qualcomm-made Snapdragon 820 processor, 4GB of RAM, NFC, Bluetooth 4.1, USB Type-C, 21-megapixel rear-facing camera (OIS, Phase Detection and Laser autofocus) with ƒ/1.8 aperture, 5-megapixel front-facing camera with ƒ/2.2 aperture, 3,500mAh battery, Turbo Charging, 32GB and 64GB storage models (with microSD support up to 2TB), and Android 6.0.1.
These specs are good, but the only issue is, since this phone is launching in the later half of 2016, we as consumers are already looking toward what's next. For example, Qualcomm has already announced the next step in the Snapdragon family, the Snapdragon 821. We expect to see this new Snapdragon in the next Nexus devices and maybe even the Galaxy Note 7. As you can see, when you launch a device in the later half of the year, it's sorta hard to future proof a phone, even when you give it the best that is currently available. It essentially cuts short the potential lifespan of a device, if the buyer is interested in things such as specs.
Looking past this, though, for what is currently on the market, the Z Force DROID aligns perfectly with the current best from Samsung, LG, and HTC.
Fingerprint Reader
Thankfully, the Moto Z and Moto Z Force do feature a fingerprint reader. The reader is incredibly speedy, with not much of a wait between putting your finger on the reader and the device unlocking. On top of the ability to lock the device and make purchases with it, users can also hold onto the fingerprint reader to lock the device. I use this feature constantly, instead of moving my thumb up the side of the phone to lock it. Unlike Kellen's crooked reader on the Moto Z DROID, my reader is straight, leading me to believe that Kellen's crooked unit is just a one-time manufacturing error. At least, let's hope that's the case.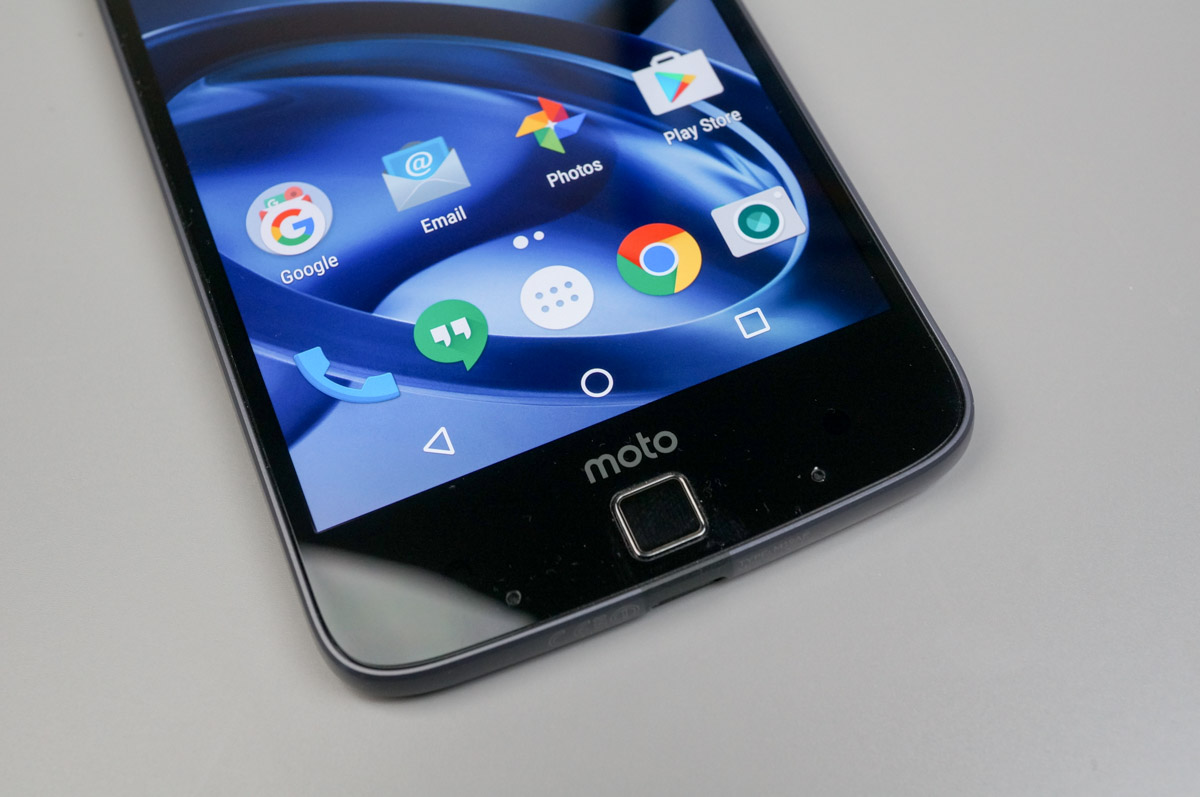 Moto Mods
The Moto Z line is not all about the phones, but the Moto Mods. They are a very important factor into whether one should consider buying these devices. Unlike the LG G5, a decent assortment of Moto Mods will launch alongside the Moto Z lineup, including a projector, battery bank, JBL-branded speaker, plus Style Shells that add a bit of flair to your device. While I wouldn't say any of these mods are completely necessary to purchase, except for the battery pack if you find yourself outside playing Pokemon GO a lot, they are an added bonus. A bonus that you must pay for.
The one Moto Mod I have used during testing is the JBL Sound Boost speaker. It's a cool little device, priced at $79.99. I speak more about the phone's single built-in speaker later in this review, but what you should know is that while the built-in speaker does get plenty loud enough, it has zero depth. To me, the sound is not deep, meaning there is little low end to the sound. If you are trying to bump tunes, good luck hearing the bass drop. With the Sound Boost speaker attached, the experience is definitely kicked up a notch. Plus, it has a built-in kickstand. To get a sense of what Sound Boost is capable of, check out the Moto Mods overview video below.
Overall, I'm a fan of the Moto Mods concept. In terms of modularity being implemented into smartphones, this is a much better execution than what we saw from LG with the G5. My take is, as long as Moto isn't removing key aspects and selling them as a Moto Mod, it's fine. Yes, the external speaker on the Moto Z Force is weak, but so is the speaker on the Galaxy S7 Edge. At least with this phone, I can easily attach the Moto Mod and I have a little portable boombox. I wouldn't mind seeing Moto Mods come back next year.
Kellen has additional Moto Mods featured in his Moto Z review, so if you want to learn more about those and hear his opinion on Moto Mods, be sure to check out his review.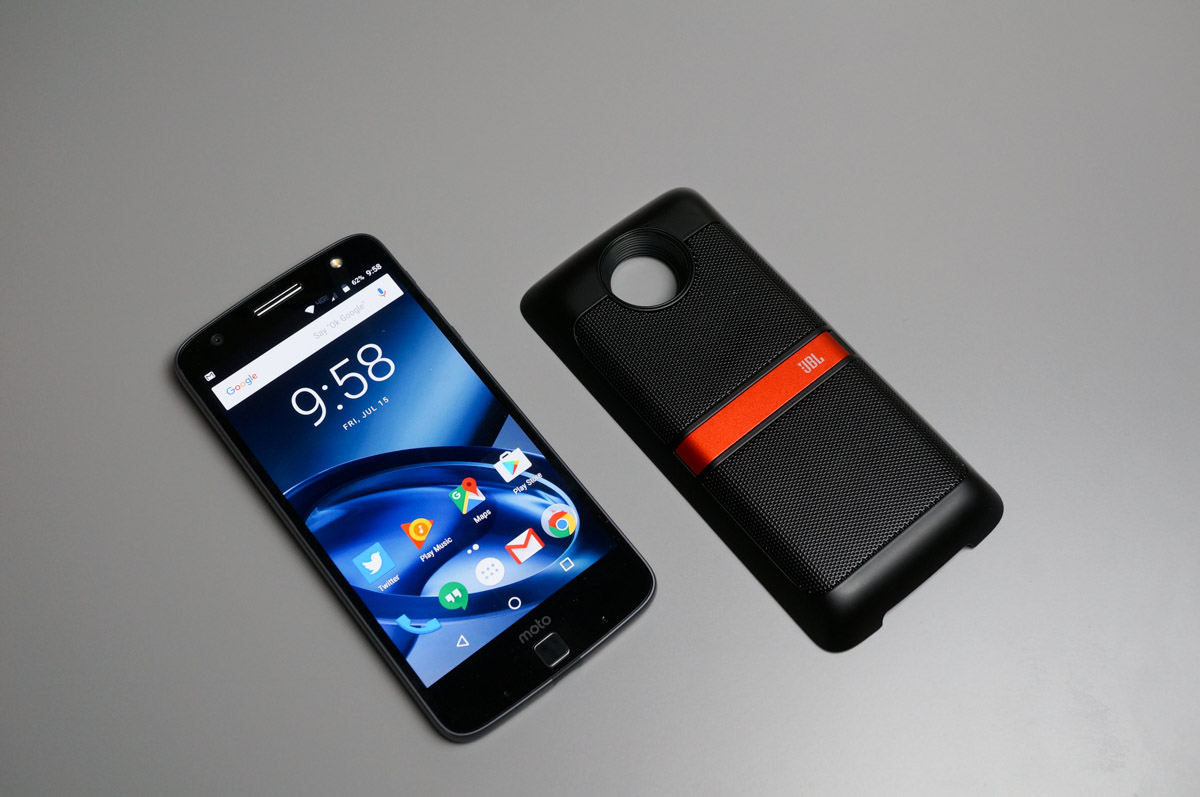 Battery Life
According to Verizon and Moto, the Moto Z Force DROID delivers 40 hours of battery life. In my time testing, especially since I have been using Pokemon GO a bit too much, I can't exactly confirm that. On the bright side, even with how much Pokemon I have been playing, I was getting a solid day very easily. My typical day is 7AM to 11PM and I was getting through that with about 15% to 20% left in the tank. For me, someone who charges their device nightly, that's just fine. If you don't play Pokemon, you will likely exceed my results quite easily.
For those of you who commute to work each day and night, I don't foresee you running into many issues with the phone's 3,500mAh battery. Keep in mind, the device does allow for Turbo Charging, providing "up to 15 hours of battery life" from 15 minutes of charging. While I can't confirm that either, I will say that when the device is plugged up to the Turbo Charger, the phone charges very quickly, providing me with lots of juice in a short period of time.
Software
One thing Moto has not yet strayed too far from is their use of what is essentially stock Android software. Yes, there are a few changes here and there, but for the most part, it's the same UI and color scheme you would find on a Nexus device. As a Nexus fan myself, this is always a bonus. Until Moto and Lenovo decide to start offering their own custom theme, something like TouchWiz or whatever LG is calling their skin these days, I will continue to give Moto props for this move.
The Moto Z Force (DROID) ships with Android 6.0.1, and when the device is being shipped with what is virtually stock Android, it should allow Moto and company to update the device quickly. However, when it will receive Nougat is another topic entirely, so look for that section a bit later in this review.
Out of the box, the phone's launcher is Launcher3, which is a customized version of Google's own stock Android launcher. And no, I don't mean Google Now Launcher. Think before that, a barebones Android launcher. There are very minimal tweaks made to it, such as the ability to rotate into landscape mode and a darkened app drawer, but beyond that, it's a very basic experience. So basic that I immediately downloaded and installed Google Now Launcher. On top of a somewhat custom launcher, Motorola's very popular Moto Display is also available on the device, bringing that same awesome notification experience many have come to love. If you aren't familiar with Moto Display, it displays notifications on your display in white text, while the rest of the display is turned off. This feature is typically found only on AMOLED displays. From the notifications, you can open the app or you can choose to dismiss it. Have to say, we have loved Moto Display since its initial launch and still adore it.
Baked into the device upon boot is Motorola's Moto app, too. This is the app that grants access to custom gestures, voice commands, and options for Moto Display. For gestures, users can set Attentive Display (keeps screen on while you're looking at it), the famous Chop Twice for Flashlight, and Twist for Quick Capture. With the twist, users only need to quickly twist their wrist to dive straight into the camera. No double tap on the power or looking for your camera shortcut icon necessary. Most of Moto's gestures are pretty useful, so if you pick up this phone, I'd suggest enabling most of them.
One bad thing that I have noticed, which I have confirmed with Kellen's Moto Z, is that Moto has disabled the long press on system toggles to open up the Settings menu. For example, if you pull down your notification bar, then long press on WiFi, you expect the full WiFi settings menu to come up. On these devices, that's not the case. It's extremely annoying, but hey, no phone is perfect.
Somewhere in the Middle
---
Lack of Headphone Jack
Yes, the Moto Z and Moto Z Force feature no 3.5mm headphone jack. Is it a deal breaker? By no means. Inside of the box, Moto provides a USB Type-C to 3.5mm adapter, allowing owners to continue using their wired headphones. Just don't lose it or you're screwed until you find a new one online. In 2016, many people I know are already converting to Bluetooth headphones or should already be in the market for a USB Type-C set of headphones. While the options are still limited, more will be coming to support USB Type-C. It takes time for the market to transition, but it's happening. I applaud Moto's risk to ditch the 3.5mm headphone jack. To me, they pulled an Apple before Apple had a chance to do it. To sum it up, don't let the lack of a 3.5mm jack scare you away from these phones. There's an adapter and most likely, you'll be buying a USB Type-C supported set of headphones soon enough. Or stick to Bluetooth, it works fine.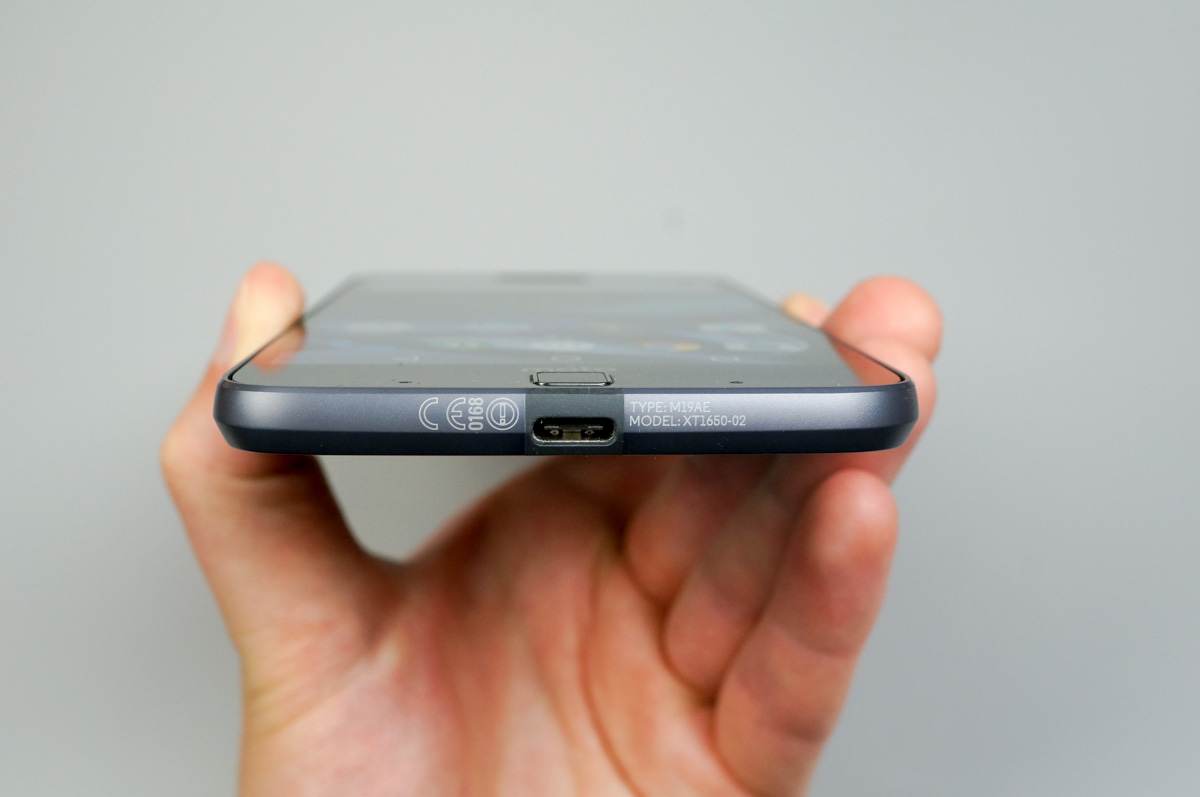 Camera
On the backside of the Moto Z Force DROID, there is a 21-megapixel shooter, featuring laser and phase detection auto focus. The camera also comes with Optical Image Stabilization (OIS). These features allow the shooter on this device to focus on subjects rather quickly, but from my time with the phone, I'm not an overall fan of the camera.
While the camera will focus quick, I find that when looking at my final result in the gallery, an image is either out of focus or just hasn't been developed properly. This is usually the result of low lighting or a bad focusing job. Maybe even shaky hands. However, in proper daylight lighting, the camera performs quite nicely. If I'm outside in the garden, I can get a few great macro shots of bugs or whatever. Or, if I'm hiking a trail, I can get a few landscapes.
One area I found the phone not very good in is the shooting of quickly moving objects – my dogs to be exact. If they aren't moving, I can capture them just fine, but once they start running around, the phone has a hard time capturing the movement in focus. For the most part, the camera delivers what you might expect from Moto, which is nothing too special, but not anything like what we've seen from them in the past. I recall on the original Moto X, it had one of the worst camera experiences I thought I had ever seen. This phone is much, much better than anything like that. If you have decent lighting, your pictures should turn out great. If you have great lighting and an exceptional subject, turn on the HDR mode and you'll be cooking with real heat.
Here are a few samples.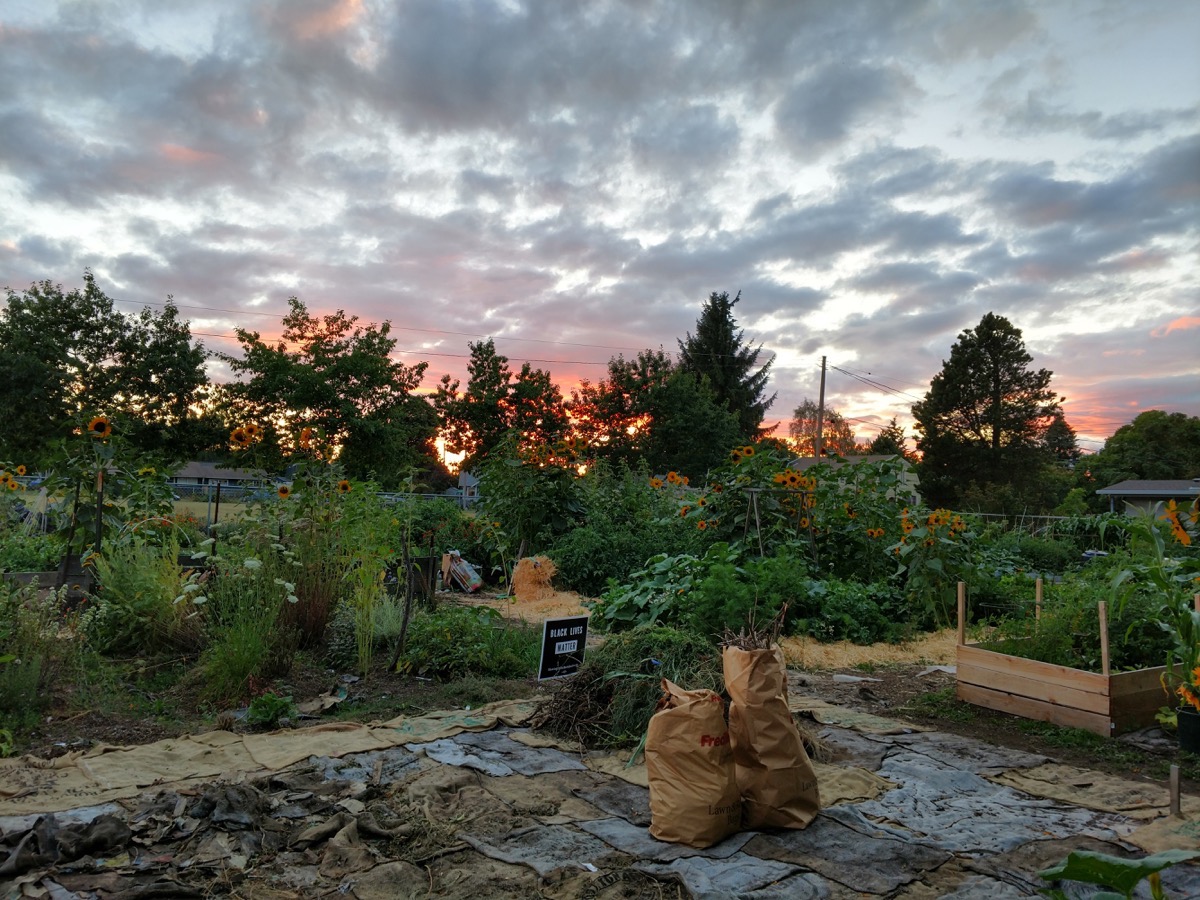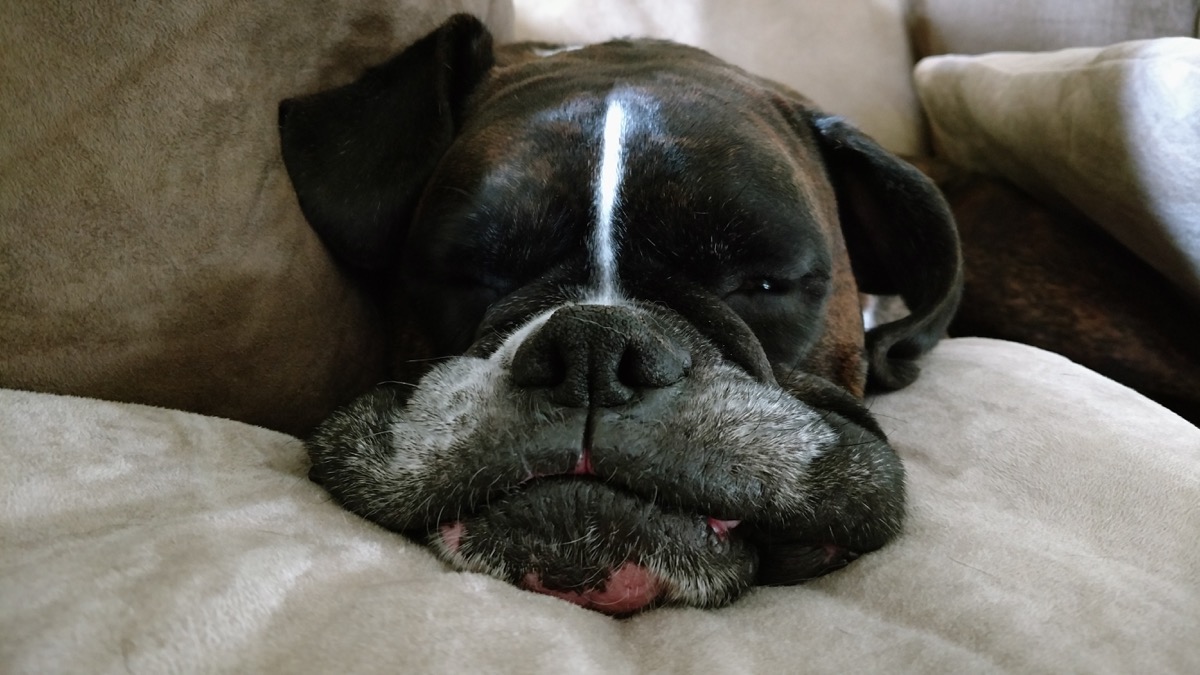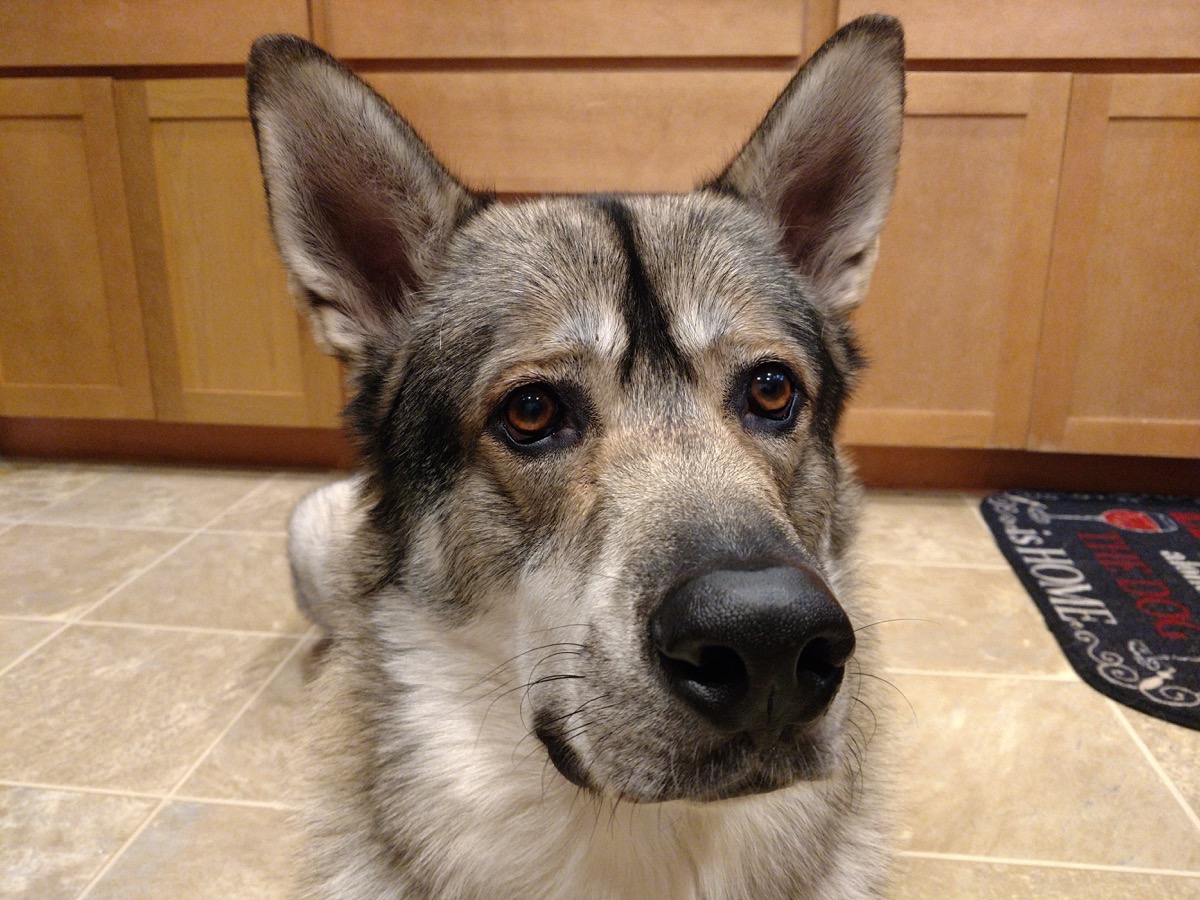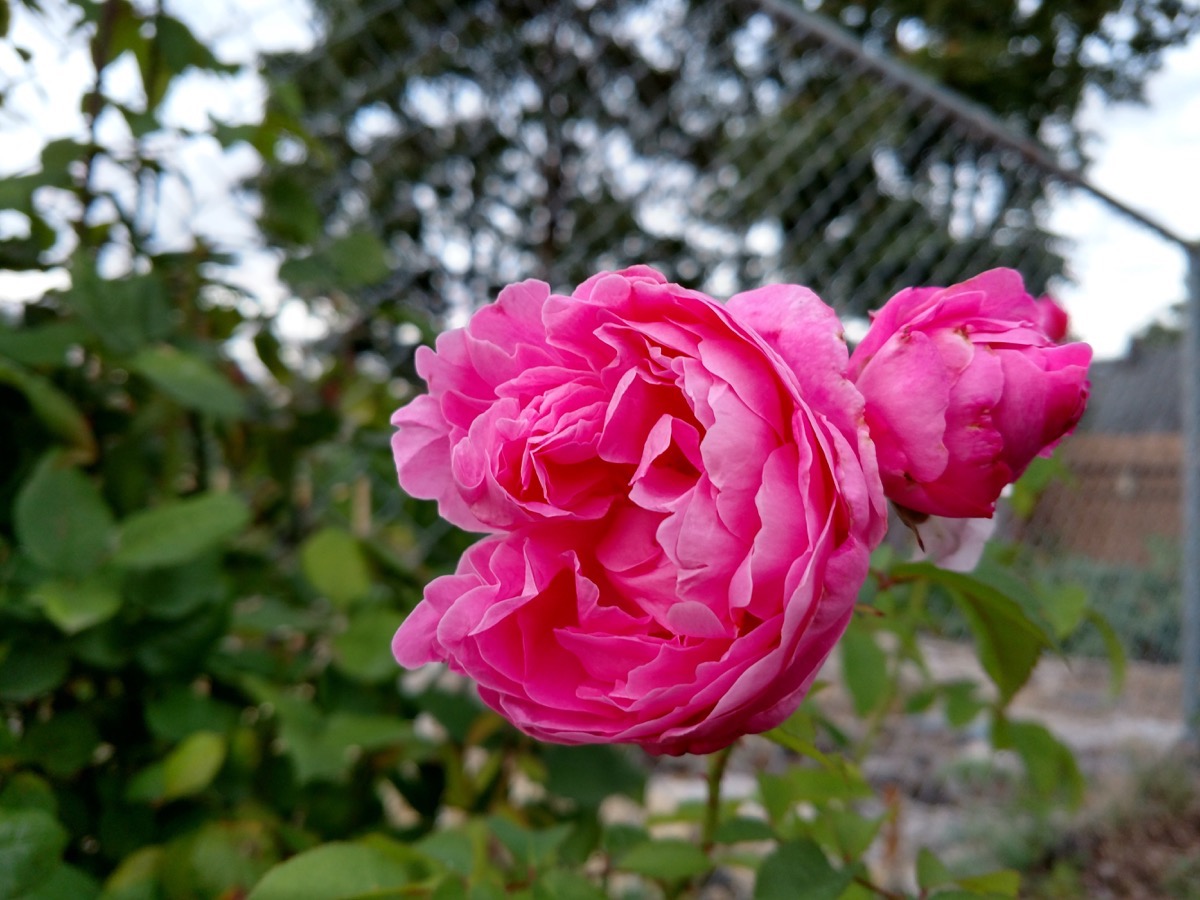 Display
On the Moto Z Force (DROID), you will find Moto's ShatterShield technology. What this does is essentially guarantee that if you drop your phone, your screen won't shatter. While this sounds amazing and there's no doubt you want it on your next phone, there is a drawback. In my opinion, ShatterShield displays look and feel pretty iffy in comparison to something like the Gorilla Glass found on any number of devices on the market.
You see, ShatterShield, according to Moto, is a 5-layer technology. Layer 1 is a ShatterShield lens, being the piece your finger actually touches. Layer 2 is an interior lens, engineered to be more flexible than glass while still maintaining a high degree of optical transmissivity. Layer 3 is a redundant touch system called Dual Touch, which is an added failsafe mechanism for ShatterShield. Layer 4 is the AMOLED display itself, followed by Layer 5, the aluminum chassis. When you combine these layers, there's a bit of a gap between the top layer and the display, at least to the naked eye. Because of this, I get this sensation that some of my taps and swipes on the display are not registering correctly or are delayed. The feeling is sort of hard to describe, but my hope is that if you ever picked up a DROID Turbo 2, you might know what I am referring to.
Moving past ShatterShield, the AMOLED display doesn't appear to be all that bad to my eye. Compared to the Nexus 6P, whites actually look white, instead of giving off a yellowish tint. Color saturation looks good, too. As for brightness, the display gets plenty bright while in-doors, but when outside in direct light, I find myself squinting pretty hard to see what's on the display. If you are outside in the sun, and are wearing sunglasses, it's extremely difficult to see things unless you hold the phone closer to your face.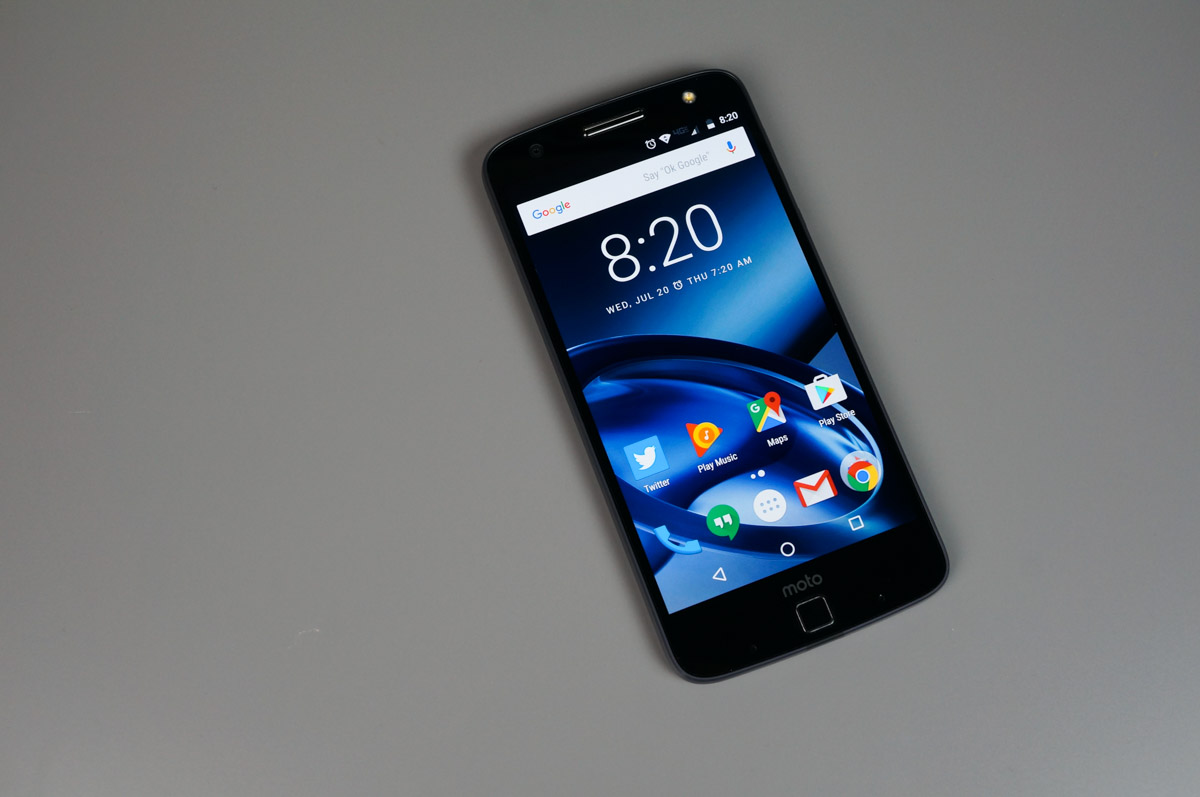 Design and In-Hand Feel
When we first saw these phones, just to keep this review 100, I thought they were ugly. We joked that Moto was utilizing unused Moto 360 displays for the rear-facing camera, but really, it's what they look like; Flat tire and all. Time has passed and since then, I must say the design has grown on me a bit. It's definitely different. I wouldn't say the design is exciting or innovative, but the Moto Z and Moto Z Force certainly don't look like any other phone currently on the market.
Moving on from the unorthodox camera housing on the backside, the next thing you will notice is how thin both devices are – especially the Moto Z. Somehow, even when fitting a 3,500mAh battery in the Moto Z Force, Moto was still able to keep the thickness down to just 6.99mm. For comparison, the Galaxy S7 is 7.9mm thick. The phone is super slim, which feels pretty good in the pocket.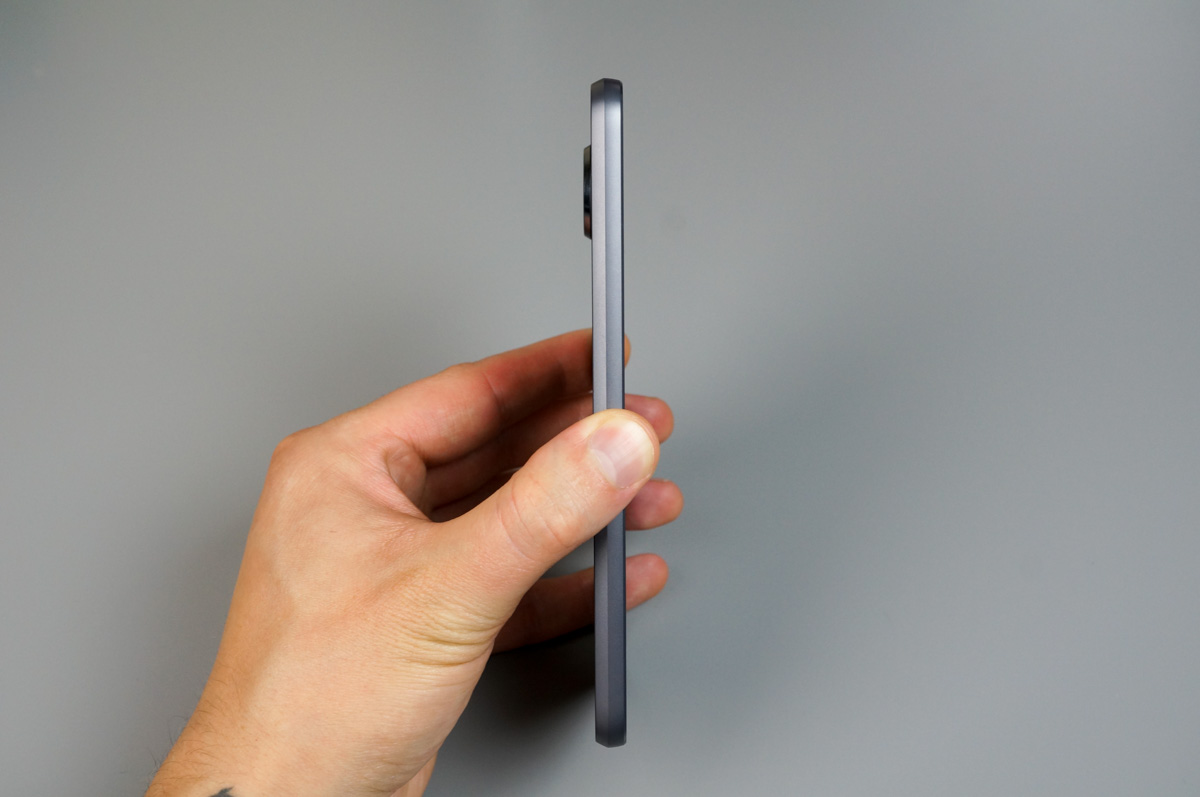 However, with that lack of thickness, it doesn't exactly leave much for your hand to grab onto. Combine the thinness with the fact that the phone is rather tall and wide, and unfortunately, it's not all that great to hold in-hand. When moving about from screen to screen, it's like putting my thumb through a gymnastics routine. I'm stretching the thumb, moving it from side to side, and really, it's just not an enjoyable in-hand experience. I could think of worse problems to have with a phone, but when it's not all that great to hold or is nearly impossible to use with one hand, it becomes a deal breaker for me.
Also, during our last Droid Life Show, we briefly touched on the power and volume buttons. Typically, the volume up and down buttons are a single piece, aka a rocker. On this device, as well as the Moto Z, they are all separated. While this may sound nitpicky, I'm not a fan of this design. Like almost any other phone, I'd have appreciated the rocker much more, allowing my brain to not think twice about which button I am about to press.
The Not-so-Good
---
Availability and Price
The DROID variants of the Moto Z and Moto Z Force will, of course, only be available on Verizon. Furthermore, making the availability matters worse, the Moto Z Force won't be made available as an unlocked device, unlike the Moto Z which will be sold unlocked later this year. This means, if you want the Moto Z Force, the only way to get one is if you're a Verizon customer. Ouch. We hate exclusivity.
As for the price, full retail for the Moto Z Force is listed at $720. Via a device payment plan, your total will be $30 a month. To me, $720 is a pretty crazy price for this phone. Yes, it has the modular aspect, QHD display, 21MP camera and high-end processor, but from my perspective, this doesn't seem like a $720 smartphone. Considering we have zero idea of Moto's intentions on updating this device, $720 is just too much to pay to be in the dark when it comes to updates. To compare, the OnePlus 3 offers plenty of what the Z Force brings to the table, all for about $400. Sure, you can't use Moto Mods, but trust me, you'll live without them.
Updates
Updates for DROID devices. As a consumer, it's a scary thing to think about. These phones will launch with Android 6.0.1, but when will they receive Android Nougat (Android 7.0)? Later this year? Early 2017? Mid-2017? At this point, and given the recent history of DROID updating, it's a shot in the dark. For those concerned about security updates and general Android updates, this is something to consider. Given these are new flagships for Moto and Verizon, you would expect them to be updated in a timely fashion, but again, we can't say with certainty what anyone should expect to see from Moto.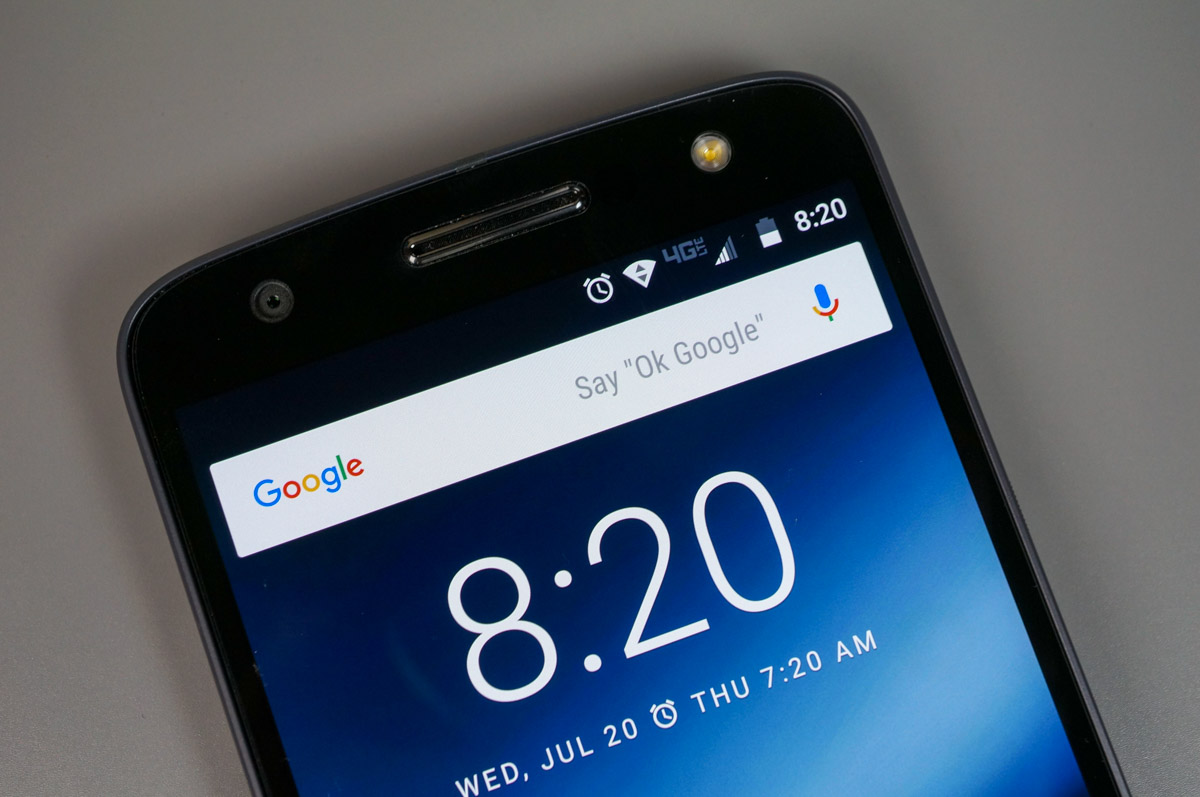 Single Front-Facing Speaker
I'm just gonna say it, when phones are released with front-facing dual speakers, we get spoiled. Phones like the Nexus 6P are rare gems, catered to those who appreciate decent sounds emanating from a smartphone. On the Z Force DROID, there's a single external speaker, located on the top frontside of the phone. It doubles as your call speaker. I will say, the placement is good. It's on the frontside, so half of the equation is solved. However, it's just not that good. It gets plenty loud, but the sound delivered is best described as lacking in depth. There's no bass. If I want to bump some Skrillex, there's no drop. If I want to rock out to Acacia Strain, there's no brown note. As someone whose life is completely dominated by the love of the low end, it's not good enough.
Other Notes
---
Verizon – This is the first phone I have used on Verizon's network since last year. Over the past week, I have been more than impressed by where I get reception and how clear my calls sound. Coming from AT&T and T-Mobile, it's nice to actually have a few bars in locales I don't typically see service. Naturally, your experience will differ from mine, but nevertheless, I enjoyed it.
Girlfriend Test – "The size feels pretty good, not too big, especially for being a wider phone. I wish it felt heavier. It doesn't feel premium because of how light it is. I like the rounded off edges and the back's design [referring to camera and Moto Mod pins]. It's kinda cool."
Bloatware Count – The count for Verizon apps considered to be bloatware is 11, not counting the kiddie game shortcuts that are also baked inside. If we're counting those, the number goes up to about 17. Thankfully, disabling all of this crap is quick and painless.
Fingerprints – Like a lot of other phones available right now, the Moto Z Force DROID is a fingerprint magent. Sadly, these prints aren't the kind you can easily wipe away. No, with this phone, you really have to grind a microfiber cloth to get these prints off. Not a huge deal, but something I wanted to mention.
Video
---
Unboxing and Hands-on
[responsive_vid]
Software Tour
[responsive_vid vid_url="JN5SqI2ZP_U"]
First 10 Things To Do
[responsive_vid vid_url="Y13jUE_vYFg"]
Moto Mods Overview
[responsive_vid vid_url="M8pAOtTmwLA"]
Gallery
---
The Verdict
---
If you are a current Verizon subscriber or were planning to be one, should you buy the Moto Z Force DROID? Short answer is simply no. Long answer is a bit more tricky, though. It'd be a maybe. The Z Force DROID offers that special Moto Mods experience, while also delivering a really big battery, but I can't get past the uncertainty I feel when it comes to updates.
Updates on Android are very important. I repeat, updates are muy importante. If I know a certain device shouldn't be expecting an update anytime soon, especially with a major Android release coming up, I can't recommend it. On top of that, we have Nexus phones coming soon. Should you hold off on the new DROIDs and see what Google has to offer in 2016? Yes, yes you absolutely should. If the new Nexus phones end up being poor offerings, which they probably won't be, you can go back and consider the DROID. Once you're back on the DROID, though, there's the upcoming Galaxy Note 7 to consider. Ugh, buying phones is hard.
Bottom line, I would pass on the Moto Z Force DROID, unless you really want those Moto Mods. The cool factor of those could maybe outweigh a few of the negatives with this device.
---