After Samsung finally took design seriously in 2015 by incorporating copious amounts of glass and metal into phones like the Galaxy S6, they left LG as one of the last major phone companies to still produce all-plastic flagships. LG caught some flack for it with the launch of the G4, so for 2016, they introduced the G5 as their first all-metal phone.
Along with the metal body, LG managed to keep their popular removable battery feature while attempting to usher in an era of modularity through phones, by offering up modules that could potentially add-on functionality on the fly. The idea could mean big things in the future, but the G5 and its couple of modules are here now. In other words, we are going to judge them today. LG also went with a dual-camera setup to give its users more flexibility when taking photos, a move that may have led to a questionable design.
I'll say this, though, you've got to give it up to LG in the risk department because they certainly took some this time around. Did they pay off? Let's find out.
This is our LG G5 review.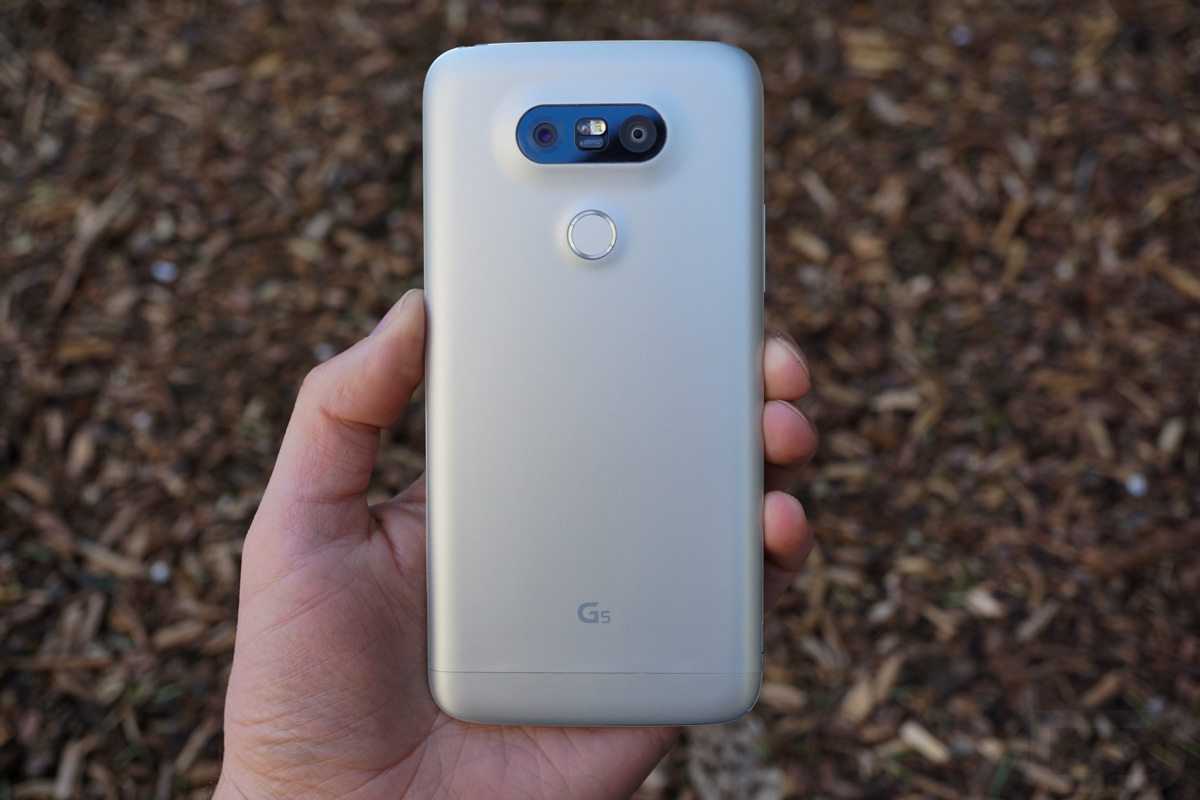 The Good
---
LG did a pretty good job at ticking most of the boxes when it comes to specs on the G5. It has a 5.3-inch QHD IPS LCD display, 4GB DDR4 RAM, 32GB internal storage with microSD slot for expansion (up to 2TB), Qualcomm Snapdragon 820 processor, removable 2800mAh battery with fast charging, dual rear cameras at 16MP and 8MP, front camera at 8MP, all-metal body, USB Type-C port, and Android 6.0.1 underneath LG's newest skin.
Sure, the phone is missing water resistance and wireless charging, but not much else. This is certainly a modern flagship that should last you through a contract or payment plan up to two years. With future software updates helping get the most out of its internals, the G5 should only get better and better over time. The G5 may not have the best specs in the business, but they are good enough to compete.
Performance
Like the V10 before it, the G5 excels in the performance department. No, I'm not talking about benchmarks, since we don't run benchmarks. I'm talking, in-hand, real-world performance – the G5 is a smooth operator.
This is one of those phones that swiftly glides anywhere you take it. The phone jumps in and out of apps, games, and streams video with the best of them. The performance of this phone is an area I haven't had one second thought about or maybe better put, there hasn't been one instance where I thought I needed a reboot or full app-close due to lag or stuttering. The only reboots this phone gets are from battery swaps when I need a fresh battery.
Thanks to all of that RAM (4GB) and the Snapdragon 820, LG has fine-tuned the G5 to be one of the more memorable phones to use because of how easily it is to get things done. As a phone reviewer, you can often tell almost immediately if a phone is going to have its issues (like the Nexus 5X), but I'm not worried about the future of the G5 at all.
If there was one area to nitpick, it would be with the camera launch. Some days, the double-tap-to-launch on the volume down button to open the camera works incredibly quickly, just like the quick launch on the Galaxy S7 does, but then others, it takes an extra couple of seconds to focus the first time before you can snap a photo. This isn't a dealbreaker scenario, I just wish it was more consistent because when it's working properly, it's just as fast as Samsung's implementation.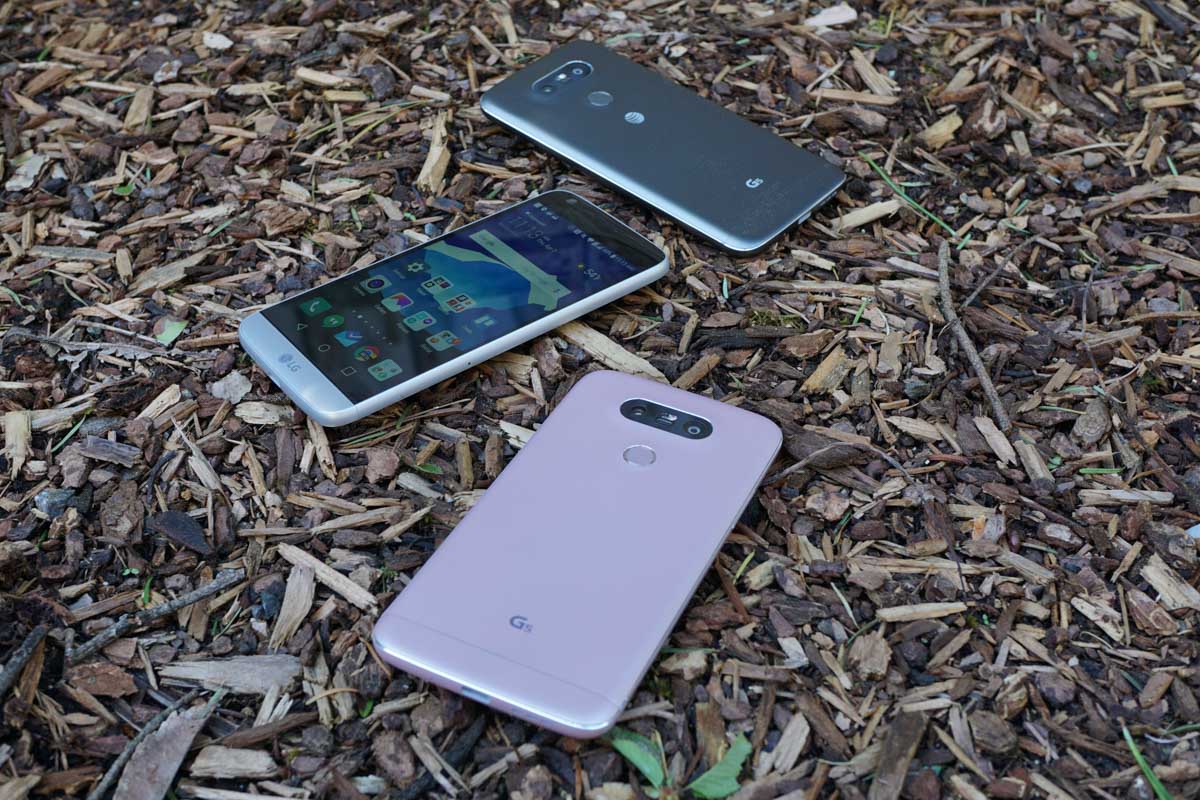 Pricing and Availability
At many carriers the G5 is priced appropriately, which is roughly $50 lower than the Galaxy S7. I say "appropriately," because it's missing a couple of the S7's features (water resistance and wireless charging) and also doesn't have quite the polish of Samsung's newest. Outside of the ridiculous pricing that AT&T has adopted in recent years, you could almost call the G5 "reasonable" compared to some flagships. If you buy this phone at US Cellular, without a contract, you are paying just $585. At Verizon, the G5 can be had for as little as $624. Not bad, right?
As for availability, the LG G5, like all major phones these days, can be purchased from all of the major carriers in a variety of colors today. AT&T, Sprint, and US Cellular are selling four different color variants (silver, titan, pink, and gold), while Verizon and T-Mobile are offering just two. Still, you have choice with the G5 and that's worth something.
Removable Battery
LG has been pushing this removable battery thing as a major selling point for years, even as its competitors have run from the idea. I, for one, haven't exactly given a sh*t about removable batteries for years and so I've never really looked at this as being a big deal. What I'm trying to say is that I have never made a phone buying decision based on whether or not I can swap a battery when needed. I care about design and cameras and software experiences and accessory options and fast charging before swapping.
With that said, it is an incredibly handy option if you do own a phone with removable batteries. In my time with the G5, I can't help but admit how convenient it has been to simply swap out a low battery for a fresh, full one at the end of the work day to kill any thoughts on whether or not I'll make it through the night. It has also freed me up from having to plug in a phone in the early evening when I need a quick top off. In fact, I haven't really plugged the G5 into a charger in about a week because I constantly have a full, spare battery charged up and ready to go at all times.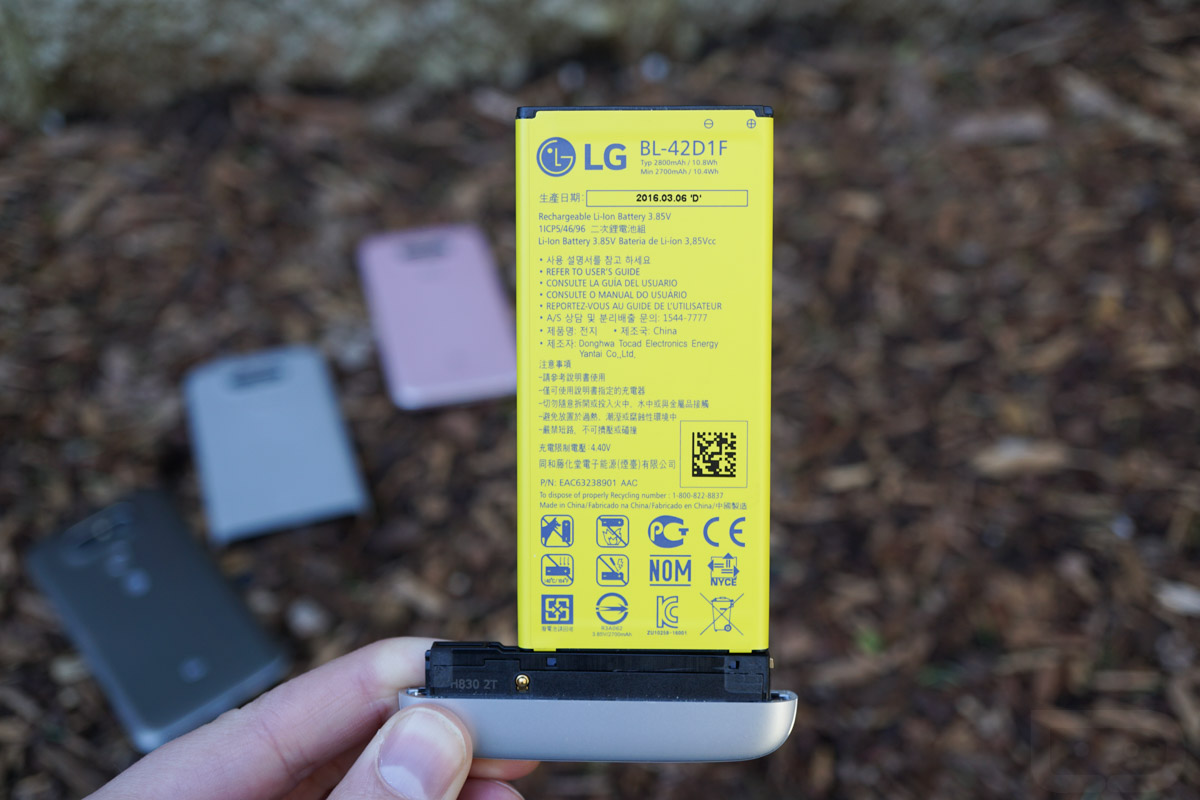 I can certainly understand why someone would want a removable battery. I'm envisioning the type of person who is hard on their phone, but doesn't always have a charger ready. If you are that type of person, the G5 is probably for you, since it's really the only flagship doing the removable battery thing these days.
Just keep in mind that popping the battery out from the phone takes some getting used to and is actually sort of scary. Once you pop the battery module out from the phone to swap batteries, LG tells you to pull the battery from the middle of the module towards the outside to get it separated (instructions). Every time I do it, because of the spine-tingling cracking or clicking noise that exudes from the process, I'm shocked that the little hooks that hold it in place haven't broken. Seriously, it's not a good situation and I'm worried that these batteries won't hold up for years worth of swaps.
SD Card Slot
As has been the case for years, LG is once again including a microSD card slot. This time, they are bragging about 2TB expansion, even though 2TB cards don't really exist. Still, you can toss in a 200GB or 128GB card and likely never need to worry about storage again.
Since the G5 only has 32GB of internal storage, you are going to want to invest in an SD card. After setting up my G5 with my 80 or so standard apps, I quickly cut that 32GB in half and was thankful to have an SD card on hand. And remember, that's after setup, not after taking hundreds of photos over a year or two span. I know that cloud storage is all the rage these days, but a high-capacity SD card in your G5 will let you not have to worry so much about storage management.
On the G5, LG decided that this would be a good year to introduce a dual camera setup, a tech setup that hasn't exactly had much success in the past. LG isn't try to do post focusing gimmicks, though, they are instead hoping to give users the ability to shoot new angles and capture moments that no other camera can. Because they went with a traditional 16MP shooter alongside a wide-angle (135-degree) 8MP shooter, they certainly accomplished that. The LG G5 is capable of capturing some pretty cool photos, even if the wide angle shots are a bit low in the resolution department.
Before we get to the massive amount of samples, let's talk about the camera software. Once again, LG is giving you all the controls you could want in a camera experience. You have ratio choices, full manual controls (ISO, shutter speed, focus, white balance, etc.), simple or auto modes, picture-in-picture modes, multi-view shooting with all three cameras, panorama modes, time-lapse and slow-mo features, and more. You could spend a heck of a lot of time in the G5's camera just learning and tweaking and testing. For me, at least for this review, I stuck with auto, because that's what most of you will likely shoot in.
In my results, I would say that I came away mostly impressed with what the G5 could do. You can see a whole bunch of shots below, where I went from indoors and martinis to outdoors and pink flowers. I tried to capture low-light, good light, daylight, and even a night shot or two. The G5's camera is somewhat flexible, but I wouldn't say that it excels in low light. I don't know why that is, but there is a comparison of low light at the bottom of this section to the Galaxy S7 and you can see that Samsung's camera dominates the G5. In the rest of the comparison shots I took, though, especially the ones in daylight, my findings are that the cameras are pretty equal.
Below, I tried to show you the differences between the two cameras on the G5 in a handful of situations. What you will see are shots with the 16MP shooter followed by the same shot, from the same place with the 8MP wide-angle camera. Depending on the setting you are in, you can really do some fun things.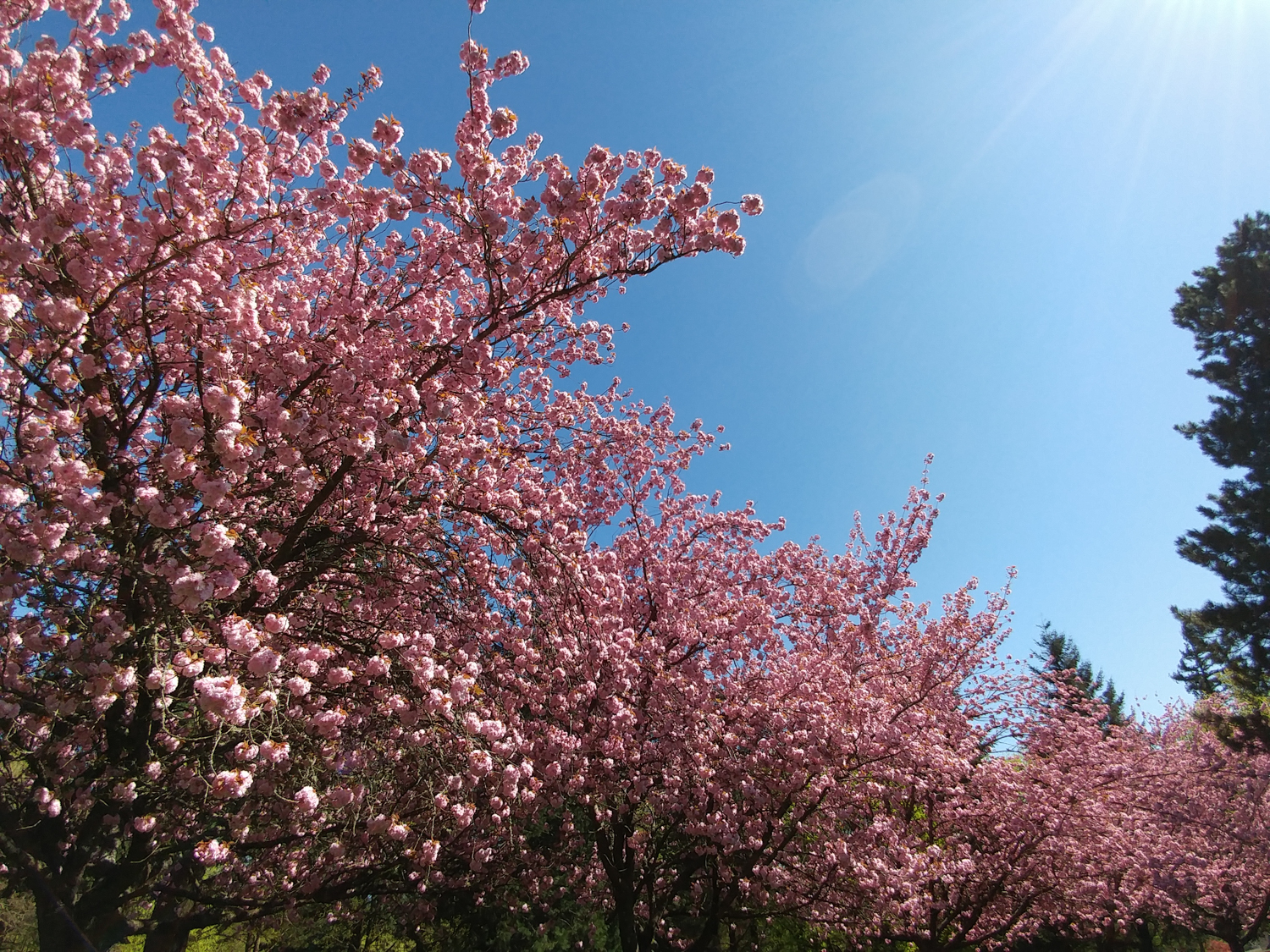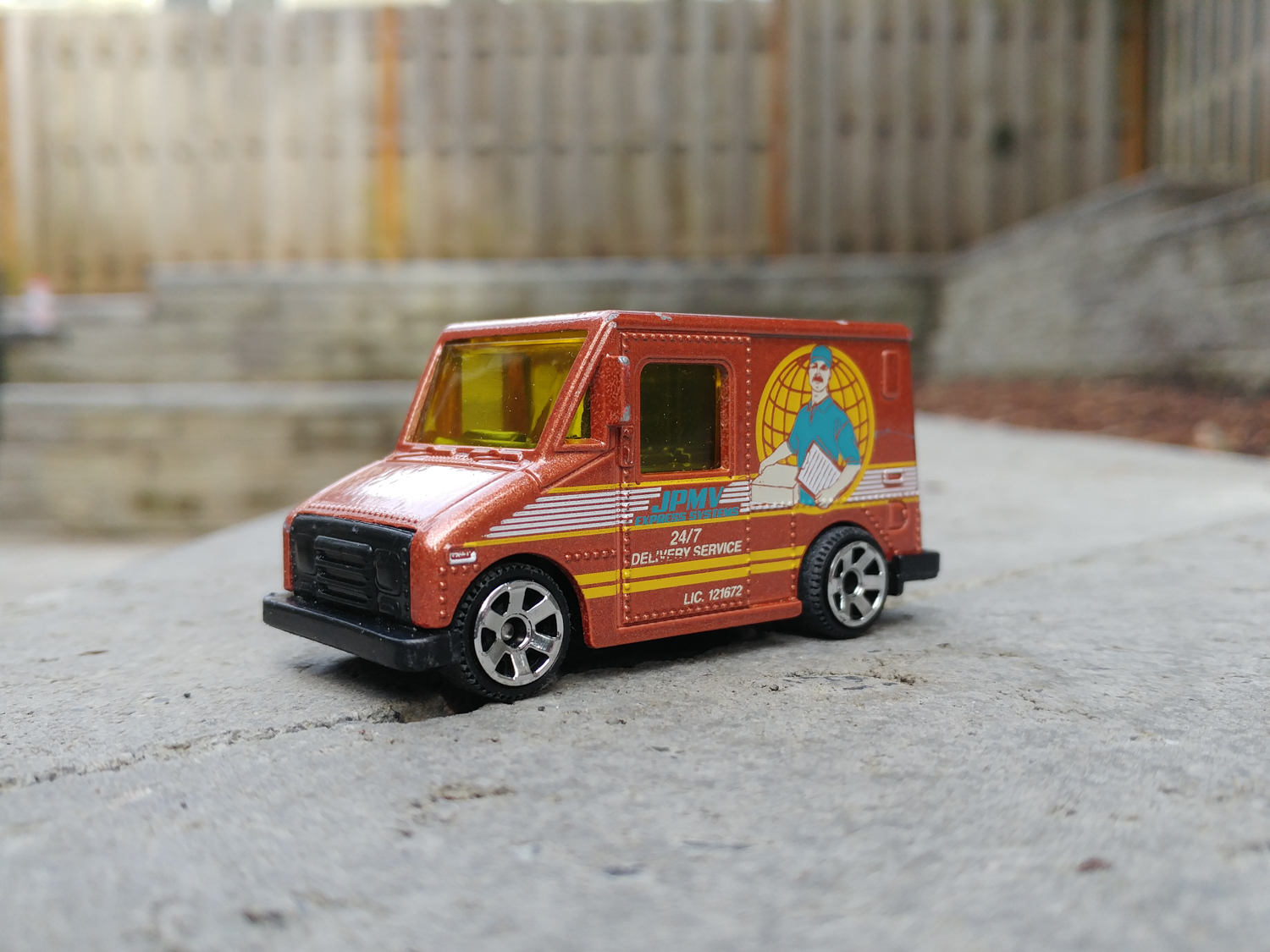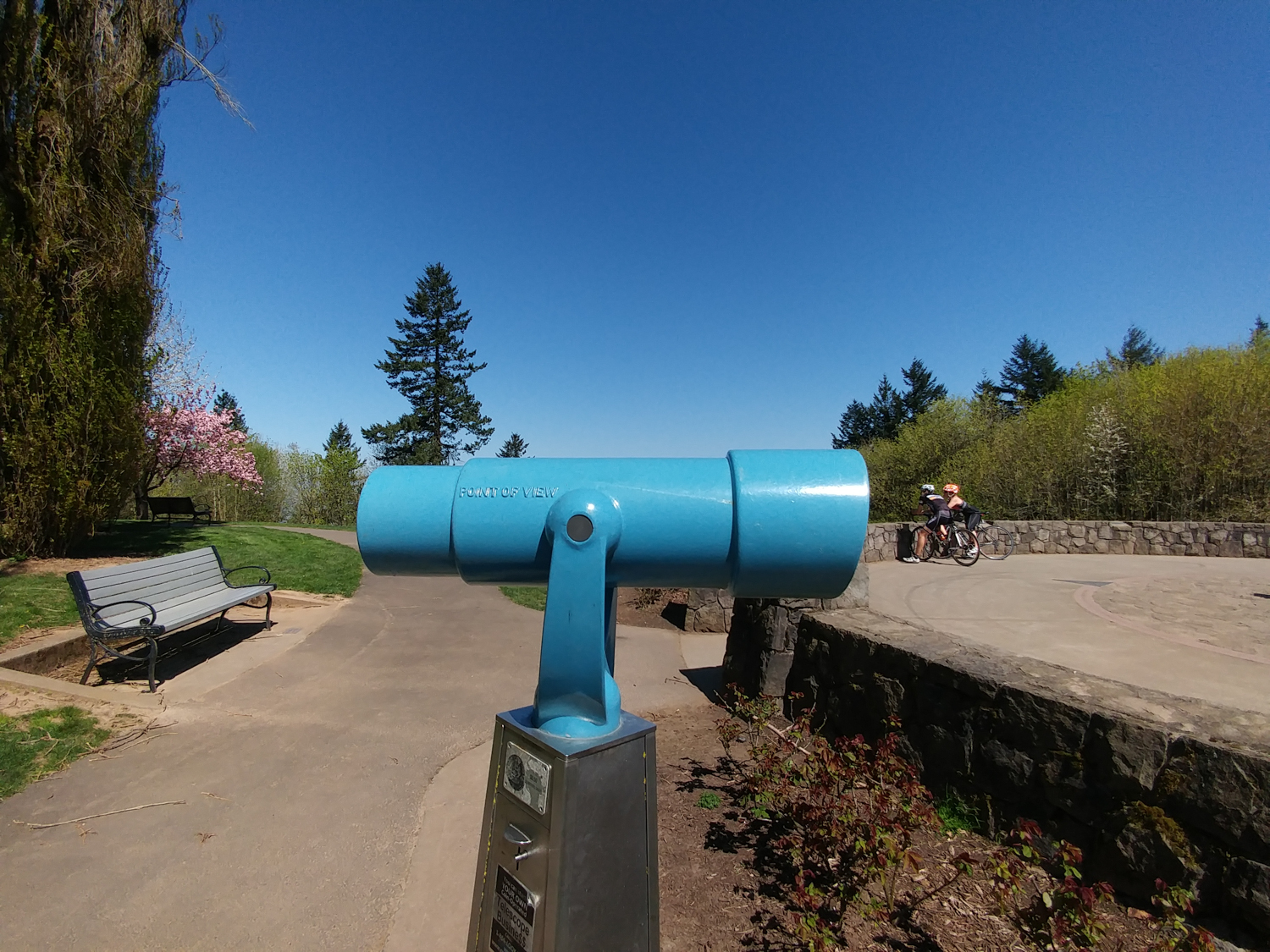 And here are those low light comparisons I mentioned above. This was in my studio where I slowly opened a door and took three shots from the same position with the G5 and the S7. The S7 shots are impressive, to say the least, while the G5 struggled quite a bit in the darkest setting.
LG G5 (above) vs. Galaxy S7 (below)
Overall, I think the camera on the G5 is a winner. It's fast most of the time and has all of the controls and features you could ask for in a modern smartphone to help you take pretty amazing photos, but then it has this really cool wide-angle camera for those moments where you want to shoot something a little different. Or maybe you just want to snap a photo that no one else in your group can.
Somewhere-in-the-Middle
---
The LG G5 is attempting to be the first consumer-ready modular phone. By being modular, it has the potential to expand functionality through hardware add-ons, which LG is doing by offering up a camera grip that doubles as a battery pack and through a B&O DAC for high-end audiophiles to get giddy over. The idea of a modular phone is pretty exciting, but I don't think I'm going out on a limb when I say that the LG G5 is nothing but a proof of concept at this stage in the modular game. LG is giving us a look at what the future of modularity could mean, only the G5's current offerings aren't compelling enough for me (or you, for that matter) to get excited about.
LG's camera grip and DAC are two products that really aren't for everyone. The camera grip doesn't turn your smartphone into a point-and-shoot, since it doesn't enhance the image sensors or processing or sharpness or any other thing outside of letting you press a physical button or spin a wheel to take a picture. The functionality there is super limited and seems to have a single meaningful use, which is giving the G5 extra battery life. As for the DAC, well, unless you are an audiophile who cares about the crispiest audio, you probably couldn't care less about it.
With a modular phone, I want to see modules that actually enhance the images I take or that can add-on a powerful external speaker or secondary display or maybe even just give me better battery life without being a bulky camera grip. And that's the thing with the G5 – we don't know if any of this will come or if there will ever be new modules to use. At this time, LG is giving us a DAC and camera grip, but they aren't saying if there are other modules in the pipeline to get really excited about.
For now, I think we should applaud LG for introducing a modular phone concept and hope that with the G6 we get the real goods.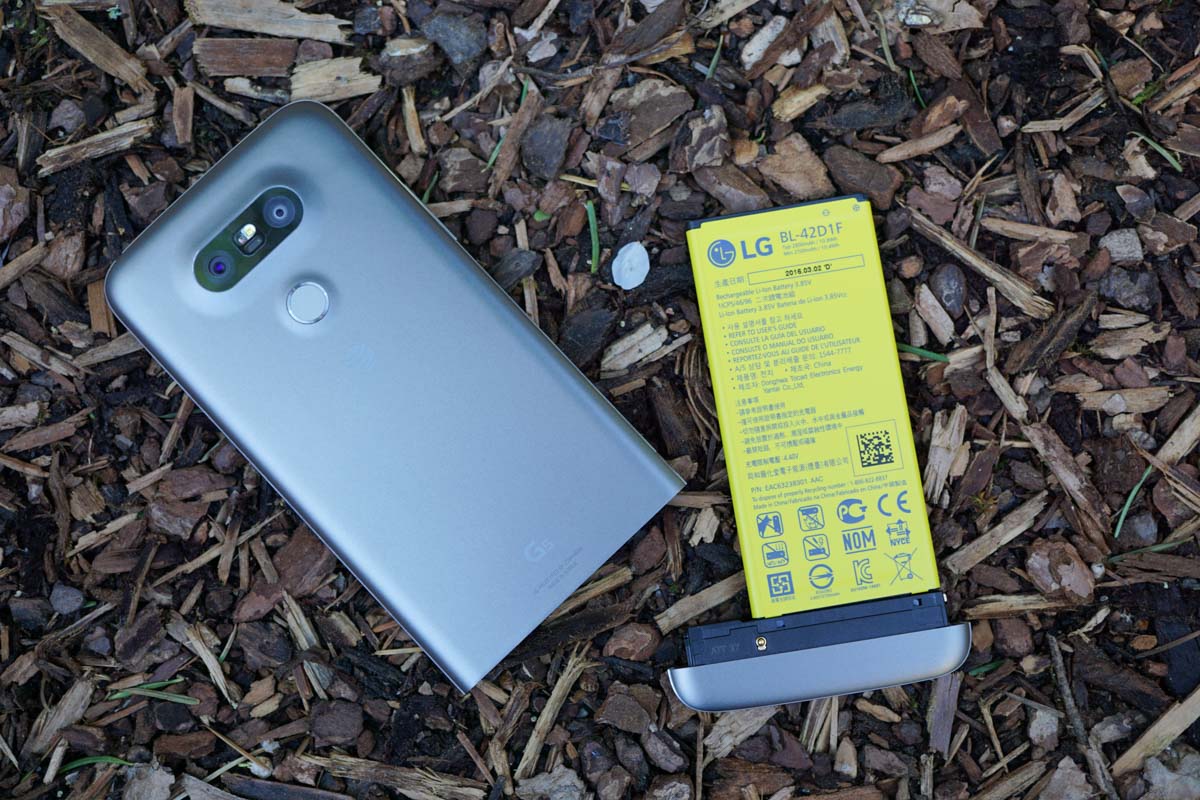 Design
Since seeing the LG G5 in early leaks, then during a pre-briefing before the phone was made official, and then taking in the reaction to it in recent weeks, I have been pretty torn on the design. I don't think it offends me, but it's also not at the level of polish as Samsung's latest or the Nexus 6P, or even the Moto X Pure Edition.
LG has done some nice things here, like use metals and move the volume rocker back to its proper side-rail location. The phone feels pretty great in hand too, at least in terms of size and roundedness. By no means is the G5 oversized or difficult to use with a single hand. It's also not too rough around the edges, outside of where the button is to eject the bottom battery module. In the few weeks that I have used the pink, titan, and silver versions of the G5, I have never once thought, "Man, this is one ugly dude!" But I haven't looked at the G5 and said, "What a beauty," either.
Obviously, the dual camera hump on the backside isn't exactly a shining moment of design innovation. You can do two cameras tastefully, just look at the new Huawei P9. There are ways to do humps better too, right, Nexus 6P? My guess is that LG will really re-work the camera area next year, if they even keep the dual sensor setup. But yeah, a rounded hump block in the middle of a phone's rear that doesn't blend at all into the phone's body is not what any of us were looking for.
And then you have the issue that LG has already vehemently denied and attempted to clear up, which is the semi-controversy that brewed over the phone's thick coating of primer on the back cover. The phone is indeed made of metal, but the back cover, with all of that primer and paint atop the aluminum, feels like plastic. When you pick-up the Nexus 6P, you know right away that the phone is made of metal. You know the same with any of HTC's flagships. You know it with the iPhone. With the G5, I think it's safe to say that most, without knowing, would assume the phone is plastic. The frame of the phone is undeniably metal, but the backside, where your hand is constantly resting, doesn't come off as premium or metallic. Is that a major fault? Eh, not really, it just doesn't give off that ultra-premium feel we all seem to be looking for.
The G5's new metal body and design probably could have used another round of polishing and tweaking. Most smartphone manufacturers are really settling in to their own high-end design languages at this point, and LG will get there before long, we just may be a year away from it. The G5, like with its modularity, is showing us that we aren't quite there yet.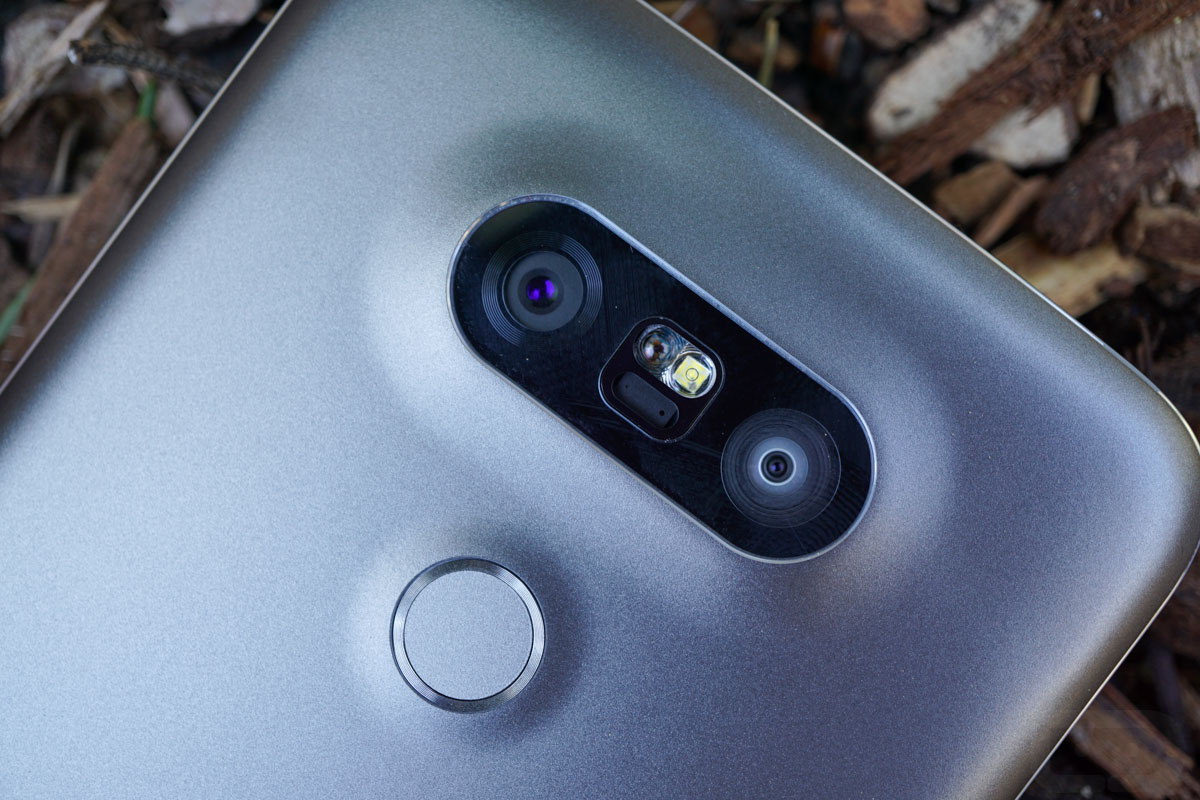 Battery Life
Battery life on the LG G5 hasn't been an issue for me. It may not have rockstar battery life, like the Exynos version of the Galaxy S7 or the S7 Edge or Droid Turbo 2, but it'll be acceptable for most. And again, you can always swap out a dead battery for a fresh one later in the day if you are having battery troubles.
In my testing, I was typically seeing between 2-3 hours of screen on time and 13 or more hours of use before I was really looking for that fully charged battery to exchange with. So that's waking up at 6AM and not needing a new battery or a top off until 7PM or 8PM at night. While I would rather go to bed without ever charging up, this is pretty typical usage for me and not really an area of concern.
Thanks to that previously mentioned removable battery and the fact that the phone supports Qualcomm Quick Charge 3.0, you really shouldn't have issues with battery on this phone. If you do drain one mid-day, toss in a new battery or find a charger. You can immediately (with a new battery) get yourself to 100% or at the very least, grab hours worth of use in just a few minutes by plugging your phone in.
Software
The UX 5.0 skin that LG is pushing this time around is LG's best, though that may not be saying much. LG has always struggled to produce a good looking and well-functioning software experience, but they did tone things down a bit this time around and I don't think this year's approach will offend you. Outside of the lack of an app drawer on the home screen (which should offend you), LG has lightened things up with a light grey and light teal theme, made the notification experience not such a frustrating experience, and as I mentioned in the performance section, has really come through in terms of how smooth the G5 runs with this software at the helm.
LG is also doing little to overdo the software feature set. To me, that's actually a good thing. They took away their really poorly done multi window feature and either killed QSlide or hid it depending on the model, yet added in a truly convenient feature in Always-On Display. They kept shortcuts for launching into the camera or Capture+ and Knock Code and double-tap-to-wake, all of which are highly useful. They even let you fully customize the notification shade from having too many options to just the bare minimum.
Outside of that stuff, it's really just a skinned version of Android, where LG is letting Android do most of the work without any added fluff. Sure, it's no where near stock Android, but the overall experience is light enough, assuming you don't mind the style that LG has given.
About that no app drawer situation, though. I don't want to harp on this too much, but LG went ahead and killed the app drawer on this phone and pretty quickly realized that it was a mistake to do so. Just before the phone launched, they released a video hinting at that changing in a software update later on down the road, but for now at least, the main LG home launcher does not have an app drawer. I recently wrote a piece telling you not to worry about it, because there are dozens of amazing launchers on Google Play that you should be using instead. Seriously, stop caring about LG's home launcher and just go download another one. Did LG screw up? Yes. Is a launcher not having an app drawer a reason to skip the G5? Hell no. Just get one from Google Play that works for you.
In the end, the software on the G5 isn't really an issue. LG isn't doing anything here to change the game, but they also aren't doing anything overly offensive. It's a skin, and while we'd prefer stock Android or the approach that Motorola takes, you'll be fine with what LG has given you here.
The Not-so-Good
---
Display
The 5.3-inch QHD IPS Quantum LCD display on the G5 is pretty average, if not borderline not-so-good. In the quick comparison to other flagships below you can really see just how washed out it makes everything with the brightness cranked up. Just look at the Droid Life pink in the tab bar compared to any of the other three phones. On the G5, it's not even close to the pink we're looking for and is instead a paler version. It also carries this odd green tint on top of whites, so much so that I feel like it's tricking my eye into seeing browns in the other displays. And it's like this on all of the G5 units I have on hand, which includes AT&T, T-Mobile, and pre-production units.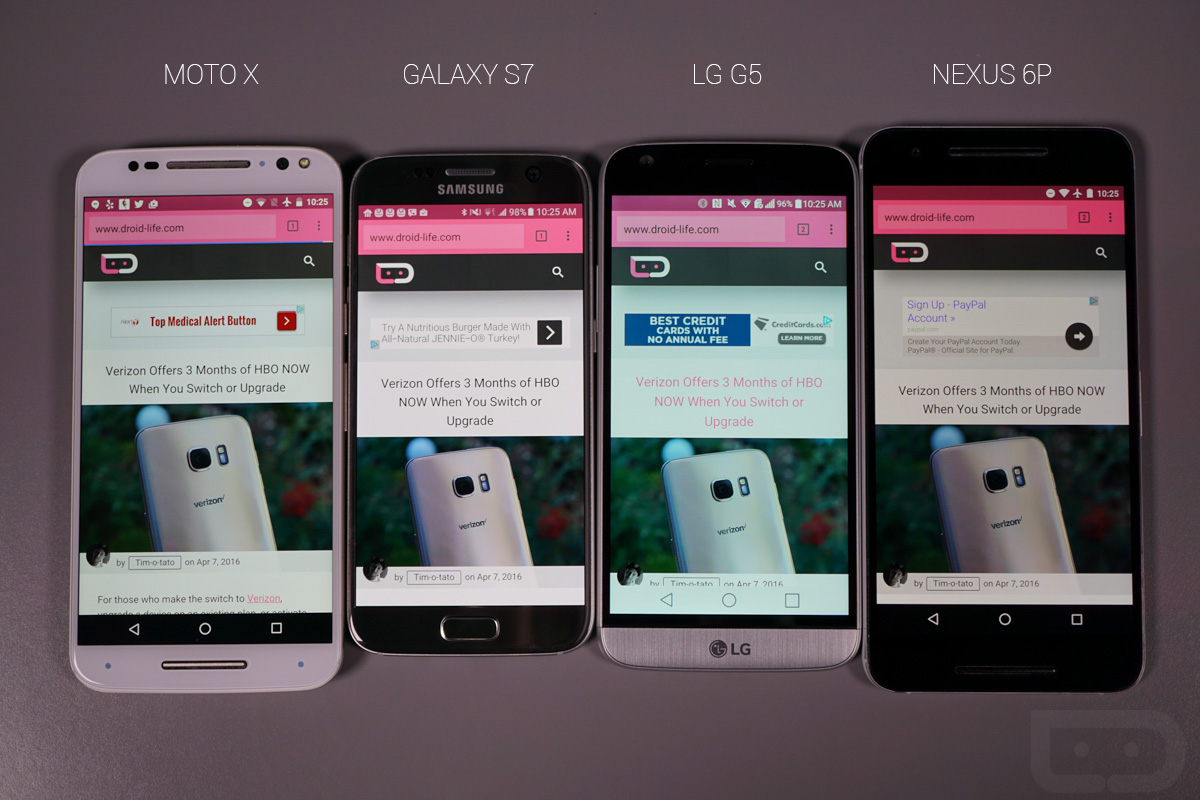 Unlike some phones, the G5 doesn't include any other display modes (at least that I could find), so you can't exactly tweak the colors or contrast or any other setting in order to get a better picture out of it. That's too bad, since the display and its quality tends to be one of the most important aspects to a phone.
In bright outdoor lighting, the G5's display is pretty tough to see as well and really struggles. During a recent photoshoot outing in the surprisingly-sunny Portland area, I took both Galaxy S7 and G5 out for comparison shots, and that's when I realized how bad the G5 is in sunlight. The Galaxy S7's display came through crisp and clear when snapping pictures, while the G5 forced me to squint to see what I was shooting, making it difficult to know if the shots were framed correctly or if the pictures were any good.
Maybe LG can fine-tune this a bit with software updates. As of right now, though, the display here isn't even as good as the lower-end LCD that Motorola put in the Moto X Pure Edition.
No Water Resistance
I'm not one to fault most manufacturers for not including water resistance, but with the Galaxy S7 keeping its beautiful design from the S6 and now featuring IP68 resistance without compromise, I feel like all phones should feature some form of protection from the elements. I don't need them all to be as resistant as Samsung's new devices, but let's at least throw in some splash resistance (like Motorola has done).
Water resistance is one of those features you don't know you need until it's too late. It's also one of those features that gives you a sense of extra security, even though you may never need to use it. After coming from the Galaxy S7, I now feel a bit naked or vulnerable every time I get near water with the G5, and that means multiple times per week (if not days), thanks to baths for my son, doing dishes, or because the weather is getting better and the outdoor opportunities have increased.
Maybe next year will be the year. Maybe LG needed one year to first introduce a metal body and then next year they'll find a way to weatherproof. But as I said in the opening, we're judging this phone now, not based on what LG might do.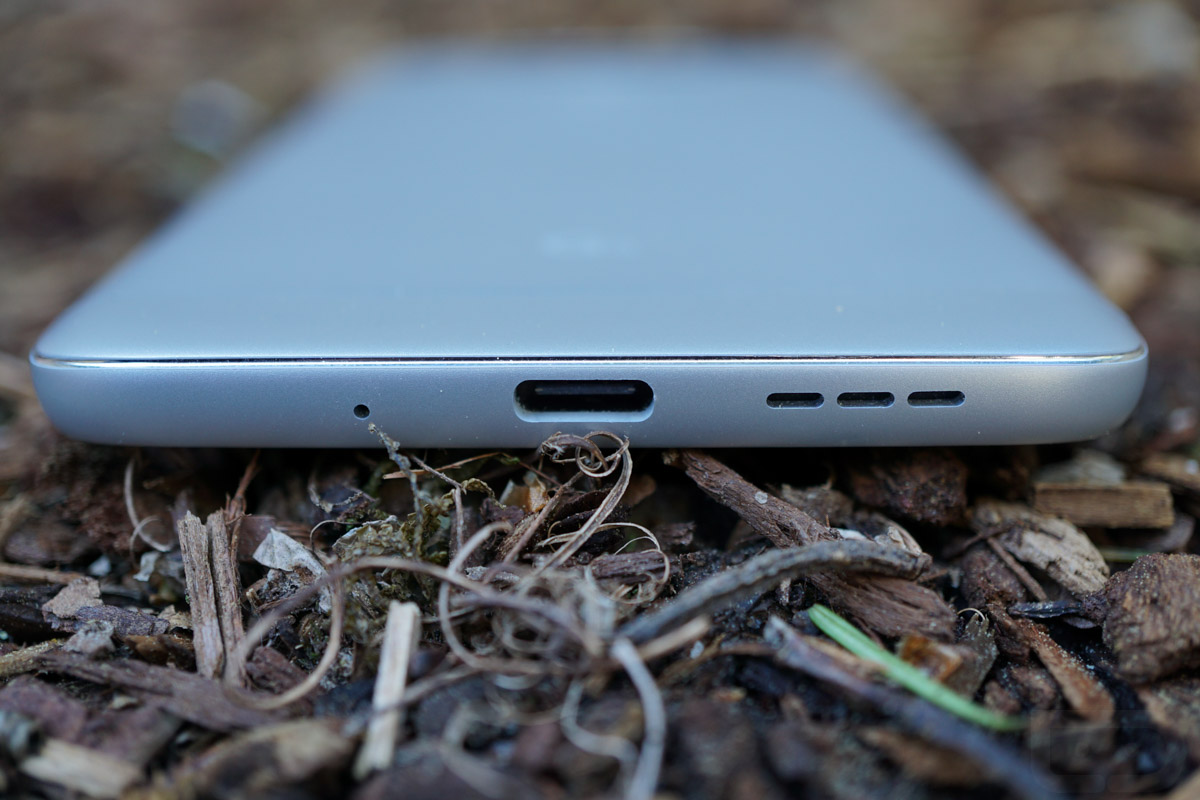 Other Notes
---
Call quality: I've placed and received a handful of calls on the G5 and had no issues. Plus, with carriers now upping their voice services, like T-Mobile's Enhanced Voice Services, the G5 really shines in this department.
No wireless charging: I don't like it that LG didn't include wireless charging in the G5, but it's not something I'm going to stress about knowing that I have fast charging and the option to swap batteries. They probably left it out due to the fact that they went with an all-metal design. Not only that, but LG has never really been a big wireless charging-focused smartphone maker, outside of a couple of its Verizon models.
Fast charging: Yep, the G5 has fast charging and fully supports Qualcomm's new Quick Charge 3.0 tech. It's actually one of the first to do so.
Fingerprint sensor: The fingerprint sensor on the G5 is a solid fingerprint sensor. It works in a capacitive like sense, which means you don't have to press a button in order to use it. All you need to do to unlock with the fingerprint sensor is pick up your phone and set your finger atop the power button. It's not quite the best fingerprint sensor I have used (that title probably goes to the Nexus 6P), but it's damn close.
Bottom speaker: The single bottom-firing speaker on the G5 isn't great, just like the singe bottom-firing speaker on the Galaxy S7 isn't great, but this is what you are stuck with. Phones, to me, aren't supposed to be audio machines that can rival Bluetooth speakers. However, once you use a phone with dual speakers, accepting the G5 or S7's single speaker into your life is a tough pill to swallow.
IR blaster: Hey, the G5 has an IR blaster! I've never used it, but our comment threads have made it clear that a number of you do and were pissed that Samsung took IR blasters out of their new phones. So, IR blaster fans, the G5 has one!
Video
---
Unboxing
[responsive_vid vid_url="8IvH4SAX1Xw"]
Tour
[responsive_vid vid_url="r5-IMCplHNE"]
First 10 Things to Do
[responsive_vid vid_url="6PryBoXse1Y"]
vs. Galaxy S7
[responsive_vid vid_url="qemoHUoG5Co"]
Pictures
---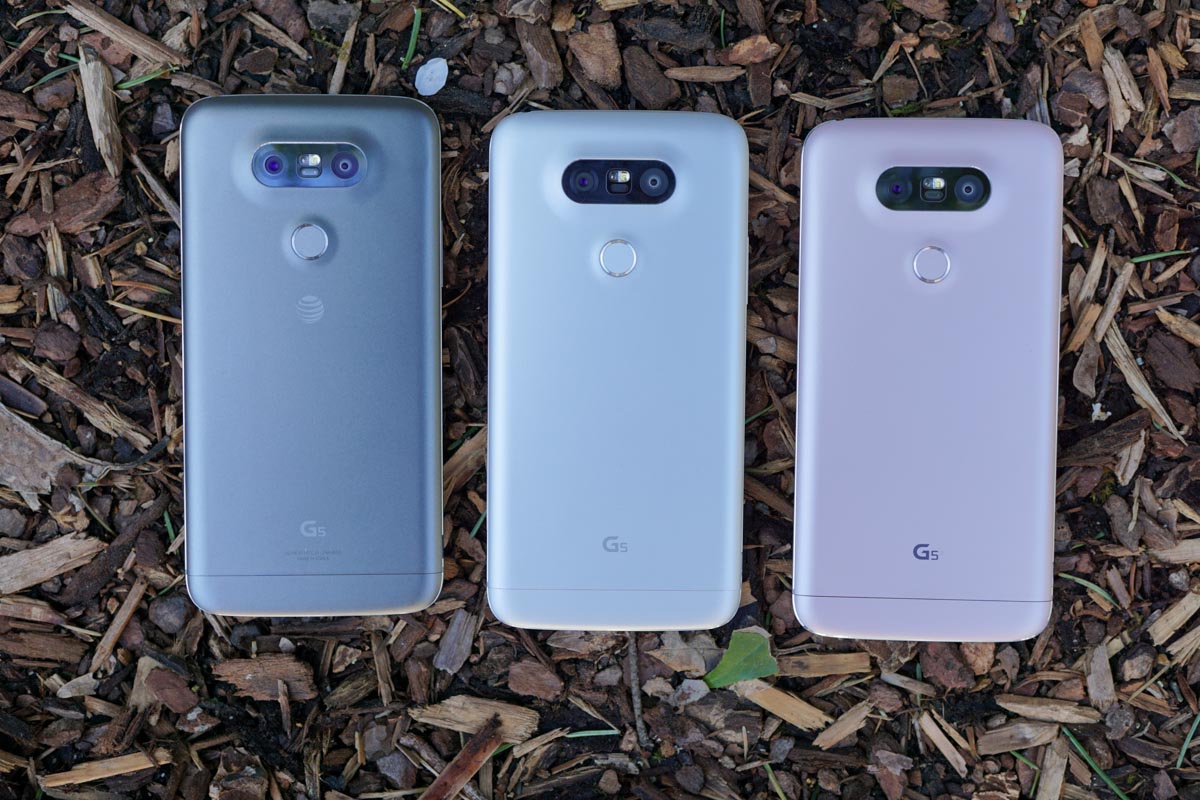 The Verdict
---
The LG G5 is a really good phone, overall, just not the best phone at the moment. LG is introducing some interesting ideas with it, like modules and dual cameras, but the module status at the moment is pretty weak and uninteresting, while the dual camera setup creates some new use cases at the sacrifice of an appealing design. Maybe in a year LG will dial all of that in, improve the camera design or setup, and offer modules that more of us can get behind.
Would I buy the LG G5 today? If the Galaxy S7 or S7 Edge didn't exist, I'd consider it, but since those two are here (and have been here), I don't know that the G5 would really even be on my radar. The G5 doesn't best either of those phones in any situation, outside of timely potential future software updates and having a removable battery. If those two things are must-haves, then the G5 could be for you.
---
Buy the LG G5: AT&T | Verizon | T-Mobile | Sprint | US Cellular