When you buy a new phone, like the LG G5, you are excited about your future ahead, but you may also be somewhat overwhelmed at all that is new, especially if it has been a couple of years since you last upgraded. For example, coming from an HTC One M7 or Galaxy S4 to a G5 is a major leap forward. The skin LG uses is different, the features they include have changed dramatically, Marshmallow is a thing, and there are fingerprint sensors involved in all sorts of Android areas now.
To help you get started with your new G5, we thought we'd follow up one of our most popular Galaxy S7 posts with a similar set of tips on the first 10 things you should do. You'll notice that the 10 items are quite similar to those on the S7 and that's because phone manufacturers are really building very similar phones these days, only with slight differences here and there.
So let's do this – here are the first 10 things you should do with your LG G5. 
[responsive_vid]
---
1. Toss in a microSD card
Because the LG G5 is limited to just 32GB of onboard storage and you will fill that up quickly once you start loading up apps and taking 16MP or 8MP pictures, you should toss in a microSD card immediately. The G5 supports up to 2TB cards, but those don't exactly exist. Feel free to dive into a 200GB or 128GB card, if you don't want to have to swap out cards in the next couple of years. Both can be had for under $60 at Amazon if you look on the right day. Like, here is a 128GB PNY card for $30 at the time of this post.
To access the G5's microSD slot, pop out the phone's SIM card tray that is located on the right side panel. Once opened up, you will see where the SD card and its unique shape sit. Insert, push the tray back in, and be sure to tell your G5's camera to store pictures on the card.
2. Setup fingerprints for multiple fingers
The LG G5 has a fingerprint sensor on top of its power button, which is situated on the back of the phone. It's a really good fingerprint sensor that can read your finger quite quickly, especially since it can read in a capacitive like way, without the need to press a button.
You should set up a couple of fingers, like your two index fingers to start, because then you can keep a secure lock screen in place, but still unlock your phone in either hand within seconds.
The fingerprint settings are located in the main settings menu under "Fingerprints & security."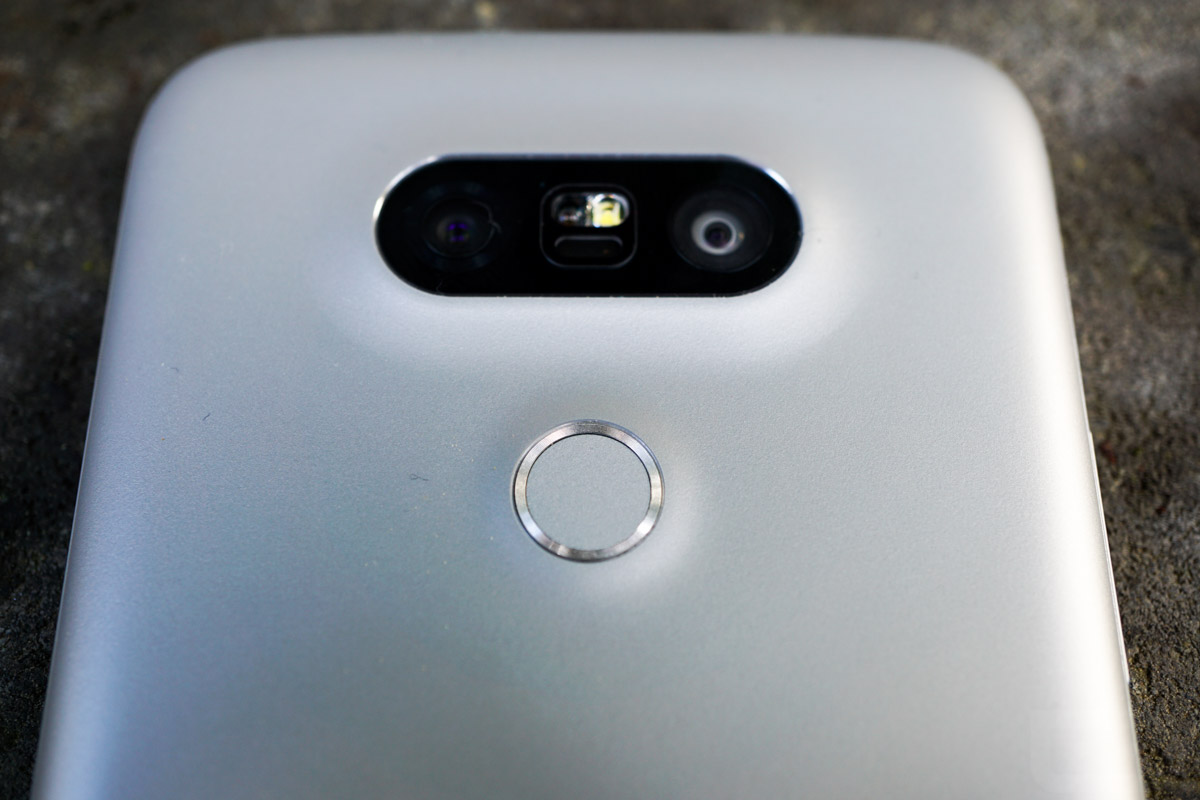 3. Setup Knock Code too
Since the fingerprint sensor of the G5 is located on the back of the phone, it becomes hard to unlock the phone when it's sitting on a desk, unless you take advantage of LG's Knock Code software. With Knock Code, you can tap out a pattern on the lock screen to unlock the phone without ever picking it up or touching a button.
You'll find the setup for Knock Code in "Lock screen" settings, which takes you through the steps, but the basics are that you need to tap six times in at least 3 of 4 quadrants on the phone to get it secure enough. Once in place, along with your fingerprints, you'll have a pretty convenient and secure phone.
4. Learn the quick launch buttons and double-tap-to-wake
A couple of years ago, LG realized that items like the volume buttons on a smartphone can be used as shortcuts to perform other tasks when the phone is sitting idle. For one, you can double tap the volume up button to get into their Capture+ screen, which is a handy way to jot down a quick note or phone number or million dollar idea. You can also double tap the volume down button to launch the camera, so that you will never miss an opportunity to capture a meaningful moment.
But LG's biggest software addition continues to be its double-tap-to-wake action on the screen. A simple double tap wakes your phone, while another double tap puts it back to sleep. This may not seem like a big deal, but once you use an LG phone for an extended period of time, you'll wish that every single phone had this included. It's brilliant, actually, since we often just want to take a look at a clock, notifications or battery status without fully picking up a phone.
5. Turn on always-on display
With the LG G5, like the Galaxy S7, you get a feature called Always-On Display. It's another of those simple new features that really makes a lot of sense in the efficiency department. By having an always-on display, you can check the time, date, and see if you have notifications without ever touching your phone. It could save you hundreds of unlocks in a day, something we probably all need help with.
LG's always-on display can be found in Display settings and is likely turned off out of the box, so be sure to turn it on. LG doesn't think it'll destroy your battery life in a day and I would tend to agree after testing the phone for a few weeks now.
6. Install a new launcher
I don't typically tell you to install a 3rd party home launcher on your new phone, because it's probably worth testing out the launcher that a manufacturer has included. After all, they should know their software the best and have probably tailored the launcher experience to take advantage of their phone's features. However, the LG home experience is so bad right now, since the launcher doesn't even have an app drawer, that we can't help but tell you to go try something available on Google Play. Try Google's launcher or Nova or Action, anything but what LG has included.
I've already written an entire post on the subject and even gave you a bunch of examples of launchers that are worth a look, so be sure to read that post if you need to know more.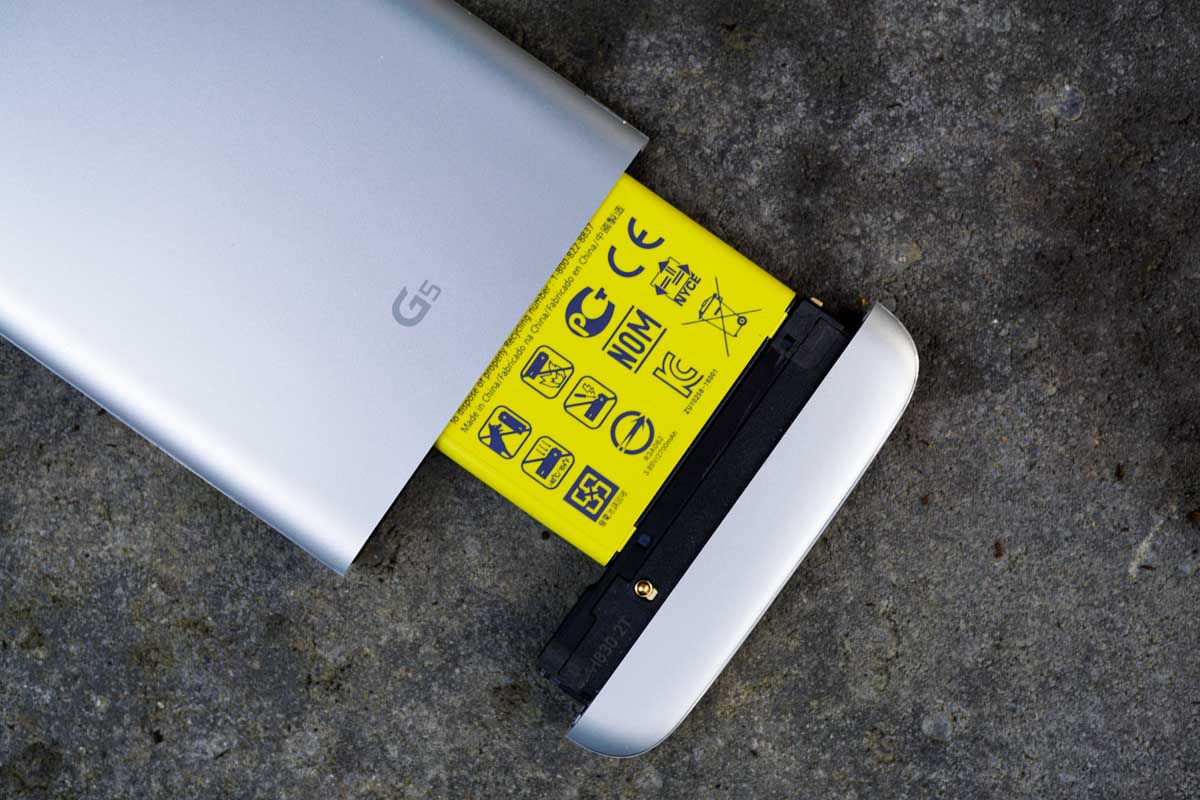 7. Disable bloatware
If you bought an LG G5 from a carrier, you'll have some bloatware to disable. T-Mobile isn't including a ton, but AT&T has gone next-level with crap. From DirecTV spam and backup apps, you may just want to take the phone back within minutes of that first boot because of AT&T's greed and LG's failure to standup to it. Try to contain yourself, though, as a disable feature on Android will help you hide a lot of this stuff going forward and will get you the phone experience you wish carriers would let you have out of the box.
To disable apps, head into Settings>Apps to find the apps you want to kill off. Once you find one, tap on it and then look for the "Disable" button.
8. Customize your quick toggles
The notification and quick toggles shade on the LG G5 can be fully customized to your liking. I highly suggest you take a minute to get it setup the way you think will be the most efficient. For me, that's by turning off the volume slider, screen and file sharing buttons, moving the quick toggles around so that WiFi, Bluetooth, Rotation, DND, and Flashlight are always available, and moving out options for Capture+ and Data. Obviously, your setup may be quite different, but that's the beauty here. LG gives you options, but also lets you decide what should be where.
To get into the edit screen for the notification shade, pull it down and look for the button in the top right of the screen next to the settings button. Depending on the G5 model, it's either a pencil icon and a 3-dotted icon with arrows. Tap on it to enable box checking/unchecking and icon drag-and-dropping.
9. Setup a Smart setting or two
On the G5, LG included a feature called "Smart setting" that is a lot like Motorola's Moto Actions (RIP). The thought here is that you can set your phone to automate tasks depending on where you are or what you are doing. For example, you could have your phone turn Bluetooth on and the volume up as you leave home or turn WiFi on and sound setting to "vibrate" when you return. You could also launch Google Play Music when you insert headphones or tell the phone to open Runkeeper the minute your running watch is connected over Bluetooth device.
You'll find these options all under "Smart settings" in the main settings menu.
10. Charge up a spare battery
Part of the reason you bought an LG G5 is for the removable battery, right? Well, make sure you always have one charged up. While I can't necessarily say that I've missed having a phone with a removable battery, in my last few days of testing, I can't help but admit that it sure is convenient, having a fully charged battery ready to go at the end of the day when I'm around 30% and know that I may not make it through the night. Instead of finding a charger and attaching myself to a cable for an hour, all I need to do with the G5 is swap out the battery and get back to enjoying life without cords.
If you bought an LG G5 already, then be sure to claim your free extra battery and battery cradle at this LG site.
---
Buy the LG G5: AT&T | Verizon | T-Mobile | Sprint | US Cellular