What if all of those HTC One (M9) "Hima" leaks from the past week were nothing but decoys, dev units in shells made to look like last year's One (M8) in order to throw off the scent of the hunt? If the retired @evleaks and his new leak have anything to say about it, then I would guess that's exactly what we saw. In a picture posted to Twitter this morning that lines up the past handful of HTC flagships, along with the tag "Old habits die hard… ," Evan may have just given us the first real image of the HTC One (M9) and its bigger brother, rumored to be called the One (M9) Plus or One (M9) Ultra or "Hima" Ultra. 
Let's start first with the One (M9), which is pictured below on the left.
I think it's pretty obvious, after looking at the picture here and then back at the previous set of supposed leaks, that those leaks, assuming they were real, were really phones tucked into shells made to look like the (M8). Something just seems so off about them, with multi-colored shell/front combos, and jagged, poorly made edges. And then you look at this render, and it certainly seems as if this phone could fit inside that old body.
So what are we looking at? The image is small (we blew it up some), but shows a metal-backed body, BoomSound speakers tucked into the top and bottom edges of the phone (think Nexus 9 style), an edge-to-edge display, centered front-facing camera, and…wait for it…seriously, wait for it…NO BLACK HTC BAR. When I wrote up my "5 ways that HTC could make the phone of the year," I talked specifically about this area and that it needed to be gone in order to help shrink down the height of the phone. If this is real, then oh my.
The phone looks great. Now, we just need confirmation that it isn't so damn slippery, that HTC tossed in a real camera in the back, and that the power button has been moved to the side. Tick off those boxes, and HTC, you have done it.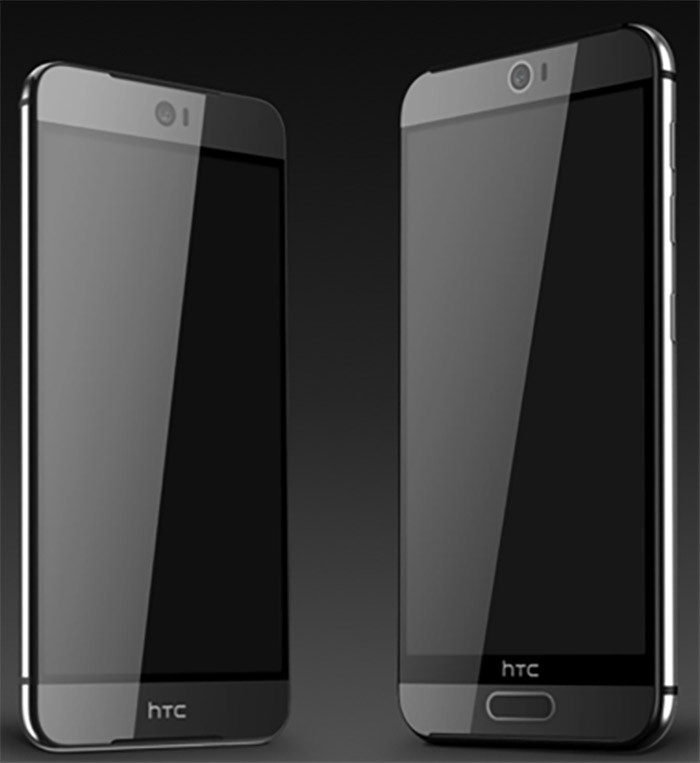 As for the One (M9) Plus (one the right), which is a less official name than "One (M9)," this device is rumored to be a Galaxy Note-esque, oversized phone. Previous leaks showed a phone that was massive and with a fingerprint scanner, two things we are seeing here. We have side button placements, a similar all-metal body to the One (M9), a front-centered camera with odd ring around it, dual massive BoomSound speakers, and the return of the HTC black bar.
Well, what are your thoughts now? We still have over a month to go until these phones are unveiled, but I get the feeling we are about to learn a whole lot more.
Via:  @evleaks