The Nexus 5 and Moto X are without a doubt the most hyped phones of 2013 for us. We certainly covered the HTC One and Galaxy S4 aplenty, but as we inched close to the launch of both Google and Motorola's new phones, it's all anyone could talk or think about. We were often greeted on unrelated stories in the comments with, "Not about the Nexus 5, not news."
So as I received my Nexus 5 (white "panda" with 32GB of storage), it seemed only fitting that I had to put down my Moto X for a bit. As painful as that was, I told you months ago that this would happen. As good as a phone may be, including the Moto X, our job is to bring you Google's view of Android, and nothing does that better than a Nexus. 
Thanks to the birth of my son, this review took longer to complete than I had initially expected, but I'd say that it has actually helped me get to know this phone better than some of our other shortened review periods allow. I've spent almost a month with the Nexus 5 by my side. There were times that I grew so frustrated with the camera and battery life that I almost dropped it in favor of my Moto X. But as the time has gone on and I've switched back and forth between this and my Moto X, I really can't decide which phone I like better.
I'll talk about the Nexus 5 as I would any other review, but expect another piece shortly to talk about these two brilliant phones side-by-side. For now, let's get to this review – you've been waiting long enough.
The Good
Hardware
On paper, there are few phones that come close to the entire package that the Nexus 5 is offering, especially for the price. You are looking at a 5-inch mostly edge-to-edge 1080p display, best-of-the-best 2.26GHz Qualcomm Snapdragon 800 processor, 8MP camera with OIS (optical image stabilization), 2GB RAM, wireless charging, NFC, and a 2300mAh battery all wrapped in a soft touch plastic body that is only 8.6mm thick and priced at $349. Oh, and let's not forget that it supports AT&T, T-Mobile and Sprint LTE out of the box, along with all sorts of global HSPA+ networks.
Find me an unlocked phone at that price and with those specs. Actually, don't find me one because you'll be searching forever. Google is doing something with its Nexus line that no other phone maker on the planet can do – deliver rock bottom prices accompanied by some of the best specs in the business. The overall package here really can't be beat, assuming you can deal with the couple of faults we'll get to below.
Here are the full Nexus 5 specs.
Price
I know that I just mentioned price, but when you are talking Nexus phones, the price really is the star of the show. If you take all of the specs I mentioned above, remove the "Nexus" logo, and sell it as a phone through a carrier, you are looking at $199 on-contract and $599 without one. But since this is Google's baby, you can buy the Nexus 5 starting at $349 with 16GB of storage or $399 with 32GB of storage, no contract included. That's…insane.
The device is largely thought to be based off of the LG G2, yet it's almost half the price. Sure, Google had to cut some corners (camera, storage, battery) to get to that price, but it's something most will have a hard time resisting.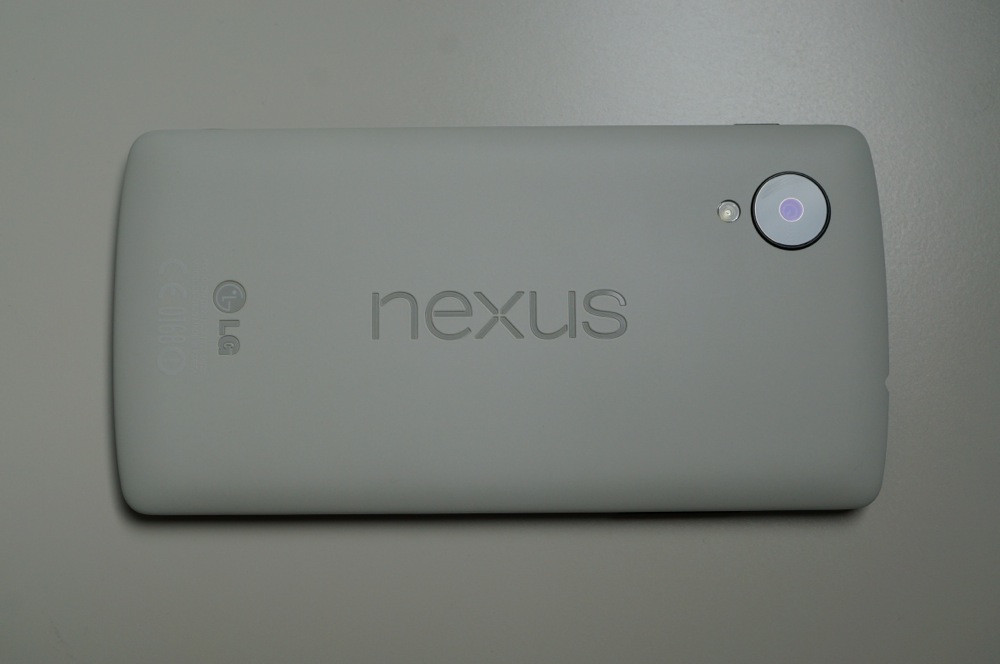 And keep in mind that if $349 is too expensive, Google did manage to partner with T-Mobile, Sprint and Best Buy to give you on-contract or cheaper options. T-Mobile has monthly plans as low as $17 per payment while Sprint will hand you one for $49.99 and a contract. The phone works on AT&T as well, but they aren't an official partner.
Again, the price is somewhat shocking when you put it up against the other top smartphones on the planet. Almost all fall under the consumer-robbing, on-contract and subsidy model that runs you $199 or more along with a contract. Google is practically giving this phone away at $349, plus also letting you choose which carrier you'd like.
It's a Nexus
There is a reason the new Nexus phone was hypebeasted for months upon months leading up to its unveiling – it's a Nexus. We knew it would be dirt cheap. We knew it would help Google introduce the newest version of Android. We know that it will see updates before any other phone. We knew there would finally be LTE on board. We knew the design would be minimal, yet beautiful. We knew that the phone would be built for tinkerers and stock Android lovers. We knew that (at least on paper) it would be the phone we have been waiting for.
For the most part, it has lived up to the hype. We've got best in class specs, along with a new version of Android presented Google's way, a phone that's built for tinkerers, and an unbeatable price. Outside of some camera flaws (that can hopefully be addressed) and average battery life, there isn't much here to complain about.
Android 4.4 "Kit Kat"
When you think of a new Nexus phone, you just assume that it will launch with the newest version of Android. And thus is the case here with the Nexus 5, as it was used as a vehicle to make Android 4.4 "Kit Kat" public. We've already walked through a lengthy tips and tricks video for Kit Kat, so I'm actually going to focus this section on the bigger Android 4.4 picture rather than take you through what's awesome or not. But for your reference, you can find that video embedded below in the "Video" section.
So how does Kit Kat run/work/party with the Nexus 5? Like a champ of course. Whenever a new version of Android is released on top of a new Nexus phone, we always get a little blown away by how perfect it seems to run. But remember, Google works with hardware partners to fine-tune the Android experience on their Nexus phones, so it shouldn't exactly come as a shock. With that said, this phone absolutely flies through apps, wallpaper changes, task changes, videos, hungry games, and image editing. If there is one sore spot, it's in camera performance, but we'll get to that later.
Thanks to its beautiful 5-inch HD display and on-screen buttons, the Nexus 5 highlights all of Kit Kat's design changes as well. From the new transparent navigation and notification areas to the new neutral color scheme, you realize as you use the N5 that this is exactly how Google envisions an Android experience.
Build, Feel, and Design
The Nexus 5 comes in two different color schemes – one is an all black version with a matte finish; the other has a soft-touch white back, along with polished sides. Both are subtle in design when compared to gold iPhones and bright Moto X custom orders, but that's part of the beauty here. It's understated, all about the big 5-inch 1080p display, and without a design-sales-schtick. The "nexus" logo on the back lets you at least know what phone you are always using, plus the massive camera housing gives off the impression that you have an intense camera phone in hand, even if you don't. More on that later.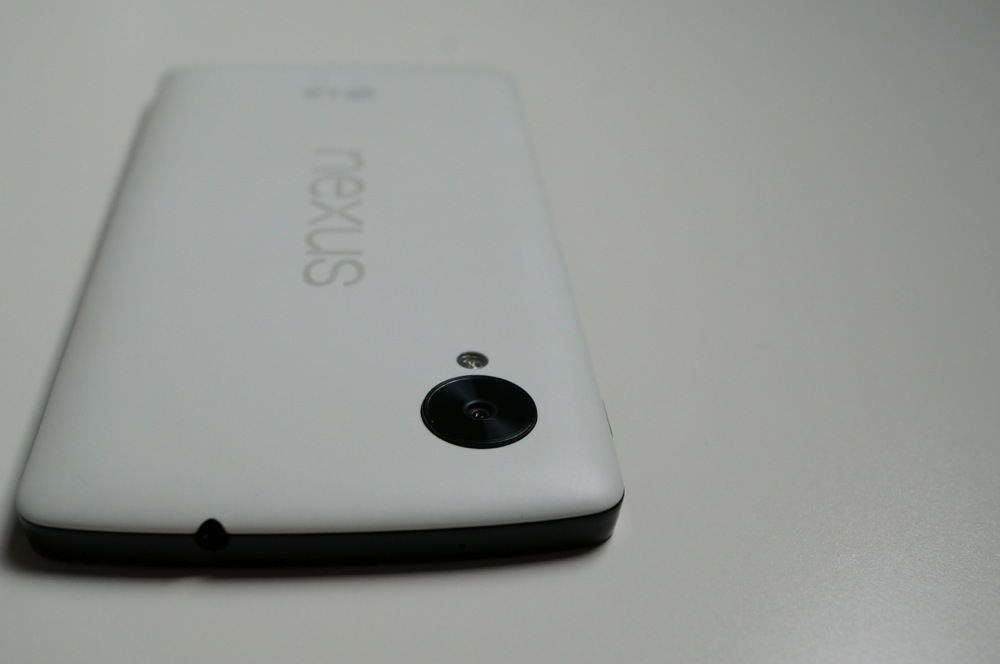 It feels soft in hand, is unbelievably light at 130g, and since there is little bezel on the front, isn't actually hard to hold in one hand even with its 5-inch display. Now, it doesn't feel as good as the Moto X in hand, but you could argue that the trade-off for a full 1080p display and package of top-tier specs is worth the extra size. It's much smaller feeling than the G2 or Note 3, and is probably more along the same path as the Galaxy S4 only without the gross, glossy plastic. It's the second best feeling device next to the Moto X, and that's saying something.
If there is one downside, it's the matte black version's tendency to pick up fingerprints in a matter of seconds. While the black is even more understated than the white, I'd recommend white if you find yourself frustrated by a material that attracts fingerprints with the best of them.
Overall, the phone really does feel premium in hand, even though its made entirely of plastic (with ceramic buttons). At $350, you'd think it would feel cheap like a Samsung phone, however, it couldn't be further from it.
Display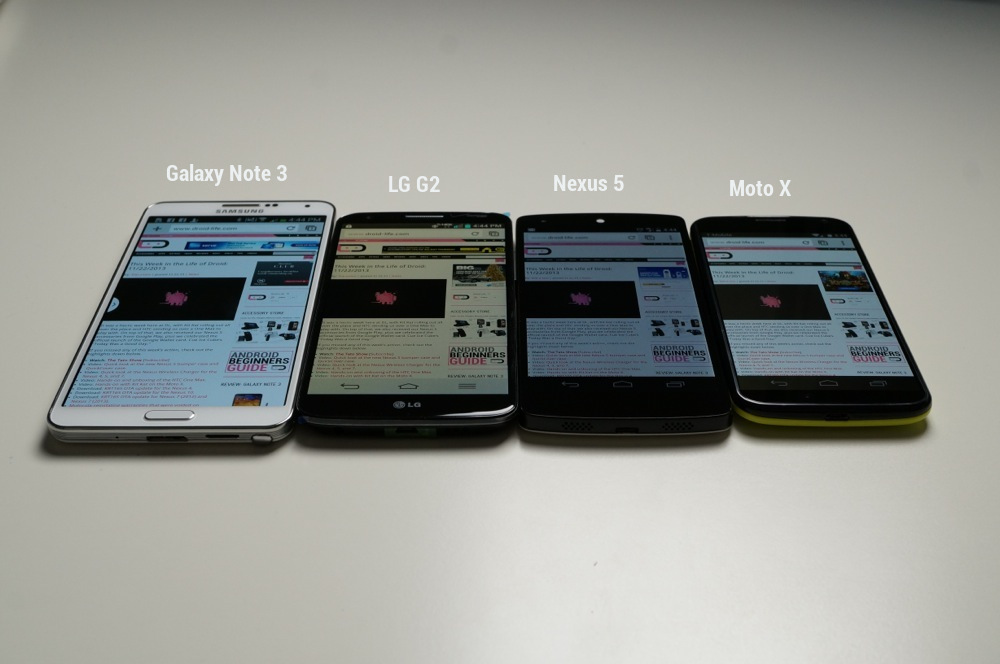 The 5-inch 1080p display on the Nexus 5 is pretty damn good. I wouldn't necessarily call it "class leading" or anything, but it produces sharp enough images and clear enough details that I'd be kidding myself if I didn't say that it was more than acceptable. The problem I had with it, was that I just came from the Galaxy Note 3, which may have the best mobile display ever made. But if you are looking for a 1080p panel that's not AMOLED and produces down-the-middle colors (not overly cold or warm), you will be pleased with what you see.
It can look a bit washed out at times, but I feel like I see that with all LCD displays when compared to the somewhat over-saturation on AMOLEDs (which I prefer). Other than that, it's viewing angles are excellent, doesn't smudge quite as easy as its predecessor, and is incredible to watch videos or game on, thanks to Immersive Mode in Kit Kat that lets that edge-to-edge display take up every ounce of real estate possible.
I'll probably continue to say this because it's that big of a deal, but at $349, there really shouldn't be any complaining about the quality of the display. This doesn't appear to be an area that Google cut any corners.
Above, you'll see some comparison shots of the Nexus 5 to other top tier devices at full brightness on Chrome and with a similar wallpaper. Again, the Nexus 5 shows pretty neutral colors, while the Galaxy Note 3 tends to lean on the cool side. The G2 and Moto X on the other hand, are quite warm. Brilliant job, Google.
Performance
When you slap a Snapdragon 800 into a phone that doesn't even have a chance to be bogged down by a 3rd party skin, you are looking at one heck of an experience in terms of performance. I don't have benchmarks to bore you with because well, benchmarks aren't exactly having a great year thanks to OEMs gaming the system. Just know that where Samsung's TouchWiz stutters, the Nexus 5 glides. Know that when you multi-task, open new apps, launch the camera, or simply slide to the left to open Google Now, that you won't have experienced anything like it on another Android phone. If there is one thing Google seems to improve upon with each new phone and new release of Android, it's that "butter."
We talked a lot about the Moto X having zero performance issues during our review of it, but man, when going from Nexus 5 to Moto X for a moment, the difference is obvious. There is true power here, not a separated out multi-core architecture fitted with low-end companion cores. The Nexus 5 may not have always-listening modes like the Moto X, but if you were looking for raw power, that makes things happen with beauty and grace, the Nexus 5 is it. We tend to refer to the opposite of the Nexus 5's experience as "jank." Jank lovers, I'm sorry, but there is none to be had here.
Availability and Connectivity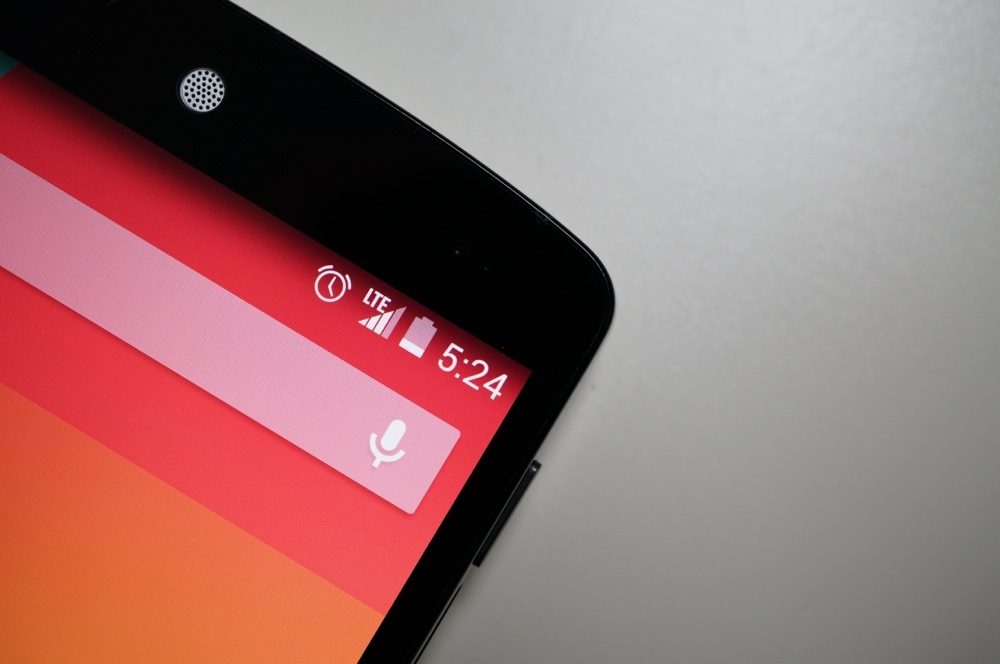 Let me just get this out of the way by saying, yes, it sucks that this phone isn't available to Verizon customers. We know how badly Big Red users want a new Nexus, but for reasons we can only guess, this phone will not work with their network. Outside of Verizon, it works practically everywhere. The phone has support on LTE across bands 1/2/4/5/17/19/25/26/41 – that's incredible for an Android device. Included in those bands is support on AT&T, T-Mobile, and Sprint's LTE networks. If you think about last year's Nexus 4 not even having an LTE chip and only working on HSPA+ networks, this is a major jump forward. Also, since it's unlocked, you can take it almost anywhere in the world and receive coverage. From major carrier to little prepaid player, the Nexus 5 works.
In terms of availability, the Nexus 5 is available at far more retailers than any other Nexus in the past. For the U.S., you are looking at availability on Google Play starting at $350, and then carrier options sold through Best Buy, T-Mobile, Sprint, and Amazon. Google may have sold out of the 16GB variants in both black and white almost immediately, but you still have ways to pick-up this phone, something that wasn't the case last year when the Nexus 4 sold out for weeks at a time.
Random Bonuses
Wireless Charging:  For those of you looking for a charging alternative that doesn't involve shoving a cable (upside down) into the bottom of your phone every time it needs juice, you'll be happy to know that the Nexus 5 includes wireless charging. In order to utilize wireless charging, you'll need a charging pad, but those aren't hard to find. In fact, Google is now selling one made specifically for their Nexus devices. We gave it a first look here.
Accessories:  Google did something with the release of this Nexus that it has failed to do with almost any other Nexus – make official accessories available for it almost immediately. From Bumpers to Quick Covers to a well-built and previously mentioned wireless charger, you don't necessarily have to take to Amazon or 3rd party accessory sites to outfit your new phone. Sure, Google's accessories are completely overpriced, but for the most part, are incredibly well-built. We've looked at both the Bumpers and Quick Covers here.
Photo Sphere:  The camera on the Nexus 5 may be mostly terrible at this stage in its young life (again, more on that in a bit), but there is one thing all stock Android lovers can take advantage of and that's Photo Sphere. A Photo Sphere is Google's take on a 360-degree photograph. It's like a panorama shot on steroids. You can capture entire rooms, outdoor settings, and any other magical moment that may require more than a single snap. Using their easy-to-follow, blue-dot UI in Photo Sphere, it's the easiest way to impress your friends photographically.
Hack-a-ability:  Like to tinker with your phone? You should buy Nexus phones, especially the newest from Google, which would be the Nexus 5. Google makes Nexus products for developers in particular, so if unlocking bootloaders, flashing ROMs, and generally hacking the hell out of your phone is on your list of things to do with your new phone, buy the Nexus 5. There isn't another phone this open. Motorola's new stance on Developer Edition phones makes the Moto X close, but again, this is a Nexus. It was made for tinkerers first, regular consumers second.
Somewhere-in-the-Middle
Battery Life
Initial tests of the Nexus 5 returned pretty bleak battery life results. On the first couple of charges, I was barely pushing through 8 hours of use, some times even lower. But as the days have passed with it in my pocket, it's almost as if the phone is warming up quite nicely. I'm now regularly seeing 12-16 hours of use on a single charge with a mix of WiFi and LTE, and about 2 hours of screen-on time. That's not record breaking, but it's also about what our tests show for the Moto X and Galaxy S4.
For almost two weeks now I've taken screenshots at the end of the night to try and track battery life on the Nexus 5 because I was truly concerned from the beginning (see the abundance of screenshots). But really, I'm not all that concerned any longer. My last remaining worry is the camera, however, Google is reportedly working on a fix for that.
Again, the Nexus 5 and its 2300mAh battery isn't going to last you two days like a DROID MAXX, Galaxy Note 3, or LG G2, but it'll get you average single-day-of-use life at around 12 hours.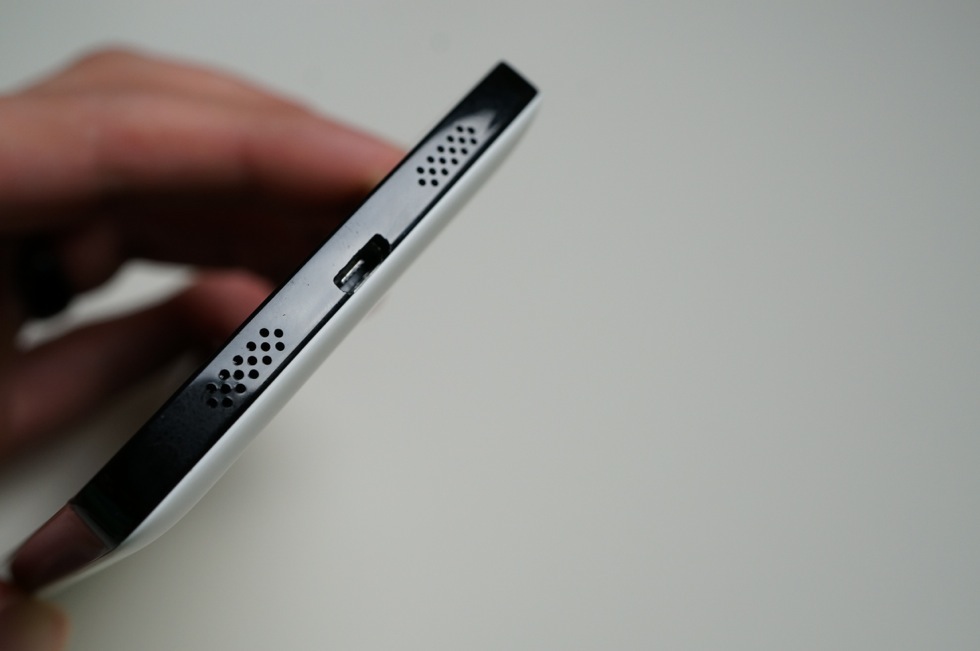 Speakers
No, the Nexus 5 doesn't have dual stereo speakers even though the bottom gives off the impression that it does. Instead, Google and LG put in two speaker grills, but sound is really only generated out of one of them (the left). The other is either there for show or to help funnel out some of the sound produced by the other. The left speaker grill is the one you'll want to pay attention to, since covering it will pretty much mute your phone completely. And that's unfortunate, since the left speaker tends to be the one embedded in my hand with the phone landscape. How much fun is a audio-intense game or YouTube video if I can't hear it?
Fake speakers aside, the sound produced out of the Nexus 5's speaker isn't anything to brag to your audiophile friends about. It produces loud noise, it's just not the clearest you'd like to hear.
The Not-so-Good
Camera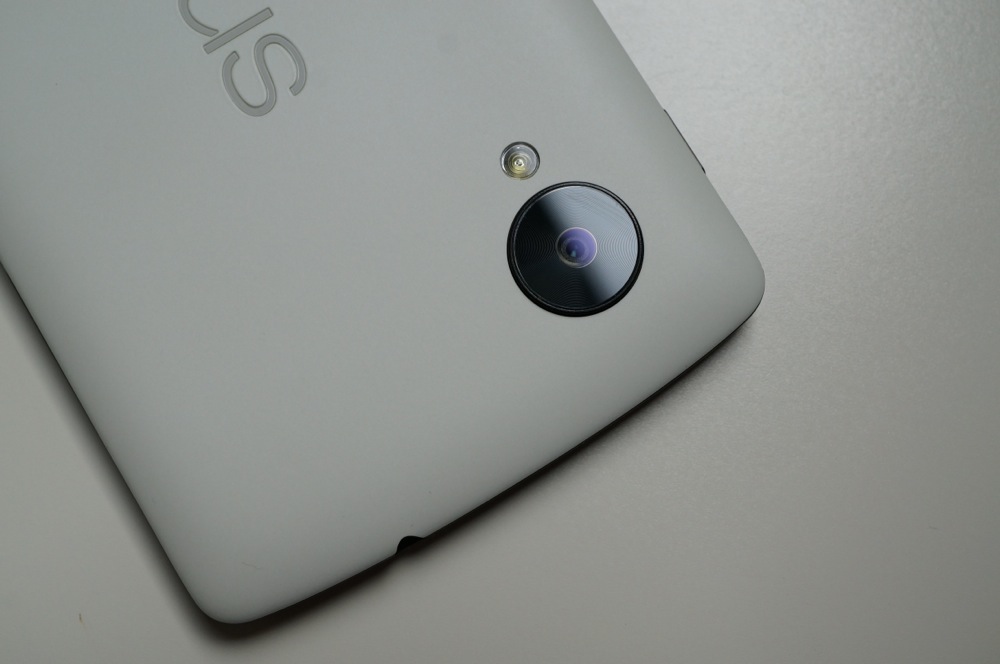 Does the Nexus 5 (in its current state) have the worst smartphone camera of any top tier phone in 2013? Probably. Actually, I think it's safe to say that it does. The good news is that we think it can be fixed with a software update that Google is reportedly already working on. But for now, it's absolute garbage. I hate to be so straight forward and nasty about it, but the camera on this phone has been such a disappointment over these few weeks of reviewing it that I don't know how else to put it. Everything else about the phone has been great or at least good enough, however, the camera is in a D-league of its own.
The 8MP sensor with Optical Image Stabilization (OIS) was supposed to help the Nexus 5 be the first Nexus to offer an incredible photo experience. Hell, even Vic Gundotra told us that Google was "committed to making Nexus phones insanely great cameras" leading us to believe that the Nexus 5 was what he was referring to. We may get there at some point, if that new camera API can magically turn trash into water, but at this point we just don't know. All we have to go on is what the Nexus 5 camera produces at this moment.
First of all, the camera UI for stock Android changed slightly in Android 4.3 and has remained the same here in 4.4. It's not a good camera UI at all. It's minimal, which we can appreciate, but accessing anything is a guessing game. I had to give up from changing settings in the camera app because I never knew what anything was. There are icons for options, but not enough of a description or detail in the icon to let you know what you are looking for or about to change. With some practice, I'm sure you could figure out the stock Android camera UI and become a master, but part of the point of a smartphone camera (at least to me) is to have it work seamlessly out of the box without a steep learning curve.
All UI criticism aside, the real story here is about the low quality you see after taking photos. After taking dozens of pictures with the Nexus 5 in all sorts of lighting scenarios, I'm not sure I would hand any of them over to someone as a photo I'd be proud of. The camera completely fails to focus far too often, and never seems to focus long enough or on the correct object when you get it to. Images all sort of have that dreary haze of death that we complained about initially with the Moto X camera. I live in somewhat of a dark city in Portland, but things look a hell of a lot prettier than what these images show.
The camera isn't good in macro situations, has lousy depth-of-field, takes poor low light shots even with OIS, and is the worst camera you could have on you in a situation where you need a photo in an instant. As I mentioned in my opening, I recently welcomed in my first child to the world. As you can imagine, I want to take pictures of his every move. The Nexus 5 camera is essentially the worst camera a new parent could have on them, all thanks to the reasons I just described.
Here's to hoping Google comes through and actually delivers us an "insanely" good camera. Otherwise, I'll be sure to keep my point-and-shoot, DSLR, or other camera phone handy at all times. Anything but this one.
Here are some camera samples. All have been resized and that's it.
Full resolution:  1 | 2 | 3 | 4 | 5 | 6 | 7 | 8 | 9 | 10
Random Negatives
Upside down charging port:  This might be nitpicking, but why on Earth did Google and LG put the microUSB port upside down in the Nexus 5? It's also upside down in the Nexus 7 (2013), so I'm wondering if this is a choice made by Google. Either way, over the last few weeks with the N5, I've been annoyed more than a couple of times at having to flip over the cable after failing on first attempts when trying to charge this phone. Can we get a standard here, mobile phone industry?
No microSD slot:  MicroSD card slots are no longer the norm in the smartphone industry. In fact, Samsung (and some international LG phones) is about the only one sticking to them, however, we know that many of you won't even look at a phone if it doesn't have a slot for additional storage. It's not a deal breaker for us, but I'm not going to lie, it would be nice to be able to carry all of my pictures and other goodies from one phone to the next without dealing with the cloud.
Video
Unboxing
vs. Moto X vs. Galaxy Note 3 vs. HTC One
Kit Kat Overview and Tips
Gallery
The Verdict
As you can tell after reading through all of that, I'm 90% in love with the Nexus 5. Maybe even 95%. It has all of the right buzz words surrounding it, is incredibly speedy and powerful, looks amazing yet understated, shows off all that we love about Android, will receive updates the quickest, and is priced at a jaw-dropping $349. If you aren't on Verizon, I'm not sure why you aren't considering buying this phone already. Well, I know why – because there are so many other damn good phones out there like the G2, Galaxy Note 3, and Moto X. That's not a knock against the Nexus 5, we're just at a glorious stage in smartphones where everyone is producing really great stuff. Oh, and the camera is terrible. Like, really that terrible.
If Google can figure out this camera mess, you might be looking at a phone that is clearly better than all the rest. Until then, it's another really good phone just like those others I mentioned, yet isn't perfect even with its amazing price.
---
Links:  Nexus 5 deals at eBay | Amazon | Google Play