Yesterday, the official accessories for the Nexus 5 started popping up on Google Play. Both the Bumper case (in a variety of colors) and the Quick Cover became available at $34.99 and $49.99 prices, respectively. By no means is either cheap, but if there is one thing we know about Google-branded accessories – they are made to fit like a glove. And that's exactly the case here.
Bumper Case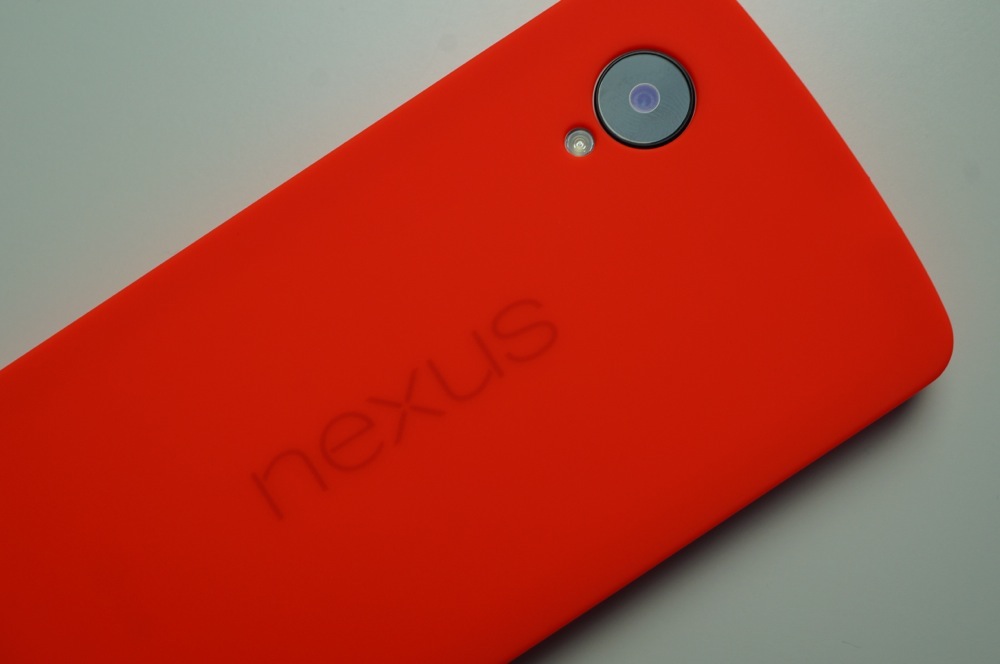 The Bumper is made of fine rubbery plastic (if there is such a thing), comes in four different colors (black, grey, yellow, and red), and fits perfectly around the phone. There are no gaps, moving pieces, or slippage around any of the edges, something we look for when reviewing cases. I'm actually not sure that a case could fit any better than this. The bright red and bright yellow cases look fantastic if you are looking to make a splash, while the black and grey are much more subtle. This is a beautiful rubber case, made with precision to feel premium. Oh, it'll give that camera lens some protection as well.
If there was one issue with the build, it's that you have to press a little harder than normal on the Power and Volume buttons to activate them. I'm sure you could get used to it, but it's something I noticed within the first few minutes. Update:  I tried to get used to this issue and could not. It's a major design flaw in what could have been an exceptional case. I was hoping that the rubber would loosen up over time or eventually work better, but that never happened and it remained far too difficult to press. Wouldn't recommend for this fact alone.
With that said, it's expensive as hell. At $34.99, you could buy three or four similar cases from Amazon. They may not be quite as high of quality, but they'll certainly all do the trick. But if you want something official, a case that also says "Nexus" on the back, and have bundles of extra cash lying around, this is probably where you should look.
Quick Cover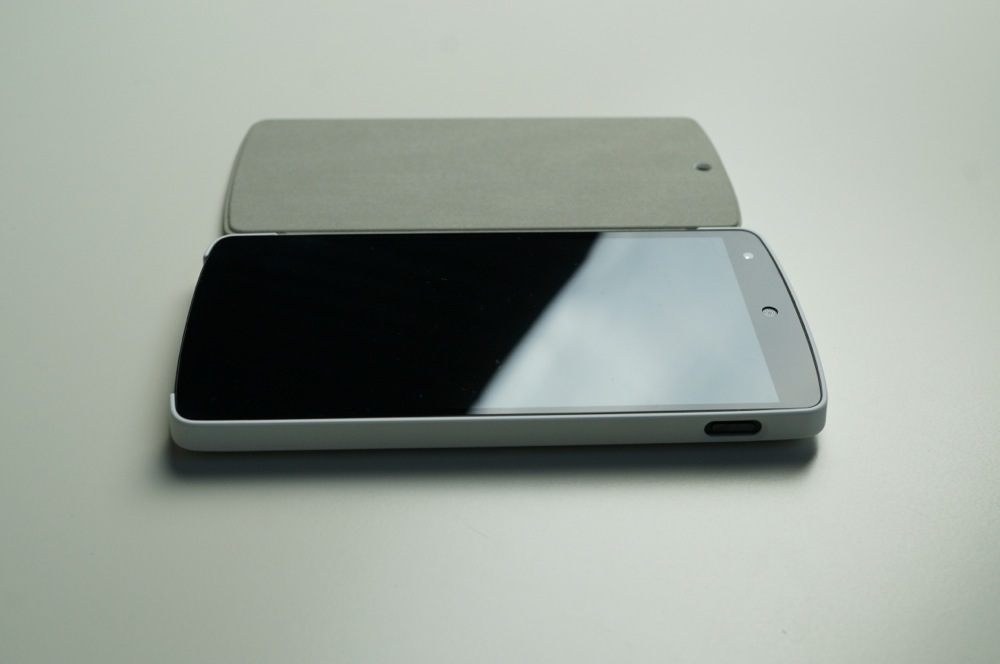 The Quick Cover reminds us of the Flip Covers that Samsung has made famous for its Galaxy lines over the last couple of years. It's a hard shell back attached to a semi-soft front that opens and closes with ease to offer you all around protection. It features sleep-wake when opening or closing the front, cutouts in all the right places, and feels as premium as the Bumper. It comes in both black or white, so you aren't going to find the wild colors of the Bumper, something that may disappoint some of you. But the buttons are super easy to press with this case on, it fits like a glove, and is really only missing a cut-out for the notification light. That's right, no hole for those blinking colored lights.
If you were looking for negatives, the #1 downfall again happens to be the price. At $49.99, this thing is expensive. We're talking plastic, cardboard, and fake felt at the same price as the Nexus wireless charger. That's a steep price, plus it doesn't even say "Nexus" on the back. To me, part of owning a Nexus product is to display its branding proudly, which this case does its best to hide.
Overall, the feel of the Quick Cover is ultra premium, like the Bumper, but the price could turn you off. It's a great case, I'm just not sure it's worth $50.
Video
Gallery
Bumper Case
Quick Cover