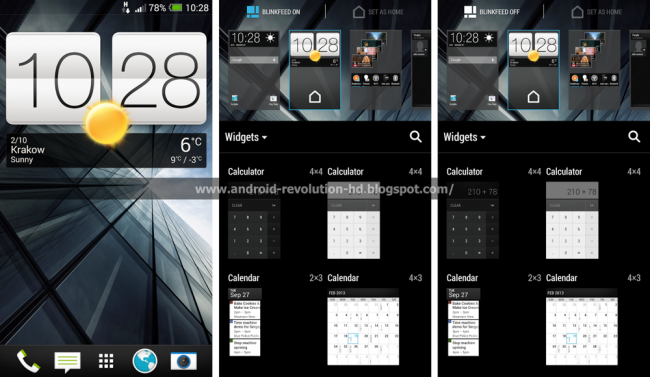 Thanks to a series of screenshots post by blog Android Revolution HD, we may have first look at HTC's soon-to-be-released Sense 5.5 Android skin. The screenshots show a familiar design language to the Sense 5 that was first introduced with the HTC One, but includes new options to help expand its polish. Most would argue that HTC has one of the better Android skins on the planet, and these subtle changes should only help solidify that claim. 
In the top series of screenshots, you'll notice one very specific new toggle that was previously left out of the original Sense 5, though most of us believe it should have been there from day one. That would be the option to turn on or off Blinkfeed, HTC's homescreen news and social network aggregator. We actually became Blinkfeed fans over time, but for those who want nothing to do with the vertical scrolling Flipboard competitor, a toggle is a simple yet perfect addition.
In the series of shots below, you'll notice that the camera will soon have a "Dual capture" and "Panorama" modes. Dual capture could just be something similar to what Samsung has done, by allowing you to snap photos with both the front and rear cameras at the same time. Panorama on the other hand, is pretty self explanatory. Well, unless you compare it to "Sweep panorama" – anyone guess the difference? You'll also see a slightly tweaked multi-task panel in the shots below that features bigger cards.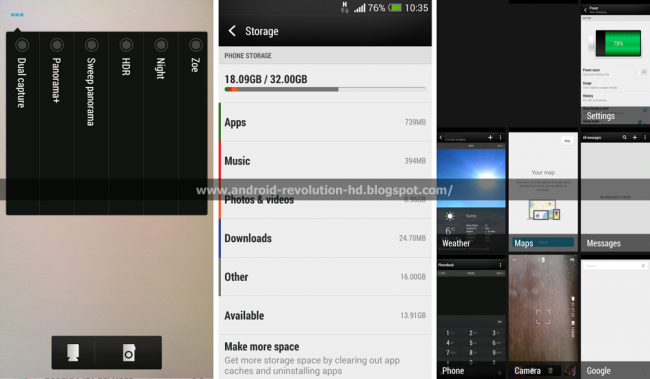 In the last series of screenshots below, you'll see new additions to Blinkfeed, an improved keyboard experience with Emoji, and the ability to rearrange the quick toggles pull down menu. And that's pretty much it.
It's tough to tell when we'll see this new Sense 5.5 arrive, but a launch of the One Max next week seems like the perfect opportunity for HTC. As for when we'll then see it arrive on the HTC One, your guess is as good as ours. With the device just now receiving Android 4.3, I'd bet that we're months away from a major update to 5.5.