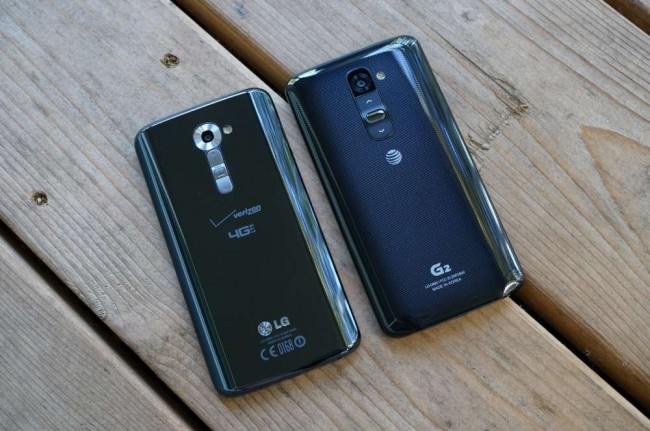 Last week, we had a chance to unbox and give our newest impressions on the LG G2, even spending most of last weekend with it. That unit happened to be an international variant, though, so in case you were wondering, we have been waiting to publish a review on the device until we had actual U.S. units in house. That time has come! We have both AT&T and Verizon review units on hand, and are ready to finish off our thoughts and put together a review, since we know many of you are itching to learn as much as you can before making any purchasing decisions. 
The Verizon LG G2 launches tomorrow (September 12) for $199 on-contract with the AT&T version joining it Friday for the same price.
In the video below, we're doing the simplest of comparisons in terms of hardware, along with a brief preview at software differences. We've already unboxed and shared initial thoughts, so this is really about the subtle changes that carriers seem to continue to make on what should be identical phones. You'll notice a changed volume rocker and power button setup on the Verizon version over the AT&T and international variants. The Big Red version also has wireless charging built-in and a honeycomb-like design on the backside.
The rest is the same, including the brilliant 5.2″ HD display, 2.3GHz Snapdragon 800, 13MP camera with OIS, 2GB RAM, and internal 32GB of storage. [Specs]
We'll have much more finalized looks at software, camera performance, battery stats, etc. over the next couple of days in our official review.
Video
Gallery