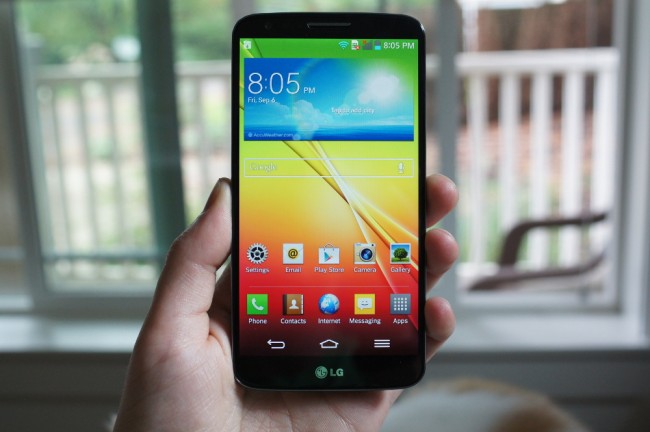 The LG G2 is in the building! Our friends at LG were kind enough to drop off an international review unit of their latest flagship while we were in New York dealing with all things Galaxy Note 3. And since some of us have yet to fondle this beast of a device, we thought a quick unboxing and first impressions session was in store. I say "some of us" because Tim got touchy-feely with it a couple of weeks ago at the G2 press unveiling. So what do I think? 
Holy gorgeous display. Forget the oddly placed rear power and volume buttons or the gross glossy plastic case for a second – this display is so edge-to-edge and crisp that my eyes may be in shock at its beauty. It's also stunningly fast, thanks to the Snapdragon 800 processor inside and 2GB of RAM. I'm loving the on-screen navigation keys, the camera is ridiculously quick, and there is a headphone jack on the bottom (Hallelujah!). The body is also a size that can be handled easily with one hand for the most part – it's just slightly bigger than the Galaxy S4.
I will say that the build feels slightly questionable thanks to the fingerprint magnet/gross glossiness that is happening all over the backside. I'm also not sure what to think about the rear placement of the power and volume buttons, but I'm assuming I can get used to them and will withhold judgement for now.
The UI is pretty much LG's take on Samsung's TouchWiz, though I'll have to give it a solid run-through before deciding if it's better, worse, or just completely overdone. LG has packed in more software features than I think I even know what to do with. Definitely looking forward to trying them all out. The notification of "Life is Good!" is completely obnoxious and will be changed before I can finish typing this line (you'll hear in the unboxing and know what I mean).
So those are some quick thoughts, most of which can be seen in the video below.
Again, this is the international variant, so we're mostly just going to be playing with it as we await the arrival of the U.S. versions that have actual wireless service. If you have questions or would like to see certain things tested, be sure to drop them in the comments.
Video
Gallery