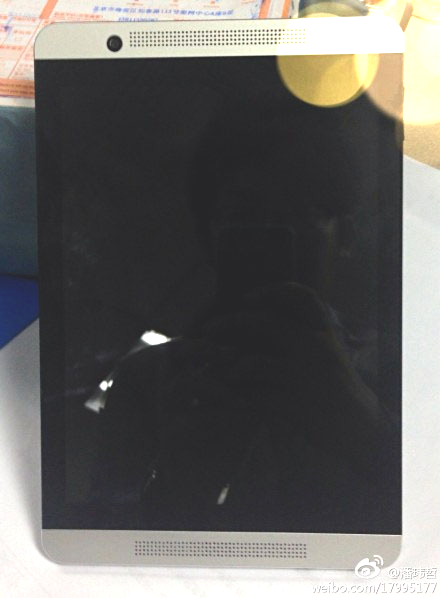 Almost exactly one year ago, HTC announced its withdrawal from the American tablet market, stating that it was a "learning experience" for the manufacturer. With sales apparently somewhat dismal, there was just no money to be made when competing with Apple and Samsung. In a new plot twist, if this newly-leaked picture is to be believed, then could HTC be rethinking its stance? 
Leaked from overseas in Asia, where consumer electronics can tend to get a little sketchy, an image of a tablet-sized device with HTC One characteristics has hit the web. You can see HTC's popular BoomSound front-facing speakers, a front-facing camera and a well-sized display showing itself off. It is what we don't see that has us a bit worried, though. We do not see HTC's logo in its trademarked place on the front under the display, plus we see some massive bezels alongside of the screen. Even the One doesn't sport bezels of that size.
So, could this just be some cheap knockoff? Could HTC actually intend to market this device? We know they are currently working on a phablet-like phone named the One Max, but this would be almost too ridiculous to imagine.
Let's hear your thoughts down below.
Via: SimOnlyRadar