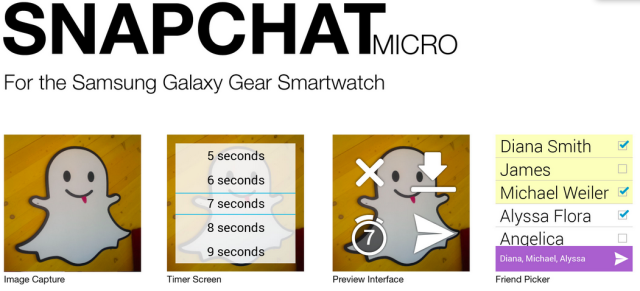 I use Snapchat almost daily, sending and receiving absolutely meaningless photos and videos between my friends from my phone. The only thing that sounds worse to me than opening a loud video or stupid photo in public on my phone is opening one of those on a watch attached to my wrist. Nevertheless, the Snapchat team was extremely quick on the uptake and has released an app specifically made for the Samsung Galaxy Gear.
The Gear was just announced last week and isn't compatible with regular Android apps. Developers have to use the SDK that Samsung provided for the Gear to make their apps, but the Snapchat team has gotten it done. The app has the exact same capabilities of its phone counterpart, using the Gear's 1.4MP camera to take photos and 10 second long 720p videos. You can send and receive as much as you like right from your wrist. What it can't do is hide the embarrassment you'll feel from doing so in public.
Via: TechCrunch
______________________
Some of our best videos.