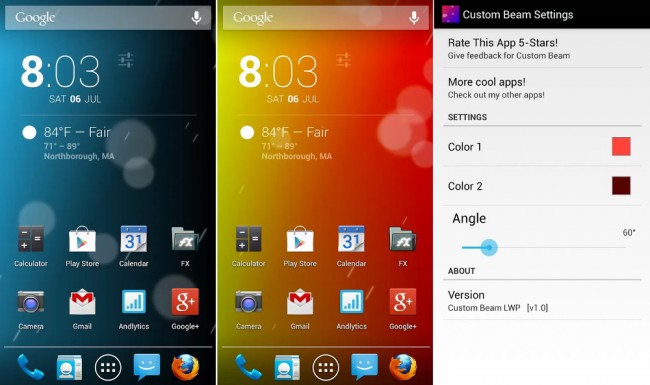 Phase Beam has easily been one of the greatest live wallpapers of all time. Introduced as the purplish, bubbly, floaty live wallpaper to Nexus devices, it has been a go-to for us even after so many years. But as you know, we saw the introduction of a new variant with the Google Play Edition devices called Sun Beam, that brought us the same bubbly floaty joy only in a red and orange colorway. It's beautiful. Have you ever wanted other colors, though? Like, what if you could customize Phase Beam to match your current mood or theme? You can.
An app called Custom Beam LWP was introduced to the Google Play store within the last week that brings Phase Beam to you with a load of customizable features. You can change multiple colors of its appearance, adjust settings for things like the beam angle or gradient angle, tweak the speed, and even have it change depending on your battery state.
Did I mention that it's free?
Play Link
Via:  reddit