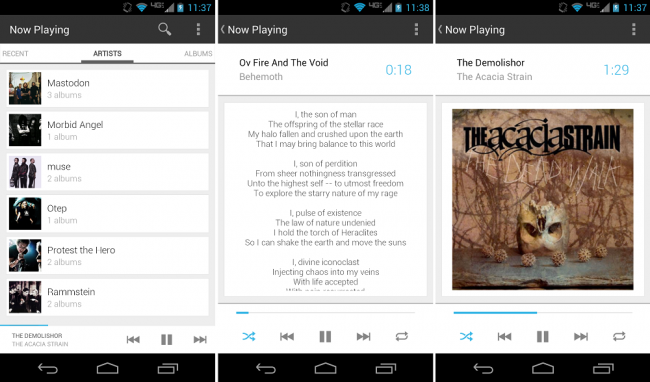 Dear devs, if you have created a music client, do not have it fetch lyrics without first getting some sort of license to distribute them. A few months back, we saw CyanogenMod's music player Apollo get taken down from Google Play for what the developer assumed had to do with his lyric scraping, and now two separate (and popular) music apps have suffered the same fate over the last day or so. 
Now Playing, the Google Now card-style music player (pictured above), that has been incredibly popular since launch is now gone due to what the developer claims were "takedown requests from Sony." Joining him in the recently pulled party is the developer of NexMusic, who also claims that there is "some copyright issue with lyrics." He had some other colorful commentary directed at Sony, but we'll leave that out for now.
As you probably guessed, both apps had free and paid versions, so that means we have customers who bought the app left without official app support through Google Play. We should point out that the Now Playing developer is considering ending development on his app, while the NexMusic dev is still pushing out betas through XDA.
In the future, if you plan to invest in a music app that includes lyric fetching, you may want to contact the developer to see if they are doing it legally. One example would be Shuttle.
Via:  +Jack Underwood | XDA
Cheers Ryan!