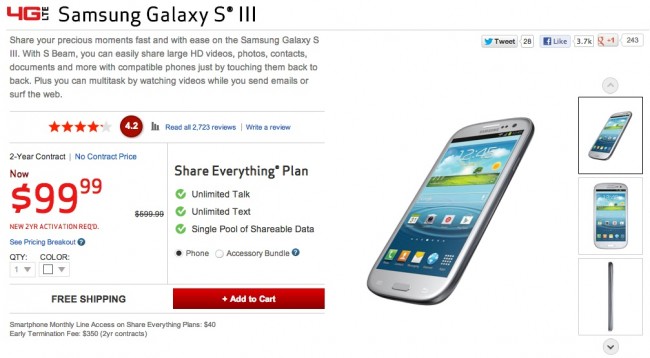 With the Samsung Galaxy S4 arriving towards the end of the month, Verizon has gone ahead and slashed the price of the Galaxy S3 to $99 on contract, likely in an attempt to move left-over stock. While Big Red has yet to even acknowledge the fact that the Galaxy S4 exists or that they will carry it, price cuts on previous year models are almost always a good sign. 
Also, keep in mind that we have seen their variant cruise through the FCC already, sporting all of the LTE and global roaming bands you would expect out of a 2013 top-of-the-line Android device. It's definitely coming to Verizon, we just don't know when.
AT&T and US Cellular have already announced their own pre-orders for April 16, T-Mobile around May 1, but none gave a definitive shipping date. Maybe Verizon is waiting until they have a confirmation from Samsung on when their customers can pick up this new flagship? Or maybe they are simply still testing…and testing…and testing.
Via:  Verizon
Cheers Open1Your1Eyes0!