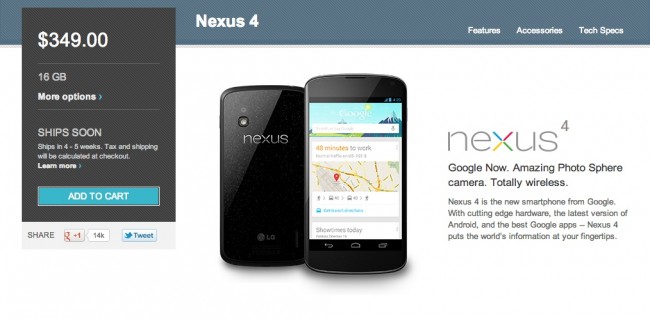 Yesterday, the LG Nexus 4 went back on sale through the Google Play store for the first time in over two weeks. We were hoping for a seamless shopping experience, but unfortunately, the wave of hungry Android enthusiasts once again proved to be too much for the ordering system that Google has chosen to use. My own personal experience seemed to be similar to many of yours – in other words, it was very frustrating. Before we all gave up, though, Google assured us that they weren't sold out at all. In fact, they said that they would still be taking orders, but that Google Play was overwhelmed and we should try again later. Try again later, we did.
So where does stock stand now? 
After 18 hours or so of being on sale again, you can still order the Nexus 4 in both 16GB and 8GB versions. The only thing that continues to change is the shipping date which has reached "4-5 weeks" for the 16GB version. If you want the 8GB version, you'll be waiting 8-9 weeks, or better put, over two months.
At least you can order it, right?
Play Links:  Nexus 4 16GB | 8GB